Pensacola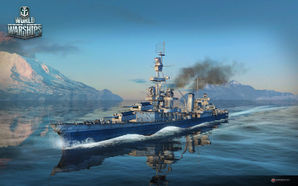 Tech Tree Position
203 mm/55 Mk14 mod. 2
2 х 2 / 2 х 3 

pcs.
Rate of Fire
4 

shots/min.
Reload Time
15 

sec.
Rotation Speed
4 

deg./sec.
180 Degree Turn Time
45 

sec.
Firing Range
14.25 

km.
Maximum Dispersion
131 

m.
HE Shell
203 mm HE/HC Mk25 
Maximum HE Shell Damage
2,800 
Chance of Fire on Target Caused by HE Shell
14 

%
Initial HE Shell Velocity
823 

m./s.
HE Shell Weight
118 

kg.
AP Shell
203 mm AP Mk19 
Maximum AP Shell Damage
4,600 
Initial AP Shell Velocity
853 

m./s.
AP Shell Weight
118 

kg.
127 mm/25 Mk19 mod. 6
8 х 1 

pcs.
Firing Range
4.5 

km.
Rate of Fire
13.33 

shots/min.
Reload Time
4.5 

sec.
HE Shell
127 mm HE/HC Mk36 
Maximum HE Shell Damage
1,800 
Initial HE Shell Velocity
657 

m./s.
Chance of Fire on Target Caused by HE Shel
9 

%
20 mm Oerlikon Mk4
8 х 1 

pcs.
. . . Average Damage per Second
28.8 
. . . Firing Range
2.01 

km.
28 mm/75 Mk2 mod. 2
4 х 4 

pcs.
. . . Average Damage per Second
9.2 
. . . Firing Range
2.4 

km.
127 mm/25 Mk19 mod. 6
8 х 1 

pcs.
. . . Average Damage per Second
58.4 
. . . Firing Range
4.2 

km.
Maximum Speed
32.5 

knot
Turning Circle Radius
620 

m.
Rudder Shift Time
9.1 

sec.
Surface Detectability Range
14.16 

km.
Air Detectability Range
6.24 

km.
Battle Levels
Pensacola — American Tier VI cruiser.
The first U.S. Navy cruiser built under the limitations of the Washington Naval Treaty with powerful artillery but weak armor, which was characteristic of such ships. The cruiser was armed with 203 mm main guns, on the basis of which she was re-designated as a heavy cruiser soon after commissioning. However, the ship's armor actually corresponded to that of a light cruiser.


Modules
Compatible Upgrades
 Slot 1 
 Slot 2 
 Slot 3 
 Slot 4 
Player Opinion
Performance
Pensacola is the first heavy cruiser in the American cruiser branch, though "heavy" in this case refers strictly to her 8-inch guns and not to any sort of durability. The pathetically light armor of Pensacola makes her one of the more difficult-to-play cruisers of Tier VI, given her tendency to take heavy penetrating and citadel hits at all angles. Additionally, due to her slow turret traverse — as slow as some battleships — it can be very difficult to keep track of targets at closer ranges and react quickly enough to enemies showing broadside. A stand-up fight in Pensacola against anything larger than a cruiser will likely end in a Pyrrhic victory at best.. and an instant demise at worst. Therefore, it is advised to use her high ballistic arcs to fire over small islands and not show broadside to battleships or even cruisers.
She may be fragile, but
Pensacola
packs a wallop. She boasts ten 203mm rifles at a tier that cruisers of most other nations are still bringing 150 or 152mm ones. Only Japanese counterpart
Aoba
packs guns this large, while German Premium
Graf Spee
goes even larger (at 283mm). Combined with the improved normalization of her armor-piercing shells,
Pensacola
is an extreme threat to the majority of the cruisers in her matchmaking bracket, and her HE shells are heavy enough to punish any destroyers she meets and reliably burn battleships she encounters.
Pensacola
has the rudder shift time to actively dodge incoming fire and medium and long range; in the hands of an attentive captain who knows how to handle her, she is deadly.
Pros:
Excellent main battery guns; Pensacola boasts good firing angles for all ten guns and great AP penetration capabilities.
Good anti-aircraft armament; lacks the range of American light cruiser counterpart Dallas, but makes up for it with more mid-range power.
Outstanding maneuverability and handling characteristics.
Decent armor; Pensacola can take shells 14 inches or lower, but can still be citadel.
Research
Availability of researchable upgrades for Pensacola is as follows:
Hull: Upgrade to Hull (B) for slightly more hitpoints, more anti-air capabilities, and better rudder shift time. Research of this module unlocks progression to New Orleans.
Gun Fire Control System: Upgrade to Mk6 mod. 2 for an extra 10% range on the main battery.
Optimal Configuration
Upgrades
The recommended upgrades for Pensacola are as follows:
Commander Skills
Key skills for Pensacola commanders include Expert Marksman, Demolition Expert, and Concealment Expert.
Recommended Commander Skills
Cost
(points)

Endurance

Attack

Support

Versatility



1

★★★

★★

★

Χ

★

Χ

★★

Χ



2

★

★★

★★★

Χ

Χ

Χ

★★

★



3

★★

★

Χ

Χ

★★

★

★★★

★★



4

 

★

 

Χ

★★

 

★★

★★★

Key: ★★★ - Extremely Useful      ★★ - Frequently Useful      ★ - Occasionally Useful     No stars - Meh     

Χ

- Not recommended
Consumables
Pensacola can equip the following consumables:
Camouflage
Type 1, 2, or 5 camouflage can be equipped for credits; Types 1 or 5 are recommended at a minimum to reduce detectability range.
Players who wish to spend doubloons can equip Pensacola with Type 16 camouflage that lowers her detection radius, reduces the accuracy of incoming shells, reduces her repair costs, and increases the amount of experience she earns.
Signals
Recommended Signal Flags
Combat

★★★

 

★★★

 

★★★

★

★★★

★★

 

 

★★

★★

 

 

Economic

 

 

★★★

★★★

 

Special

 

 

★★

 

 

 

 

 

Key: ★★★ - Extremely Useful       ★★ - Frequently Useful       ★ - Occasionally Useful      No stars - Not Useful
Gallery
References
Snapp, Ray; Jarman, Eugene; Grantham, Trevor W. 1992 USS Pensacola (CA-24): "The Grey Ghost". Paducah, Ky. : Turner Pub. Co. (confirmation of nickname)