Phra Ruang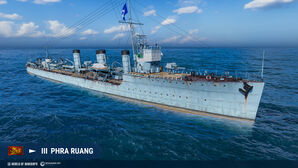 Tech Tree Position
102 mm/40 QF Mk.IV on a PIX mount
3 х 1 

pcs.
Rate of Fire
12 

shots/min.
Reload Time
5 

sec.
Rotation Speed
8 

deg./sec.
180 Degree Turn Time
22.5 

sec.
Firing Range
7.88 

km.
Maximum Dispersion
80 

m.
HE Shell
102 mm HE 
Maximum HE Shell Damage
1,500 
Chance of Fire on Target Caused by HE Shell
6 

%
Initial HE Shell Velocity
664 

m./s.
HE Shell Weight
14.1 

kg.
AP Shell
102 mm AP 
Maximum AP Shell Damage
1,500 
Initial AP Shell Velocity
664 

m./s.
AP Shell Weight
14.1 

kg.
533 mm DR Mk II
2 х 2 

pcs.
Rate of Fire
1.46 

shots/min.
Reload Time
41 

sec.
Rotation Speed
25 

deg./sec.
180 Degree Turn Time
7.2 

sec.
Torpedo
IDS_PZPT009_533_MKII_D 
Maximum Damage
10,000 
Torpedo Speed
51 

knot
Torpedo Range
7.32 

km.
40 mm/39 Vickers QF Mk.II on a Mk.II HA mount
1 х 1 

pcs.
. . . Average Damage per Second
5.7 
. . . Firing Range
2.49 

km.
Maximum Speed
36 

knot
Turning Circle Radius
450 

m.
Rudder Shift Time
3.3 

sec.
Surface Detectability Range
5.59 

km.
Air Detectability Range
2.04 

km.
Battle Levels
Phra Ruang — Pan-Asian Tier III destroyer.

Formerly HMS
Radiant
of the
British Navy
, she was sold to the Royal Thai Navy in 1920 and renamed. She could travel at a very high speed and carried very good armament. For most of her service life, she was the most powerful torpedo ship in her country's service.
Modules
Compatible Upgrades
Player Opinion
Performance
Warning. The data presented in the AA Defense sidebar section may be incorrect.
For a graphic summary of ships Tiers VIII thru XI see LittleWhiteMouse's "Actual AA DPS".
Tier III's Phra Ruang plays very similarly to her predecessor Longjiang, and shares many of the same strengths and weaknesses.
Phra Ruang's torpedoes are quite good for her tier, and will inflict heavy damage upon the cruisers and battleships — and occasional aircraft carriers — she encounters; unfortunately, as deep water torpedoes, they are useless against smaller enemy units. This means she must rely upon her main battery when in close combat with opposing destroyers. Her 102mm guns are adequate, but not exceptional. At point-blank ranges (~5.0 km or less) they are good enough for self-defense, and fire quickly enough that they are likely to discourage enemy destroyers from pushing closer. Shell flight times out near her maximum range of 8.7 km, however, will make hitting anything but slow-moving battleships very challenging.
Phra Ruang
captains should use her stealth and torpedoes to make quick work of enemy battleships and avoid engaging enemy destroyers at all costs. Her stealth makes her an excellent ship to capture control points in, as long as captains have a pre-planned exit strategy if spotted. Aggressive captains may feel comfortable taking on wounded destroyers — or hiding in a bank of smoke to harass enemy capital ships — with her main battery; this is a valid tactic, of course, but given her very low health pool (second-lowest at Tier III) the price for getting spotted is likely a quick trip back to port.
Pros:
Lowest detection range of all Tier III destroyers.
Capable of delivering torpedo strikes from beyond detection range.
Torpedo reload is relatively quick.
Fastest Tier III destroyer.
Cons:
Painfully slow torpedoes.
Torpedoes are not useful when engaged in close combat with other destroyers.
Main battery shell velocity makes long-range gunnery very difficult.
Exceedingly fragile, Phra Ruang combines a low health pool with non-existent armor.
Research
Availability of researchable upgrades for Phra Ruang is as follows:
Hull: Upgrade to Hull (B) for additional health, a touch more AA, and a quicker rudder shift time. Research of this module unlocks progression to Shenyang.
Gun Fire Control System: Upgrade to Mk III mod. 2 for an extra 10% range on the main battery.
The Hull (B) upgrade is really the only place to invest experience gains; given her shell performance, captains are encouraged to simply ship the GFCS upgrade and move on up the tech tree.
Optimal Configuration
Upgrades
The recommended upgrades for Phra Ruang are as follows:

Captains without Juliet Charlie (

) flags to use are strongly encouraged to equip Magazine Modification 1 in Slot 1 instead.
Commander Skills
Key skills for Phra Ruang commanders include Last Stand, Survivability Expert, and Concealment Expert. It's difficult to recommend investing skill points into buffing her main battery via Advanced/Basic Firing Training or Demolition Expert, but it's all she can rely on when up against enemy destroyers and may be worth sinking some points into for highly aggressive captains.
  Recommended Commander Skills  
Cost
(points)

Attack

Defense



1

 

 

 

 

 

★★



2

 

★★

★★

 

 

★★



3

 

★★

★★

 

 

 



4

 

★★

 

 

★★

 

Key: ★★★ - Extremely Useful      ★★ - Frequently Useful      ★ - Occasionally Useful     No stars - Not Useful
Consumables
Phra Ruang can equip the following consumables:
Signals
Sierra Mike (

) is always a good idea for a destroyer, though Phra Ruang is already the fastest destroyer at Tier III.
Note: Use of the Juliet Charlie signal makes detonation impossible.
Gallery
References
See here for links to Update notes.

Available for testing by supertesters in the game starting from Update 0.6.10.
October 12, 2017:

Torpedo firing range was increased from 5.01 to 7.32 km.
Torpedo detectability was increased from 0.7 to 1.1 km.
Torpedo speed was decreased from 52 to 51 knots.

November 9, 2017:

The Smoke Generator consumable was adjusted:

The action time was decreased from 40 to 30 s.
The dispersal time was increased from 60 to 70 s.
The consumable cooldown was increased from 90 to 120 s, and from 60 to 80 s for the premium version.
Introduced in Update 0.6.14.
Update 0.7.1:

Disabled national voiceovers for the ship. Now, even if the national voiceover is selected, the voiceover of the player's region or the selected sound mode in the settings will be played.

Update 0.7.6:

The reload time of the Smoke Generator consumable was increased from 120 to 150 seconds (from 80 to 100 seconds for improved consumables).

Update 0.8.3:

The ship's detectability in smoke after firing the main battery was rounded up to 2 km.

Update 0.8.5:

Credit earnings increased by +5%.

Update 0.10.2:

Fixed geometry and textures of the ship.