Saipan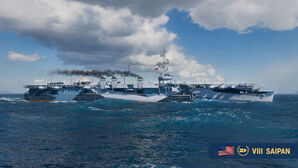 Tech Tree Position
40 mm Bofors on a Mk.1 mount
10 х 2 

pcs.
. . . Average Damage per Second
113 
. . . Firing Range
3.51 

km.
20 mm Oerlikon on a Mk.24 mount
15 х 2 

pcs.
. . . Average Damage per Second
91.5 
. . . Firing Range
2.01 

km.
40 mm Bofors on a Mk.2 mount
5 х 4 

pcs.
. . . Average Damage per Second
79.5 
. . . Firing Range
3.51 

km.
Maximum Speed
33 

knot
Turning Circle Radius
920 

m.
Rudder Shift Time
15.9 

sec.
Surface Detectability Range
12.24 

km.
Air Detectability Range
10.18 

km.
Battle Levels
Saipan — American promo premium Tier VIII aircraft сarrier.
A high-speed light aircraft carrier based on the Baltimore-class cruiser. Despite relatively small dimensions, the ship carried a rather powerful air group and was armed with numerous AA artillery. She boasted very good armor comparable with the protection of far larger attack aircraft carriers.

Saipan was first released for sale on 12-13 April 2016.
Modules
Compatible Upgrades
 Slot 1 
 Slot 2 
 Slot 3 
 Slot 4 
 Slot 5 
Player Opinion
Performance
As a premium USN aircraft carrier, Saipan's uniqueness comes from her aircraft being very similar to Midway's in speed, survivability, and armament count per plane. Additionally, the ship itself has much better concealment and rudder shift than her USN peers Lexington and Enterprise, allowing players to move faster to their desired location and stealthily closer to their strike targets. This gives players an edge over their same tier counterparts in faster and quicker strikes to whittle down the enemy.
However, she does not have the same attack flight size and squadron size of Midway's nor does she have Lexington's armor. The lack of armor means that enemy battleship salvos and torpedoes will cause much more damage to the ship when the player's ship is detected. Players must be careful of where to position their ship for maximizing their strike capabilities while keeping their ship intact.
Furthermore, while Saipan's torpedo bombers do carry two torpedoes each like Midway's, this amplifies the effect of lost damage output for each plane shot down by the enemy. Furthermore, her aircraft restoration time is the longest out of all carriers currently, making each aircraft lost a massive decrease in her constant damage output. Players should carefully select targets, as randomly lashing out at any target that may have a formidable anti-air defense will result in a complete exhaust of available strike aircraft.
The culmination of these characteristics allows
Saipan
to have higher overall potential damage output with most other same tier carriers. Players should attempt to use each squadron as effectively as possible through minimizing losses and getting the most damage in each attack run.
Pros:
Excellent ship speed of 33 knots.
Much better concealment compared to tech tree counterpart Lexington.
Decent mid- and short-ranged AA defenses.
Carries Tier X planes, the same used on a fully upgraded Midway.
Very high potential damage output with all plane types.
Torpedo bombers drop four (4) torpedoes with each attack run.
Cons:
Saipan is a fragile ship, with low health and poor armor.
No long range AA artillery, thus no flak.
Very long plane restoration time.
Small squadrons with few deck reserves for each plane type.
Torpedo bombers have a very long aiming time.
Torpedo bombers and dive bombers are frustratingly slow.
Research
As a premium ship, Saipan does not have any upgrades to research.
Optimal Configuration
Upgrades
The recommended upgrades for Saipan are as follows:
Commander Skills
The following information is provided for players who wish to create a permanent captain for the ship. Those players who are retraining captains or using the ship to gain extra experience for a captain should consult the page relevant to the ship to which the captain will be assigned.
  Recommended Commander Skills  
Cost
(points)

Attack

Defense

Support



1

 

★★

 

★★★

 

 



2

 

 

★★★

 

 

 



3

 

 

★★

★★★

★★★

 



4

★★

 

 

★★

 

 

Key: ★★★ - Extremely Useful      ★★ - Frequently Useful      ★ - Occasionally Useful     No stars - Not Useful
Consumables
As Saipan is an aircraft carrier, players cannot modify for premium consumable versions and has standard aircraft consumables for a Tier VIII carrier.
Camouflage
As a premium ship, Saipan comes included with Type 10 camouflage that lowers her detection radius, reduces the accuracy of incoming shells, reduces the cost of the ship's post-battle service, and increases the amount of experience she earns.
Signals
As a carrier, Saipan has no risk of detonating and a very fast fire extinguishing time. Players should mount Equal Speed Charlie London (

) for increased XP gain per battle, Zulu Hotel (

) to help increase the speed of commander (re)training, Juliet Yankee Bissotwo (

) for faster flooding recovery time, and Juliet Whiskey Unaone (

) to have a better chance at causing flooding to enemy ships. Players can also choose to equip the Dragon Flag (

) for faster commander (re)training for the other carrier that the captain is trained on.
Recommended Signal Flags
Combat

★★

 

★★★

★★★

★★★

 

★★

★★

 

★★★

★

 

 

 

Economic

★★

★

★★★

★★★

★★

Special

 

 

★★

 

 

 

 

 

Key: ★★★ - Extremely Useful       ★★ - Frequently Useful       ★ - Occasionally Useful      No stars - Not Useful
Note: Use of the Juliet Charlie signal makes detonation impossible.
References