Shokaku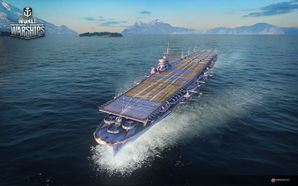 Tech Tree Position
127 mm/40 Type89 A1
6 х 2 

pcs.
Firing Range
4.5 

km.
Rate of Fire
12 

shots/min.
Reload Time
5 

sec.
HE Shell
127 mm HE Type0 
Maximum HE Shell Damage
2,100 
Initial HE Shell Velocity
725 

m./s.
Chance of Fire on Target Caused by HE Shel
8 

%
127 mm/40 Type89 A1 mod. 2
2 х 2 

pcs.
Firing Range
4.5 

km.
Rate of Fire
10 

shots/min.
Reload Time
6 

sec.
HE Shell
127 mm HE Type0 
Maximum HE Shell Damage
2,100 
Initial HE Shell Velocity
725 

m./s.
Chance of Fire on Target Caused by HE Shel
8 

%
127 mm/40 Type89 A1
6 х 2 

pcs.
. . . Average Damage per Second
60.6 
. . . Firing Range
5.01 

km.
127 mm/40 Type89 A1 mod. 2
2 х 2 

pcs.
. . . Average Damage per Second
20.2 
. . . Firing Range
5.01 

km.
25 mm/60 Type96 mod. 1
36 х 1 

pcs.
. . . Average Damage per Second
64.8 
. . . Firing Range
2.49 

km.
Maximum Speed
34 

knot
Turning Circle Radius
1 130 

m.
Rudder Shift Time
18.3 

sec.
Surface Detectability Range
12.42 

km.
Air Detectability Range
9.58 

km.
Battle Levels
Shōkaku — Japanese Tier VIII aircraft сarrier.
The notorious heavy aircraft carrier whose design stemmed from the experience gained in building the Hiryu-class carriers. Compared to her predecessor, Shōkaku came with reinforced anti-aircraft armament, a larger air group and somewhat improved armor. During the course of World War II, the ship's AA capabilities were significantly enhanced.


Modules
Compatible Upgrades
 Slot 1 
 Slot 2 
 Slot 3 
 Slot 4 
 Slot 5 
Player Opinion
Performance
Attack Aircraft:
The attack aircraft have very good speed that can be used to chase down destroyers more effectively than other nation's attack aircraft. When attacking a target they have a very tight aiming circle providing good accuracy and is useful for targeting all ship types. They are also dropped in large amounts providing better chances of hitting a target.

Torpedo Bombers:
When fully upgraded, player can attack 5 times with double torpedoes per time. The torpedo range, speed and damage is excellent. With a full concealment build, players could drop their payload almost the instance the planes are spotted. The downside is that the planes are one of the weakest of all tier VIII carriers, and players need to utilize the long range of the torpedoes for longer duration of its usage.

Dive Bombers:
Unlike most carriers, Shokaku uses AP dive bombers. German battleships, cruisers; French battleships; Soviet battleships; American cruisers are good candidates for citadel hits. But keep in mind that these planes are very weak and using against the aforementioned targets may not be viable from early on in the match. Use islands and target HE saturated ships for finishing or devastating blows. As the AP fuse need time to arm, using against destroyers are quite ineffective. The aiming mechanism is different from USN dive bombers as the aiming circle initially dip backward slightly before moving forward at the very last minute. This can be useful if the player overshoot the target's momentum, but with less possibility of a citadel hit.
Overall:
Shokaku is more of a anti-BB, cruiser carrier in its role as it lacks HE bombs of the Americans or the fast rockets of the British. Also it has one of the weakest planes with low health pools. This is a serious disadvantage compared to the Lexington or the Implacable as tier 8~10 battles intoduce cruisers and battleships with stong AA. Concealment of planes, use of islands to block AA are essential to keep up the air attacks till late in the game. Any vital mistakes that leads to annhiliation of squadrons will leave playes with only 1 or 2 planes per squadron.
Pros:
Fast planes and combining her high potential damage for all plane types, she can helps support teammates often even in tier X battles.
Second best bomber speed in tier/class.
Attack aircraft carry accurate rockets and are drop in large amounts per attack run that can be very effective even to battleships.
Best aerial torpedoes in tier - high speed, good damage and long range
Torpedo bombers can drop 5 times in a row, assuming that no planes are lost.
AP bombs can deal significant damage to cruisers and battleships, assuming that they hit the citadel.
Well protected citadel and improved armor compared to her predecessor Ryujo
Fastest tier VIII carrier speed of 34 knots allows for quick relocation when needed
Good ship and torpedo bomber concealment.
Cons:
Planes have low healthpool, which means careful use of planes will help keep her fighting in the battle.
AP bombs are only effective against select targets, and nigh-useless against destroyers
AP bombs often deal poor amount of damage when they don't hit the citadel of a ship.
Torpedo bombers only drop 2 torpedos per attack run compare to other same tier CVs.
Enormous turn radius, loses a lot of speed during turns.
Slow rudder shift.
Research
This is a suggested research path:
B7A Ryusei (Torpedo bombers)
N1K2-J Shiden-Kai
B7A Ryusei (Dive bombers)
Hull(B) for better resistance against CV sniping.
Optimal Configuration
Upgrades
The recommended upgrades for Shōkaku are as follows:
Upgrade Slot 5 offers players Concealment System Modification 1 (

), which stacks with Concealment Expert and camouflage to bring Shōkaku`s torpedo bombers' concealment down to 6.1k. This means players can start their drop well beyond the detection range of the planes and surprise ships with 5.4k range torpedoes. However, if players are losing planes faster then they anticipate, they should go for Flight Control Modification 1 (

).
Commander Skills
Any skills that are related to an enemy vessel firing on your carrier are not useful, as the cost-benefit of investing in survivability skills is not worth the minimal benefit they offer. Shōkaku is large and unarmored, and will not survive an attack by any ship larger than a destroyer. Shōkaku captains must position their ship near friendlies or behind islands, away from enemy fire.
  Recommended Commander Skills  
Cost
(points)

Attack

Defense

Support



1

 

 

 

★★

 

 



2

★★

 

★★

 

 

 



3

★★

★★

 

★★

★★

 



4

 

★★

 

 

 

 

Key: ★★★ - Extremely Useful      ★★ - Frequently Useful      ★ - Occasionally Useful     No stars - Not Useful
Consumables
Shōkaku has access to the following consumables:
All aircraft carrier consumables are automatically activated.

Attack Aircraft:
Torpedo Bombers:
Bombers:
Camouflage
Type 1, 2, or 5 camouflage can be equipped for credits; Types 1 or 5 are recommended at a minimum to reduce detectibility range.
Players who wish to spend doubloons can equip Shōkaku with Type 18 camouflage that lowers her detection radius, reduces the accuracy of incoming shells, reduces cost of post-battle service, and increases the amount of experience she earns.
Shōkaku also has an alternate premium camouflage called "The Great Gorgon", in which she appears as she does during the Halloween scenario "Sunray in the Darkness".
Signals
As a carrier, Shōkaku should mount Equal Speed Charlie London (

), Zulu Hotel (

), November Echo Setteseven (

), and Juliet Whiskey Unaone (

), and possibly others.
Recommended Signal Flags
Combat

★★★

 

 

★★★

 

 

 

★

 

 

 

 

 

 

Economic

★

 

★★★

★★★

 

Special

★

★

★

 

★

 

 

 

Key: ★★★ - Extremely Useful       ★★ - Frequently Useful       ★ - Occasionally Useful      No stars - Not Useful
Gallery
References