Smith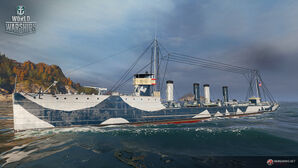 Tech Tree Position
76.2 mm/50 Mk5
5 х 1 

pcs.
Rate of Fire
17.14 

shots/min.
Reload Time
3.5 

sec.
Rotation Speed
10 

deg./sec.
180 Degree Turn Time
18 

sec.
Firing Range
6.55 

km.
Maximum Dispersion
64 

m.
HE Shell
76 mm HE 
Maximum HE Shell Damage
1,100 
Chance of Fire on Target Caused by HE Shell
4 

%
Initial HE Shell Velocity
823 

m./s.
HE Shell Weight
5.9 

kg.
AP Shell
76 mm AP Mk29 
Maximum AP Shell Damage
1,100 
Initial AP Shell Velocity
823 

m./s.
AP Shell Weight
5.9 

kg.
450 mm Mk5
3 х 1 

pcs.
Rate of Fire
5.45 

shots/min.
Reload Time
11 

sec.
Rotation Speed
25 

deg./sec.
180 Degree Turn Time
7.2 

sec.
Torpedo
Bliss Leavitt Mk7 mod. 0 
Maximum Damage
6,033 
Torpedo Speed
54 

knot
Torpedo Range
4.5 

km.
7.6 mm Hotchkiss Mk1
2 х 1 

pcs.
. . . Average Damage per Second
2.6 
. . . Firing Range
0.99 

km.
Maximum Speed
28 

knot
Turning Circle Radius
480 

m.
Rudder Shift Time
2 

sec.
Surface Detectability Range
5.76 

km.
Air Detectability Range
2.06 

km.
Battle Levels
Smith — American promo premium Tier II destroyer.
The first U.S. Navy destroyer designed to operate on the high seas. Unlike all destroyers built before, she was equipped with a turbine power unit and uniform caliber main guns.


Modules
Compatible Upgrades
Player Opinion
Performance
Smith is a unique ship in that it has three single tube torpedo launchers, one on each side and one near the stern that can fire to either side. Her torpedoes have extremely low damage, range, and speed, but they reload every 11 seconds. This gives her a very interesting playstyle contrasting to the higher alpha strikes of the other low tier destroyers. She can afford to randomly fire torpedoes at possible enemy locations, however with only a 4.5km range, this works best in confined areas such as the southwest section of Big Race and maps such as Islands which have lots of cover to allow her to get close (and be careful not to fire torpedoes at allies!). Another interesting tactic that can be used is to find a low tier battleship and simply shoot more torpedoes than it can dodge at it, resulting in an amusing chain of torpedo hits and flooding if she can stay alive. As for her guns, they are the smallest and weakest in the game, rivaled only by Tachibana's. They don't do much damage, and the HE will bounce off an Umikaze. They fire fast, but that's all they have going for them. Overall, the ship - while not very good - is extremely amusing to play.
Pros:
Very fast firing guns for Tier II ship.
Small profile.
Very fast torpedo reload.
Cons:
Very small health pool.
Very slow for a destroyer.
Lowest torpedo alpha at only two torpedoes in a salvo maximum.
76mm guns are the smallest in the game, with low damage and bad penetration values.
Abysmal gunnery range.
Research
As a premium ship, Smith doesn't have any upgrades to research.
Optimal Configuration
Upgrades
The recommended upgrades for Smith are as follows:
Captains who are concerned about possible detonations are encouraged to equip Magazine Modification 1 (

) instead.
Commander Skills
The following information is provided for players who wish to create a permanent captain for the ship. Those players who are retraining captains or using the ship to gain extra experience for a captain should consult the page relevant to the ship to which the captain will be assigned.
Recommended Commander Skills
Cost
(points)

Endurance

Attack

Support

Versatility



1

★★

★★★

★

Χ

Χ

Χ

 

Χ



2

★★

★

★★

 

★

Χ

★★

★★★



3

 

★★

 

Χ

★★★

★★

★★

★



4

Χ

 

★

Χ

★

 

 

★★★

Key: ★★★ - Extremely Useful      ★★ - Frequently Useful      ★ - Occasionally Useful     No stars - Meh     

Χ

- Not recommended
Consumables
Smith can equip the following consumables:
Investing in Damage Control Party II (

) and Smoke Generator II (

) is recommended, but spending the credits (or doubloons) on the premium version of Engine Boost (

) isn't really necessary.
Camouflage
As a premium ship, Smith comes included with Type 9 camouflage that lowers her detection radius, reduces the accuracy of incoming shells, and increases the amount of experience she earns.
Signals
Recommended Signal Flags
Combat

 

 

★★

★★

★★

 

★

★★★

 

 

 

★★

Economic

★

 

 

★

 

Special

 

 

 

 

 

 

 

 

Key: ★★★ - Extremely Useful       ★★ - Frequently Useful       ★ - Occasionally Useful      No stars - Not Useful
Gallery