Smolensk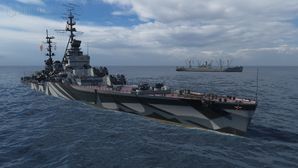 Tech Tree Position
130 mm/57 BL-132
4 х 4 

pcs.
Rate of Fire
13.33 

shots/min.
Reload Time
4.5 

sec.
Rotation Speed
30 

deg./sec.
180 Degree Turn Time
6 

sec.
Firing Range
13.8 

km.
Maximum Dispersion
118 

m.
HE Shell
HE-42 
Maximum HE Shell Damage
1,800 
Chance of Fire on Target Caused by HE Shell
8 

%
Initial HE Shell Velocity
950 

m./s.
HE Shell Weight
33 

kg.
AP Shell
SAP-42 
Maximum AP Shell Damage
2,600 
Initial AP Shell Velocity
950 

m./s.
AP Shell Weight
33.4 

kg.
533 mm Quintuple PTA-53-68-bis
2 х 5 

pcs.
Rate of Fire
0.46 

shots/min.
Reload Time
131 

sec.
Rotation Speed
25 

deg./sec.
180 Degree Turn Time
7.2 

sec.
Torpedo
53-51 
Maximum Damage
14,400 
Torpedo Speed
60 

knot
Torpedo Range
8.01 

km.
130 mm/57 BL-132
4 х 4 

pcs.
. . . Average Damage per Second
158 
. . . Firing Range
5.19 

km.
45 mm SM-20-ZIF
6 х 4 

pcs.
. . . Average Damage per Second
123.6 
. . . Firing Range
3.51 

km.
25 mm 4M-120
4 х 4 

pcs.
. . . Average Damage per Second
33.6 
. . . Firing Range
3.09 

km.
Maximum Speed
35 

knot
Turning Circle Radius
750 

m.
Rudder Shift Time
8.2 

sec.
Surface Detectability Range
12.78 

km.
Air Detectability Range
7.41 

km.
Battle Levels
Smolensk — Soviet promo premium Tier X cruiser.
Developed after World War II, a project of a small light cruiser (MLK 16 x 130) equipped with sixteen dual-purpose guns in four turret mounts intended to counter enemy light ships.
Modules
Compatible Upgrades
 Slot 1 
 Slot 2 
 Slot 3 
 Slot 4 
 Slot 5 
 Slot 6 
Player Opinion
Performance
Smolensk is a powerful light cruiser at Tier X, comparable in many ways to the British Tier X cruiser, Minotaur. They are both equipped with rapid firing low-caliber guns mounted in turrets with extremely quick traverse time. Smolensk differs in that she has access to high-explosive ammunition, truly giving her a reputation as a firestarter. She is equipped with a few useful consumables, such as a Smoke Screen and Repair Party (

). These are essential for ensuring survivability in open water, as Smolensk has a "glass jaw." A poorly planned maneuver or exposure to large-caliber incoming fire will likely result in devastating hits. Players are advised to utilize these consumables regularly as well as engage from the cover of islands to protect the ship's vulnerable citadel.
Smolensk
is equipped with torpedoes and offers a choice between Defensive AA Fire and Hydroacoustic Search in order to further her defensive capabilities against destroyers or aircraft seeking to harm her. Her low hit point pool requires that these threats be dealt with swiftly so she can return to cover and concealment to avoid being focused by enemy capital ships. Once properly positioned,
Smolensk
is extremely difficult to face, due to her capability to deal a high volume of fire over a short period of time. Players will benefit from studying maps in order to find the best positions to fire from.
Smolensk
also serves as a decent escort ship, especially in a division with another light cruiser or destroyer.
Pros:
High rate of fire.
Fast turret traverse.
Armed with torpedoes.
Access to numerous useful consumables, allowing for adaptation to a changing combat environment.
Decent fire chance.
Cons:
Light armor and exposed citadel.
Commander points and upgrade slots must be used to upgrade her poor stock gun range, leading to fewer options for customization.
Does not have access to Surveillance Radar, like other cruisers of her nation.
Not a very good captain trainer due to the need for very specialized captain build to be effective.
At very long range (17+ km) the shells slow down considerably making accurate fire at moving targets difficult.
Research
As a premium ship, Smolensk doesn't have any upgrades to research.
Optimal Configuration
Upgrades
The recommended upgrades for Smolensk are as follows:

If available, mount either Defensive AA Fire Modification 1 (

) or Hydroacoustic Search Modification 1 (

)} in Slot 2.
If available, mount Smoke Generator Modification 1 in Slot 3.
Commander Skills
Key skills for Smolensk commanders include Superintendent, Advanced Firing Training, and Concealment Expert.
Recommended Commander Skills
Cost
(points)

Endurance

Attack

Support

Versatility



1

★★★

★★

 

Χ

Χ

Χ

★★★

Χ



2

★

★★★

 

 

★★★

Χ

★★

★



3

 

 

★

Χ

★★

★★★

★★★

★★★



4

 

 

★★★

Χ

★★★

 

★★

★★★

Key: ★★★ - Extremely Useful      ★★ - Frequently Useful      ★ - Occasionally Useful     No stars - Meh     

Χ

- Not recommended
Consumables
Smolensk can equip the following consumables:
Camouflage
As a premium ship, Smolensk comes included with Type 20 camouflage that lowers her detection radius, reduces the accuracy of incoming shells, reduces her repair costs, and increases the amount of experience she earns.
Signals
Recommended Signal Flags
Combat

★★★

 

★★★

★

★★★

★

★★★

★★★

★★★

★

★

★★

Economic

★★

★★

★★

★★

★★

Special

★★

★★

★★

★★

★★

★★

★★

★★

Key: ★★★ - Extremely Useful       ★★ - Frequently Useful       ★ - Occasionally Useful      No stars - Not Useful
Gallery