Storozhevoi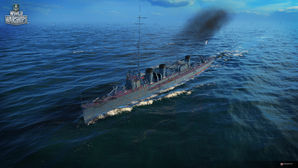 Tech Tree Position
102 mm/60 Model 1911 on an Obukhov Plant mounting
3 х 1 

pcs.
Rate of Fire
12 

shots/min.
Reload Time
5 

sec.
Rotation Speed
9.7 

deg./sec.
180 Degree Turn Time
18.56 

sec.
Firing Range
9.7 

km.
Maximum Dispersion
87 

m.
HE Shell
102 mm HE Model 1915 
Maximum HE Shell Damage
1,500 
Chance of Fire on Target Caused by HE Shell
7 

%
Initial HE Shell Velocity
823 

m./s.
HE Shell Weight
17.5 

kg.
AP Shell
102 mm AP Model 1915 
Maximum AP Shell Damage
1,800 
Initial AP Shell Velocity
823 

m./s.
AP Shell Weight
17.5 

kg.
450 mm Goncharov Triple
3 х 3 

pcs.
Rate of Fire
1.82 

shots/min.
Reload Time
33 

sec.
Rotation Speed
25 

deg./sec.
180 Degree Turn Time
7.2 

sec.
Torpedo
Torpedo Model 1908 
Maximum Damage
6,133 
Torpedo Speed
45 

knot
Torpedo Range
4.02 

km.
7.62 mm Maxim machine gun
2 х 1 

pcs.
. . . Average Damage per Second
3.4 
. . . Firing Range
0.99 

km.
Maximum Speed
35 

knot
Turning Circle Radius
490 

m.
Rudder Shift Time
2.9 

sec.
Surface Detectability Range
5.59 

km.
Air Detectability Range
2.18 

km.
Battle Levels
Storozhevoi — Soviet Tier II destroyer.
Designed as a "medium-tonnage" destroyer, this ship was intended to handle a wide range of tasks, from reconnaissance operations and torpedo attacks, to artillery engagements against enemy ships. Owing to high-tech propulsion, she could travel at a very high speed.


Modules
Compatible Upgrades
Player Opinion
Performance
Warning. The data presented in the AA Defense sidebar section may be incorrect.
For a graphic summary of ships Tiers VIII thru XI see LittleWhiteMouse's "Actual AA DPS".
Tier II's Storozhevoi marks the beginning of the Russian destroyer branch and introduces the basic gameplay elements of the line. Storozhevoi plays best when opponents are kept at arm's length and while her guns to do consistent damage; her speed and range should allow her to do so easily.
Although she can launch 9 torpedoes at a time and reload them rather quickly, captains should not rely on them and are advised to forget about them in most cases. They should be used only if an unsuspecting battleship presents an opportunity — for example, wandering too close to an island, allowing for a close approach and subsequent torpedo attack — or an enemy destroyer wanders too close. Other than such chance encounters, the 4.0 km range of
Storozhevoi
's torpedoes is suicidally close.
Pros:
Great reload time on torpedoes; armed with more torpedo tubes than any other Tier II destroyer.
Excellent gun range for Tier II, especially for a destroyer.
Good ballistics and rate of fire.
Good speed, faster than Derzki.
Cons:
AA defense is superior to Derzki, but useless with no carriers at Tiers II and III.
Abysmal torpedo range speed and damage.
Poor turret rotation time.
Low hit points.
Research
Availability of researchable upgrades for Storozhevoi is as follows:
Hull: Upgrade to Storozhevoi (B) for more health and improved maneuverability. Research of this module unlocks progression to Derzki.
Torpedoes: Upgrade to Torpedo Model 1910 for increased damage and faster speed.
Optimal Configuration
Upgrades
The recommended upgrades for Storozhevoi are as follows:
Commander Skills
  Recommended Commander Skills  
Cost
(points)

Attack

Defense



1

★

 

★

★★

 

★★★



2

★★

 

 

 

★★

★★★



3

★★★

 

★★★

 

★

★★★



4

★★★

★★

 

★★★

 

 

Key: ★★★ - Extremely Useful      ★★ - Frequently Useful      ★ - Occasionally Useful     No stars - Not Useful
Consumables
Storozhevoi can equip the following consumables:
Signals
Recommended Signal Flags
Combat

★★★

★

★

★

★★

★★

★

 

★

★★★

★★

 

★

 
Note: Use of the Juliet Charlie signal makes detonation impossible.
Gallery
References
See here for links to Update notes.

Available for testing by supertesters in the game starting from Update 0.5.0.1.
Update 0.5.0.3:

Storozhevoi was added as a Tier II researchable ship.

Update 0.5.2:

Credit earnings increased by 18%.
Experience earnings increased by 22%.

Update 0.5.5:

Detectability after firing main guns was decreased by 1 km.

Update 0.5.7:

The hull's armor model was refined.

Update 0.5.8:

The rotation angle for main battery turret #1 was increased to 360 degrees.

Update 0.6.7:

Credit earnings decreased by 10%.

Update 0.6.9:

The appearance of the ship was improved using a special technology for improved rendering of thin elements.

Update 0.6.12:

Detectability when firing main guns in smoke was changed to 1.98 km.

Update 0.6.13:

Fire extinguishing time now 30 s instead of 60 s.
The durability of the superstructure section of Hull (B) was increased by 100 points. This did not affect the ship's HP in any way.

Update 0.7.7:

Turret traverse speed was increased from 8.0 to 9.7 degrees per second.

Update 0.8.3:

Detectability when firing main guns in smoke was increased from 1.98 to 2.00 km.

Update 0.11.9:

Minor fixes to geometry and textures of the ship.