Svietlana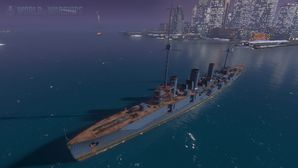 Tech Tree Position
IDS_PRGM077_130MM_55_SHIELD
15 х 1 

pcs.
Rate of Fire
6 

shots/min.
Reload Time
10 

sec.
Rotation Speed
5 

deg./sec.
180 Degree Turn Time
36 

sec.
Firing Range
10.24 

km.
Maximum Dispersion
103 

m.
HE Shell
130 mm HE Model 1911 
Maximum HE Shell Damage
1,900 
Chance of Fire on Target Caused by HE Shell
9 

%
Initial HE Shell Velocity
823 

m./s.
HE Shell Weight
36.86 

kg.
AP Shell
130 mm AP Model 1911 
Maximum AP Shell Damage
2,400 
Initial AP Shell Velocity
823 

m./s.
AP Shell Weight
36.86 

kg.
450 mm Goncharov Triple
4 х 3 

pcs.
Rate of Fire
1.54 

shots/min.
Reload Time
39 

sec.
Rotation Speed
25 

deg./sec.
180 Degree Turn Time
7.2 

sec.
Torpedo
Torpedo Model 1912 
Maximum Damage
7,233 
Torpedo Speed
52 

knot
Torpedo Range
5.01 

km.
63 mm Model 1916
4 х 1 

pcs.
. . . Average Damage per Second
4 
. . . Firing Range
3 

km.
Maximum Speed
29 

knot
Turning Circle Radius
590 

m.
Rudder Shift Time
10.1 

sec.
Surface Detectability Range
9.6 

km.
Air Detectability Range
4.82 

km.
Battle Levels
Svietlana — Soviet Tier IV cruiser.
The first light cruiser with turbine propulsion, laid down for the Imperial Russian Navy. Svietlana was notably faster than her predecessors. Her armor protection and weapons were quite good for her time. The ship's artillery was remarkable for its long range and strong ballistic properties.


Modules
Compatible Upgrades
Player Opinion
Performance
Warning. The data presented in the AA Defense sidebar section may be incorrect.
For a graphic summary of ships Tiers VIII thru XI see LittleWhiteMouse's "Actual AA DPS".

Svietlana is a unique ship with many interesting qualities that make her stand apart from her tier 4 rivals. Most noticeably she has numerous 130 mm guns as her main battery armament - the caliber later seen on higher tier Soviet destroyers. She can fire eight of these guns per broadside, the most of any Tier IV cruiser. In addition, swinging the bow of the ship back and forth can bring almost all the guns to bear on a target you are charging at, as well as making yourself hard to hit.
The downside for the cruiser though is the poor reload time, unlike the other cruisers for it's tier. The AA weaponry is also for show and will rarely shoot down any aircraft. The placement of torpedoes is also something to be aware at, due to the fact that their placement is way at the back of the ship and exposes your entire broadside when attacking. This allows the enemy easy citadel hits.
Pros:
Excellent shell ballistics (high shell speed and flat arcs).
Good concealment despite being the largest cruiser at Tier IV.
Wide torpedo launch arcs.
Can equip Hydroacoustic Search .
Cons:
Slow reload time for a Tier IV cruiser.
Poor torpedo damage, speed, and range.
Slow rudder shift time.
Abysmal AA defense.
Second slowest Tier IV cruiser.
Research
Availability of researchable upgrades for Svietlana is as follows:
Main Battery: Much faster turret traverse and improved AP shell damage
Hull: Larger health pool, more AA, quicker rudder shift. Research of this module unlocks progression to Kotovsky.
Gun Fire Control System: Upgrade to GFCS IV Mk.2 for an extra 10% range on the main battery.
Optimal Configuration
Upgrades
The recommended upgrades for Svietlana are as follows:
Commander Skills
  Recommended Commander Skills  
Cost
(points)

Attack

Defense



1

★★★

 

★

★★★

★★★

 



2

★★★

 

★

 

★

 



3

★★★

 

★★★

★

★★

★★★



4

★★

 

 

 

★★★

 

Key: ★★★ - Extremely Useful      ★★ - Frequently Useful      ★ - Occasionally Useful     No stars - Not Useful
Consumables
Svietlana can equip the following consumables:
Signals
Note: Use of the Juliet Charlie signal makes detonation impossible.
Gallery
References
See here for links to Update notes.

Available for testing by supertesters in the game from Update 0.5.3.2.
Introduced into the game as a researchable ship in Update 0.5.4.
Update 0.5.4.1:

The acceleration rate of the ship was increased, however, the turning radius and top speed remained the same.

Update 0.5.5:

The vulnerability of the engine to high explosive shell splash damage was reduced, while the size of the module itself was also reduced.

Update 0.5.6:

For Hull (B), the 4x1 45 mm 21-K anti-aircraft mounts were replaced with 9x1 76.2 mm Lender guns. As a result, AA firing range was increased from 2.5 to 3.0 km, and average AA damage was increased from 8 to 14 points.
The ship's flag was changed to that of the Imperial Russian Navy.

Update 0.5.8:

A bug that sometimes led to incorrect calculation of the deck armor was fixed.

Update 0.5.10:

The display of the antennas was fixed.

Update 0.6.3:

Credit earnings were increased by 5%.

Update 0.6.12:

Detectability when firing main guns in smoke was changed to 4.01 km.
The appearance of the ship was improved using a special technology for improved rendering of thin elements.
The durability of the bow section of Hull (B) was increased by 100 points. This did not affect the ship's HP in any way.

Update 0.6.13:

Fire extinguishing time now 30 s instead of 60 s.

Update 0.7.10:

The ranges of the Hydroacoustic Search consumable were unified - 4 km for detecting ships, 3 km for detecting torpedoes.

Update 0.8.8:

The ship's silhouette was reworked.

Update 0.8.11:

The volume of the ship's hull was fixed, and is now taken into account when calculating the chance of engine damage.

Update 0.9.7:

The Hydroacoustic Search consumable was made available on Hull (A).

Update 0.10.11:

Fixed model and textures of the ship.