Tashkent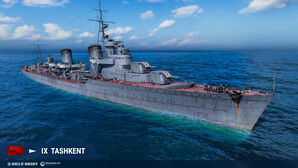 Tech Tree Position
130 mm/50 Model 1936 on a B-2LM mount
3 х 2 

pcs.
Rate of Fire
12 

shots/min.
Reload Time
5 

sec.
Rotation Speed
9.7 

deg./sec.
180 Degree Turn Time
18.56 

sec.
Firing Range
11.53 

km.
Maximum Dispersion
110 

m.
HE Shell
HE-46 
Maximum HE Shell Damage
1,900 
Chance of Fire on Target Caused by HE Shell
8 

%
Initial HE Shell Velocity
870 

m./s.
HE Shell Weight
33.4 

kg.
AP Shell
SAP-46 
Maximum AP Shell Damage
2,500 
Initial AP Shell Velocity
870 

m./s.
AP Shell Weight
33.5 

kg.
533 mm Triple 1-N
3 х 3 

pcs.
Rate of Fire
0.86 

shots/min.
Reload Time
70 

sec.
Rotation Speed
25 

deg./sec.
180 Degree Turn Time
7.2 

sec.
Torpedo
53-36 mod. 2 
Maximum Damage
14,400 
Torpedo Speed
55 

knot
Torpedo Range
8.01 

km.
130 mm/55 on a B-2-U mount
3 х 2 

pcs.
. . . Average Damage per Second
36.9 
. . . Firing Range
5.19 

km.
12.7 mm DShK
6 х 1 

pcs.
. . . Average Damage per Second
21.6 
. . . Firing Range
1.2 

km.
37 mm 70-K mount
5 х 1 

pcs.
. . . Average Damage per Second
28.5 
. . . Firing Range
3.21 

km.
76 mm Model 1935 on a 39-K mount
1 х 2 

pcs.
. . . Average Damage per Second
3.1 
. . . Firing Range
3.51 

km.
Maximum Speed
42.5 

knot
Turning Circle Radius
730 

m.
Rudder Shift Time
8.5 

sec.
Surface Detectability Range
9.12 

km.
Air Detectability Range
3.96 

km.
Battle Levels
Tashkent — Soviet Tier IX destroyer.
A destroyer flotilla leader intended to perform long-range reconnaissance duties within squadrons and support destroyers' torpedo attacks. She was built in Italy for the U.S.S.R. Navy (Project 20I). During World War II, she was one of the fastest warships in the world and the largest ship of this type.
Modules
Compatible Upgrades
 Slot 1 
 Slot 2 
 Slot 3 
 Slot 4 
 Slot 5 
 Slot 6 
Player Opinion
Performance
Warning. The data presented in the AA Defense sidebar section may be incorrect.
For a graphic summary of ships Tiers VIII thru XI see LittleWhiteMouse's "Actual AA DPS".
Nicknamed "The Blue Cruiser" despite being a destroyer due to her being larger than a contemporary destroyer and alluding to her historical paint being Cobalt Blue, the Tashkent was much maligned in her previous Tier VIII incarnation. Fortunately, the Tashkent received a package of buffs resulting in a quite serviceable ship even at her new home at Tier IX.
Tashkent retains the excellent guns and speed of Kiev, and, while significantly larger and less maneuverable than Kiev, her generous hit point pool and edge in range (up to 15.2 km with module and Advanced Firing Training) goes a long way towards making up for it. On the offensive side, fast-reloading torpedoes and access to the last upgrade slot are welcome advantages.
As with the Kiev, the Tashkent can replace her Smoke Generator 

consumable with Repair Party 

. Both are viable; while the value of smoke in getting out of bad situations and supporting the team is obvious, the sheer longevity provided by Repair Party cannot be denied either.
In contrast to the traditional destroyer role,
Tashkent
should primarily be played at long range, where enemies will have trouble hitting it despite its large size, while the
Tashkent
's high-velocity guns can still hit the enemy. That said,
Tashkent
will still often find herself pressed into more traditional destroyerly duties such as screening, baiting, and capturing points when there are no better ships available for the job. Here her torpedoes should not be ignored; while they are merely mediocre, they reload quickly, making them a good option for preemptively firing into chokepoints or smoke whenever an opportunity presents itself.
Pros:
Good HE shell fire chance
Strong AP shells, reliable against all unangled targets
Decent torpedo damage and range, as well as quick torpedo reload speed
Three triple torpedo launchers offer considerable flexibility
Large hitpoint pool for a destroyer
Very fast, with an unmodified speed of 42.5 knots
Has access to the Repair Party  consumable
Cons:
Very poor concealment for a destroyer
Large ship, almost as big as a light cruiser
Large turn radius and slow rudder shift for a destroyer
Must give up Smoke Generator  to equip Repair Party 
Torpedo tubes has higher risk of being incapacitated or destroyed
Research
The Tashkent has four modules to research. The main battery or the hull should be researched first. If researching main battery the traverse speed of the turrets will be doubled. As an always moving, always dodging shots destroyer, traverse to fight back is very important. The hull is an upgrade as equally important for the survivability of the boat on the long term in battles, as the un-upgraded rudder shift is even more painful than missing the last 10% of range, not to mention the other benefits of the hull upgrade. The range should be researched third, and then finally the torpedoes.
Optimal Configuration
Upgrades
The recommended upgrades for Tashkent are as follows:
Captains who have one of the rare Engine Boost Modification 1
upgrades and have the Sierra Mike (

) signal equipped are encouraged to replace the Engine Room Protection upgrade, as it extends the Engine Boost 

consumable duration by 30%.
Commander Skills
Tashkent is a gunboat destroyer through and through. Therefore, skills boosting her gunnery are much appreciated.
  Recommended Commander Skills  
Cost
(points)

Attack

Defense



1

★

 

 

 

★★

★★★



2

★★

 

 

 

★★

★★★



3

★★

 

★★★

 

★★★

★★★



4

★★★

 

 

★★★

 

 

Key: ★★★ - Extremely Useful      ★★ - Frequently Useful      ★ - Occasionally Useful     No stars - Not Useful
Consumables
Tashkent can equip the following consumables:
As with the Kiev the second slot will really define how the captain plays this ship. The smoke provides the standard utility of team cover, retreating, and smoke firing. However repair offers a unique playstyle giving captains a survivability increase to assist their gun-fighting capabilities.
Signals
Since Tashkent is a gunboat destroyer with excellent fire starting guns, flags such as Victor Lima (

) and India X-Ray (

) are great for boosting the fire starting capabilities of the ship. Alongside them, the Juliet Charlie flag (

) is great for keeping the ship from having a quick trip back to port due to a detonation. Sierra Mike (

) is a great choice for assisting the ship in dodging incoming shells, as this increases her speed.
Note: Use of the Juliet Charlie signal makes detonation impossible.
Gallery
References
See here for links to Update notes.

Available to supertesters in the game starting from Update 0.5.0.1.
Introduced into the game as a researchable ship in Update 0.5.0.3.
Update 0.5.2:

The damage of HE-46 high-explosive shells was reduced from 1900 to 1600, and the chance of setting fire was reduced from 9% to 7%.

Update 0.5.3.2:

The Type 7 camouflage was renamed to Type 10.

Update 0.5.6:

The firing range of 37-mm 70-K air defense installations on Hull A was increased by 1.2 km (from 2 to 3.2 km).
The durability of the 70-K shield mounting variant was increased by 20%.

Update 0.5.7:

The armored model of the hull was refined.

Update 0.5.10:

Added a new director model.
The display of some decorative objects was fixed on low graphics settings.

Update 0.6.2:

Moved from Tier VIII to Tier IX.
The damage of HE-46 shells was increased from 1600 to 1900.
The Repair Party consumable was added to the Smoke Generator slot.

Update 0.6.5:

Improved the appearance of Tier IX ships with the use of a special technology for drawing thin elements (mainly rigging).

Update 0.6.7:

Experience earnings increased by +10%.
Credits earnings increased by +10%.

Update 0.6.8:

HP for Hull B was increased from 19,600 to 21,800.

Update 0.6.12:

Detectability when firing main guns in smoke changed to 3.73 km.

Update 0.6.13:

Fire extinguishing time now 30 s instead of 60 s.

Update 0.7.7:

Added a researchable main battery module: 130 mm / 55 B-2-U, from Khabarovsk.

Update 0.8.7:

Fixed names of torpedo tube modules.

Update 0.10.3:

The base hull was replaced with a new one, created on the basis of the upgraded hull with a modified air defense composition.

Update 0.10.7:

Fixed a bug due to which there was no alternative color scheme for her permanent camouflage.

Update 0.11.1:

Minor corrections to geometry and textures of the ship.

Update 0.11.3:

Draft increased by approximately 0.5 m, she now sits lower in the water.
Port preview fixed.

Update 0.11.6:

Minor fixes to the model and textures of the ship.

Update 0.11.7:

Minor fixes to the model and textures of the ship.
Fixed the geometry and textures of the Crush'n'Destroy permanent camouflage.

Update 0.11.9:

Minor fixes to geometry and textures of the Crush 'n' Destroy permanent camouflage.