Tiger '59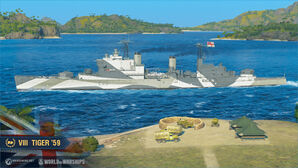 Tech Tree Position
152 mm/50 QF Mk.V on a Mk.XXVI mount
2 х 2 

pcs.
Rate of Fire
18.75 

shots/min.
Reload Time
3.2 

sec.
Rotation Speed
38 

deg./sec.
180 Degree Turn Time
4.74 

sec.
Firing Range
15.6 

km.
Maximum Dispersion
69 

m.
Chance of Fire on Target Caused by HE Shell
0 

%
AP Shell
152 mm AP Mk V 
Maximum AP Shell Damage
3,200 
Initial AP Shell Velocity
768 

m./s.
AP Shell Weight
58.85 

kg.
152 mm/50 QF Mk.V on a Mk.XXVI mount
2 х 2 

pcs.
. . . Average Damage per Second
47.2 
. . . Firing Range
6 

km.
76.2 mm/70 QF Mk.N1 on a Mk.6 mount
3 х 2 

pcs.
. . . Average Damage per Second
118.2 
. . . Firing Range
3.99 

km.
Maximum Speed
30.25 

knot
Turning Circle Radius
590 

m.
Rudder Shift Time
8.9 

sec.
Surface Detectability Range
11.7 

km.
Air Detectability Range
8.52 

km.
Battle Levels
Tiger '59 — British promo premium Tier VIII cruiser.
One of the last artillery cruisers of the Royal Navy, armed with the most advanced and powerful guns that Great Britain had at its disposal in the 1950s.
Tiger '59 was first released for sale on 28 May 2021.
Modules
Compatible Upgrades
 Slot 1 
 Slot 2 
 Slot 3 
 Slot 4 
 Slot 5 
Player Opinion
Performance
Tiger '59 is a Tier VIII premium cruiser in the British lineup.
The main armament consists of two twin turrets with auto-loading 152mm guns. While Tiger '59 reloads very fast, the low barrel count results in her having a below average dpm. To make matters worse, the arrangement in two turret means that a incapacitated or destroyed turret cuts her damage output in half. Lacking torpedoes means that Tiger '59 has no tool to deal high Alpha damage, forcing her to rely on damage over time via the AP shells. Fortunately, her AP shells come with improved ricochet angles and fuze settings, making her damage output against soft targets like destroyers or superstructures very consistent.
In terms of survivability Tiger '59 is a mixed bag. She features an above water citadel which is largely un-overmatchable, and unlike Edinburgh her hull plating is 25mm, allowing her to ricochet shells up to 356mm and to shatter most destroyer-grade HE shells. Her health pool is the second-lowest of the Tier VIII cruisers, leaving her especially vulnerable to high Alpha strikes like torpedoes or battleship fire. Being a British light cruiser however Tiger '59 comes with the Damage Repair consumable. The improved Specialized Repair Teams 

consumables allows Tiger '59 to heal back large amounts of health. Regular penetrating hits can be fully healed, and even citadel hits get repaired by 50%. This makes Tiger '59 very resilient against shellfire when angled, even if she does take large amounts of damage, provided the rate at which the damage taken does not the exceed the rate at which it can be repaired.
The maneuverability of Tiger '59 is second to none compared to her counterparts, with a tight turning circle and improved acceleration. The only downside being the low top speed of only 30kn, Tiger '59 will have to be careful when picking direct confrontations as the ability to gain distance will be hampered especially while maneuvering.
While being a modern ship and the presence of Defensive AA Fire 

would imply an impressive AA defense, Tiger '59 has little means to deter air strikes.
For the playstyle
Tiger '59
should aim at making the most of her advantages while avoiding open 1 vs 1 engagements. Access to the
Smoke Generator

and the
Surveillance Radar

consumables allows
Tiger '59
to break line of sight and temporarily gain vision on targets. Ideally however she uses spotting by her teammates, saving the Surveillance Radar for destroyers. While in a Smoke Screen
Tiger '59
must be very careful regarding nearby ships, as she has no means of quickly disposing off a rushing destroyer and the absence of
Hydroacoustic Search

makes her vulnerable against torpedoes.
Pros:
Very fast main battery traverse speed
Good main battery firing angles, also both turrets can turn 360 degrees
Fast main battery rate of fire
Improved AP shells with better penetration angles, short fuse timers, and low arming threshold
Outstanding main battery accuracy, currently the best of any cruiser
Reasonably armored for a British light cruiser, with 25mm plating and a 27mm deck
Excellent maneuverability
Excellent concealment with all the relevant upgrades
Access to Surveillance Radar  and Smoke Generator  in separate slots
Access to Specialized Repair Teams 
Cons:
Smallest health pool of all Tier 8 cruisers
Second slowest cruiser in its tier spread, only Admiral Graf Spee is slower
Only four main guns - even with the fast reload, damage output per salvo is low
Low shell velocity and high shell arcs make hitting targets at range difficult
Short main battery range
Like most other British light cruisers, Tiger '59 does not carry HE shells
No torpedoes or secondary armaments
Mediocre AA suite, even counting the aid of Defensive AA Fire 
Exposed and poorly protected citadel



Research
As a premium ship, Tiger '59 has no upgrades to research.
Optimal Configuration
Tiger '59 lacks the typical radar cruiser ability to be a DD hunter/killer. When she radars a destroyer, her low damage per minute (DPM) makes it difficult to destroy it. Further, the low DPM and lack of hydro makes it difficult to defend against sudden offensive action by the target. Thus, Tiger '59 needs friends. She can find targets, but she needs friends to reliably kill them, and to help defend her.
Build her for Support roles. Beyond improving her radar and concealment, buffing her offensive capabilities won't make much difference. Instead, an Anti-Aircraft build may be the best. No, Tiger '59 doesn't have great AA, but what she has can combine with that of her friends to make her (and them) an uninviting and costly target.
Upgrades
The recommended upgrades for Tiger '59 are:
If one lacks the Surveillance Radar Modification 1 module, it can be replaced by Engine Room Protection
Commander Skills
Priority skills: Last Stand, Expert AA Marksman (if the Surveillance Radar Upgrade is installed) or Consumables Enhancements, Adrenaline Rush, and Concealment Expert.
  Recommended Commander Skills  
Cost
(points)

Attack

Defense



1

 

 

 

 

 

★★★



2

 

 

★★

 

★★

★★



3

 

 

★★★

 

★★

★



4

★★

 

★

 

★★★

★

Key: ★★★ - Extremely Useful      ★★ - Frequently Useful      ★ - Occasionally Useful     No stars - Not Useful
Consumables
Tiger '59 equips the following consumables:
Camouflage
As a premium ship, Tiger '59 comes with Type 10 camouflage that lowers her detection radius, reduces the accuracy of incoming shells, reduces her service cost, and increases the amount of experience she earns.
Signals
Recommended Signal Flags
Combat

★

 

 

 

 

★

★★

★★

★★

★

★

★★★

★

★

Economic

★★

★★

★★

★★

★★

Special

★★

★★

★★

★★

★★

★★

★★

★★

Key: ★★★ - Extremely Useful       ★★ - Frequently Useful       ★ - Occasionally Useful      No stars - Not Useful
Note: Use of the Juliet Charlie signal makes detonation impossible.
Gallery
References
Wargaming
Wikipedia
See here for links to Update notes.

Available for testing by supertesters in the game starting from Update 0.10.2.
DevBlog 120:

Preliminary characteristics.

DevBlog 135:

Changed the Repair Party consumable:

Restoration of citadel damage increased from 10% to 50%.
Restoration of non-citadel damage increased from 50% to 60%.

Main battery accuracy increased to the improved destroyer dispersion formula.

DevBlog 145:

Ship detection range of the Surveillance Radar consumable decreased from 10 to 9 km.
Update 0.10.4:

Available for purchase in the Armory for doubloons and in the Premium store.
Main battery turrets can rotate 360 degrees.