Visby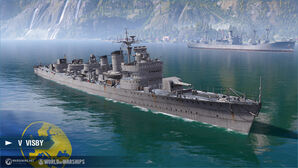 Tech Tree Position
120 mm/50 Bofors M1924
2 х 1 / 1 х 2 

pcs.
Rate of Fire
8 

shots/min.
Reload Time
7.5 

sec.
Rotation Speed
8 

deg./sec.
180 Degree Turn Time
22.5 

sec.
Firing Range
8.65 

km.
Maximum Dispersion
79 

m.
HE Shell
120 mm HE M1936 
Maximum HE Shell Damage
1,600 
Chance of Fire on Target Caused by HE Shell
7 

%
Initial HE Shell Velocity
900 

m./s.
HE Shell Weight
24 

kg.
AP Shell
120 mm AP M1936 
Maximum AP Shell Damage
2,200 
Initial AP Shell Velocity
900 

m./s.
AP Shell Weight
24 

kg.
533 mm Triple
2 х 3 

pcs.
Rate of Fire
1.02 

shots/min.
Reload Time
59 

sec.
Rotation Speed
25 

deg./sec.
180 Degree Turn Time
7.2 

sec.
Torpedo
Torped M1913 mod 1 
Maximum Damage
6,200 
Torpedo Speed
60 

knot
Torpedo Range
8.01 

km.
40 mm/60 Bofors M1936
3 х 1 

pcs.
. . . Average Damage per Second
22.5 
. . . Firing Range
3.51 

km.
20 mm/60 Madsen M1938
8 х 1 

pcs.
. . . Average Damage per Second
28.8 
. . . Firing Range
2.01 

km.
Maximum Speed
39 

knot
Turning Circle Radius
540 

m.
Rudder Shift Time
3.5 

sec.
Surface Detectability Range
6.82 

km.
Air Detectability Range
2.64 

km.
Battle Levels
Visby — European Tier V destroyer.

A further development of the "standard" destroyers of the Swedish Navy. The ship was faster than her predecessors, had a different main-gun-mount arrangement, and carried reinforced anti-aircraft armament.
Modules
Compatible Upgrades
Player Opinion
Performance
Visby offers captains the first real taste of the play style of the pan-European destroyer line. It is the first ship in the line to get access to the Repair Party (

) consumable, and is also the first ship in the line that has a relatively strong anti-air suite (for a destroyer).
One of the first things a captain might notice about the Visby is the very low number of hitpoints it has. This is not telling the full story though, since there are a lot of extra hitpoints hiding behind the Repair Party (

) consumable. The small number of hitpoints does make the ship vulnerable to burst damage (such as torpedoes), but a captain with an appropriate skill build that manages to avoid getting oneshot will find that the ship is actually deceptively tanky. Further adding to the Visby's surprising resilience is its speed and maneuverability. It is by far the fastest ship in the entire pan-European destroyer line and in fact has the highest base speed of all tier 5 destroyers (it would be the fastest tier 5 destroyer period, but the Jaguar is very slightly faster while Engine Boost (

) is active). It also has a very quick rudder shift, a tight turning circle and good acceleration, making it an exceptionally nimble ship.
To make the most of the Visby captains will need to use this resilience as far as possible, because the damage output is not very impressive. The guns are okay, middle of the pack for the tier in most respects, but suffer from a very slow turret traverse and a very short range, which makes the ship almost completely incompatible with an open-water gunboat playstyle. The short gun range is not always a downside however, since it makes it very easy to use line-of-sight blockers (such as islands and smoke screens) and to quickly get unspotted after an engagement. So, the main armament of the Visby is really the torpedoes, much like on the rest of the line. They are very characteristic for the line - very low damage per torpedo, but very easy to use. They are fast and long ranged, reload relatively quickly and can be fired with a very narrow spread. They do not have the burst damage of most other torps, but on the other hand they are generally easier to consistently score hits with than most other torps, so one could say they trade best-case damage for more consistent damage.
In short, the playstyle of the Visby can be summed up as "opportunistic". Since it's so fast and maneuverable, a captain is free to choose their engagements as they wish. Any destroyer that outguns the Visby is either slower or has worse concealment or both, making them easy to avoid. At the same time, the Visby is quite capable of winning gun fights against other destroyers and the captain should not forget to use the guns when an opportunity presents itself. The key to doing well in the Visby is relying on its resilience - the damage output is low in general, but it adds up over time, so you need to live and keep applying it consistently.
Pros:
Access to Repair Party () unlike many other DD's
Somewhat fast torpedo tube reload
Very fast and nimble
Good AA (for a destroyer)
Cons:
No smoke
Turrets turn slowly
Low DPM
Small HP pool makes it vulnerable to burst damage
Research
Availability of researchable upgrades for Visby is as follows:
Hull: Upgrade to Hull (B) for more hit points, an additional main battery gun and faster rudder shift time. Research of this module unlocks progression to Västerås.
Gun Fire Control System: Upgrade to SUO Mk 5 mod. 2 for an extra 10% range on the main battery.
Optimal Configuration
Upgrades
The recommended upgrades for Visby are as follows:
Commander Skills
  Recommended Commander Skills  
Cost
(points)

Attack

Defense



1

 

 

 

 

 

★★



2

 

★★

★★

 

 

★★



3

 

★★

★★

 

 

 



4

 

★★

 

 

★★

 

Key: ★★★ - Extremely Useful      ★★ - Frequently Useful      ★ - Occasionally Useful     No stars - Not Useful
Consumables
Visby can equip the following consumables:
Slot 1: Damage Control Party ()
Slot 2: Engine Boost ()
Slot 3: Repair Party ()

Gallery
References