Wickes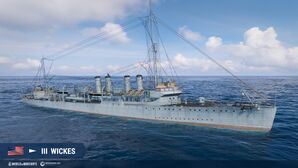 Tech Tree Position
533 mm Triple
4 х 3 

pcs.
Rate of Fire
1.88 

shots/min.
Reload Time
32 

sec.
Rotation Speed
25 

deg./sec.
180 Degree Turn Time
7.2 

sec.
Torpedo
Bliss Leavitt Mk3 
Maximum Damage
6,400 
Torpedo Speed
48 

knot
Torpedo Range
5.001 

km.
76.2 mm/23 Mk.14 on a single mount
1 х 1 

pcs.
. . . Average Damage per Second
1 
. . . Firing Range
3 

km.
Maximum Speed
34 

knot
Turning Circle Radius
520 

m.
Rudder Shift Time
4 

sec.
Surface Detectability Range
6.66 

km.
Air Detectability Range
2.45 

km.
Battle Levels
Wickes — American Tier III destroyer.
One of the massively produced destroyers in the U.S. Navy featuring flush-deck design. The key difference from her preceding class was the significantly increased propulsion power, resulting in higher speeds and better maneuverability.
Modules
Compatible Upgrades
Player Opinion
Performance
At first glance, Wickes might appear a downgrade from Sampson, particularly given her low health pool. While she is slightly more fragile than her predecessor, she makes up for it by retaining Sampson's handling characteristics while gaining about 5 knots worth of top speed.
More importantly than that, Wickes moves up from Sampson's twin double-tube launchers on each side of the ship to twin triple-tube launchers. Combined with the better damage from her upgraded Torpedo module, it is a huge increase in firepower. Wickes is a tremendous threat to enemy capital ships she's allowed to close with; however, now she can simply wipe them out with a single well-aimed salvo of torpedoes as opposed to Sampson's steady "death by a thousand cuts" method. Her main battery is virtually unchanged from Sampson; the guns are the same, and she retains the unusual gun placement that prevents her from getting more than three barrels on target at once.
Overall,
Wickes
packs more firepower into a hull that is just as fragile as her predecessor, while continuing to encourage clever positioning and sneak attacks from behind cover in order to maximize damage from her deadly torpedo armament.
Pros:
Excellent maneuverability.
Quick turret traverse speed.
Able to drop waves of torpedoes from both sides.
Low detection range.
Cons:
Gun reload is a on the slow side.
Virtually no armor (as is typical of destroyers).
Guns are arranged such that only 3 can be brought to bear on a target at a time.
Torpedoes are out-ranged by both German and Japanese counterparts (G-101 and Wakatake, respectively).
Anti-aircraft armament is non-existent.
Even less health than Sampson.
Research
Availability of researchable upgrades for Wickes is as follows:
Hull: Upgrade to Hull (B) for a few more hit points and slightly more AA. Research of this module unlocks progression to Clemson.
Torpedoes: Upgrading to the Bliss-Leavitt Mark 9's provides Wickes's torpedo armament with a major boost in damage and a little more range on her fish.
Gun Fire Control System: Upgrade to Mk3 mod. 2 for an extra 10% range on the main battery.
In an odd twist for American destroyers, the best place to spend initial experience gains in
Wickes
is in the upgraded Torpedo module. Hull (B) provides a smidgeon more health and should be taken next. The Fire Control System module upgrade to boost her gun range can be saved for last.
Optimal Configuration
Upgrades
The recommended upgrades for Wickes are as follows:
Commander Skills
Priority skills for any Wickes commander are Preventative Maintenance at Level 1, Last Stand at Level 2, Survivability Expert at Level 3, and Concealment Expert at Level 4.
  Recommended Commander Skills  
Cost
(points)

Attack

Defense



1

 

★

★

 

★

★★★



2

★

★

 

 

★★

★★★



3

★★★

★

★★★

 

 

★★★



4

★

★★

★★

 

★★★

★★

Key: ★★★ - Extremely Useful      ★★ - Frequently Useful      ★ - Occasionally Useful     No stars - Not Useful
Consumables
Wickes can equip the following consumables:
Camouflage
Type 1, 2, or 5 camouflage can be equipped for credits; Types 1 or 5 are recommended at a minimum to reduce detectibility range.
Signals
Recommended Signal Flags
Combat

 

 

★★

★★

★★

★

★

★★★

 

 

 

★★

 

 

Economic

★

 

★★★

★

 

Special

 

 

★

 

 

 

 

 

Key: ★★★ - Extremely Useful       ★★ - Frequently Useful       ★ - Occasionally Useful      No stars - Not Useful
Note: Use of the Juliet Charlie signal makes detonation impossible.
Gallery
References

Cite error: <ref> tags exist, but no <references/> tag was found