Yūgumo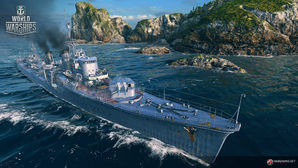 Tech Tree Position
127 mm/50 3rd Year Type on a Type C mount
3 х 2 

pcs.
Rate of Fire
10.51 

shots/min.
Reload Time
5.71 

sec.
Rotation Speed
7.9 

deg./sec.
180 Degree Turn Time
22.78 

sec.
Firing Range
10.95 

km.
Maximum Dispersion
97 

m.
HE Shell
127 mm HE Type1 
Maximum HE Shell Damage
2,150 
Chance of Fire on Target Caused by HE Shell
9 

%
Initial HE Shell Velocity
915 

m./s.
HE Shell Weight
23 

kg.
AP Shell
127 mm AP Type0 
Maximum AP Shell Damage
2,200 
Initial AP Shell Velocity
915 

m./s.
AP Shell Weight
23 

kg.
610 mm Quad
2 х 4 

pcs.
Rate of Fire
0.54 

shots/min.
Reload Time
112 

sec.
Rotation Speed
25 

deg./sec.
180 Degree Turn Time
7.2 

sec.
Torpedo
Type93 mod. 2 
Maximum Damage
20,967 
Torpedo Speed
67 

knot
Torpedo Range
9.99 

km.
127 mm/50 3rd Year Type on a Type C mount
3 х 2 

pcs.
. . . Average Damage per Second
30.3 
. . . Firing Range
5.01 

km.
25 mm/60 Type 96 on a twin mount
3 х 2 

pcs.
. . . Average Damage per Second
8.1 
. . . Firing Range
2.49 

km.
25 mm/60 Type 96 on a single mount
4 х 1 

pcs.
. . . Average Damage per Second
7.2 
. . . Firing Range
2.49 

km.
Maximum Speed
35.5 

knot
Turning Circle Radius
640 

m.
Rudder Shift Time
5.1 

sec.
Surface Detectability Range
7.02 

km.
Air Detectability Range
3.12 

km.
Battle Levels
Yūgumo — Japanese Tier IX destroyer.
Developed from the preceding Kagero-class destroyers, the very similar Yūgumo-class was a minor revision featuring new main gun mounts capable of high angle fire, reinforced AA defenses and a streamlined bridge structure.
Modules
Compatible Upgrades
 Slot 1 
 Slot 2 
 Slot 3 
 Slot 4 
 Slot 5 
 Slot 6 
Player Opinion
Performance
Yūgumo is penultimate destroyer in the "torpedo boat" branch of the Japanese tech. Captains who have progressed this far up the branch will be well-familiar with the layout of the ship, but will probably be disappointed in how few improvements there are over Tier VIII's Kagero lurking inside the hull.
One big improvement is the reload time of Yūgumo's main battery guns. The reload time of her 127mm/50 Type3 guns is a mere 5.7 seconds; glacially slow by American destroyer standards, but a speed heretofore unseen with Japanese 127 mm guns. With the right mix of upgrades and commander skills that number can drop even lower, bringing her DPM close to a true gunboat, though she will still lack the raw DPM of American destroyers or the excellent ballistics of Russian destroyers. Her main battery range goes up significantly as well, further emphasizing the benefits of her improved reload speed. Her turret traverse is much improved, too, but a 22.8 second 180° traverse time is very much in keeping with the flavor of her predecessors.
Yūgumo has the option of two torpedo upgrades from the stock Type 93 mod. 2. The first upgrade is to Type F3 which is outrageously fast at 76 knots but at the cost of 2 km of range. The recommended choice, however, is the final upgrade — Type93 mod. 3, which remain at 67 knots but with a range of 12 km and a near-24K wallop. Most captains will choose the Torpedo Tubes Modification 1

upgrade to improve speed to 70 kts and offset the risk of Torpedo Tubes Modification 2

that improves reload time to 97 seconds.
Most everything else remains as it was from
Kagero
. Her speed improves slightly (0.5 knots), and her handling characteristics remain virtually identical. Her main battery is now dual-purpose, but practically in name only; it does a better job giving away her presence to nearby planes than actually defending the ship and should generally be ordered to hold fire. Her health pool goes up by the slimmest of amounts (400 hit points). Even
Yūgumo
's detection radius is worse than
Kagero
, but it's very slight and not a serious handicap.
Pros:
Okay reload speed for her main battery guns.
Very potent torpedo armament, capable of impressive reload speeds with the right mix of upgrades and commander skills.
Can equip Torpedo Reload Booster.
Lowest detection radius among Tier IX destroyers.
Cons:
In a world of gunboats, her overall DPM is hardly impressive.
Lowest top speed among Tier IX destroyers.
Vulnerable to enemy aircraft, especially if equipping Torpedo Reload Booster instead of Smoke Generator.
Turret traverse time for main battery remains slow.
Research
Type F3 torpedoes,
Hull (B) for ~14% more health and to unlock Shimakaze,
Type93 mod. 3 torpedoes for the biggest bang,
Type9 mod. 2 GFCS for gun range [optional].
Optimal Configuration
Yūgumo is an excellent torpedo destroyer and her build should augment her best attributes.
Upgrades
Slot 4 presents two good options: Propulsion Modification 1
boosts acceleration out of dangerous waters; Steering Gears Modification 1

improves agility. Captain's choice.
Commander Skills
Yugumo has two priorities: survival, and her torpedoes.
  Recommended Commander Skills  
Cost
(points)

Attack

Defense



1

 

 

 

 

 

★★



2

 

★★

★★

 

★

★★★



3

 

★★

★★

 

 

★



4

 

★★

★

 

★★★

★

Key: ★★★ - Extremely Useful      ★★ - Frequently Useful      ★ - Occasionally Useful     No stars - Not Useful
Consumables
Yugumo can equip the following consumables:
Camouflage
Type 1, 2, or 5 camouflage can be equipped for credits; Types 1 or 5 are recommended at a minimum to reduce detectability range.
Players who wish to spend doubloons can equip Yūgumo with Type 19 camouflage that lowers her detection radius, reduces the accuracy of incoming shells, reduces her repair costs, and increases the amount of experience she earns.
Signals
Yūgumo
's reliance on her torpedoes for much of her damage output make equipping Juliet Whiskey Unaone
signal flags
highly attractive, particularly for
Torpedo Build
captains;
Torpedo Build
captains will want to equip November Foxtrot flags as well, in order to improve the cooldown speed of
Torpedo Reload Booster
.
Main Battery Build
captains should equip India X-Ray and Victor Lima flags. Juliet Charlie and Sierra Mike flags are recommended regardless of build.
Gallery
References
See here for links to Update notes.

Available to supertesters in the game starting from Update 0.5.12.
Introduced into the game as a researchable Tier IX ship in Update 0.5.15.
Update 0.5.16:

Main battery guns were replaced with dual purpose guns of the same caliber, which gives the ship a long-range air defense aura.

Update 0.6.2:

The national flag was moved from the stern to the mast.

Update 0.6.3:

Base firing range increased from 10,050 to 10,950 m.

Update 0.6.4:

Main battery turret traverse time reduced from 25.7 to 22.8 s.
The detectability of the Type F3 torpedoes was reduced from 1.9 to 1.8 km.

Update 0.6.6:

Added 12 km Type 93 mod torpedoes.
Fixed errors in the deck armor, now is all 19 mm.

Update 0.6.8:

The Torpedo Reload Booster consumable now reloads torpedoes in 8 s (was 30 s).

Update 0.6.12:

Detectability when firing main guns in smoke changed to 2.62 km.

Update 0.6.13:

Fire extinguishing time now 30 s instead of 60 s.

Update 0.6.14:

Improved display of thin elements. The changes do not affect the game balance in any way.

Update 0.7.2:

Players who have collected the "Uniforms" sub-collection of the "Yamomoto Isoroku" collection can use an alternate permanent camouflage color.

Update 0.7.6:

Improved display of thin elements on the body kit.

Update 0.7.11:

HE shell damage increased from 1,800 to 2,150, fire change increased from 7 to 9%.