Z-23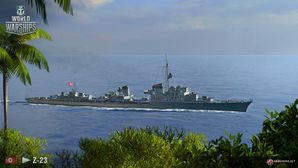 Tech Tree Position
128 mm/45 SK C/34 on an MPLC/34 mount
4 х 1 

pcs.
Rate of Fire
15 

shots/min.
Reload Time
4 

sec.
Rotation Speed
8 

deg./sec.
180 Degree Turn Time
22.5 

sec.
Firing Range
9.85 

km.
Maximum Dispersion
88 

m.
HE Shell
128 mm Spr.Gr. 
Maximum HE Shell Damage
1,500 
Chance of Fire on Target Caused by HE Shell
6 

%
Initial HE Shell Velocity
830 

m./s.
HE Shell Weight
28 

kg.
AP Shell
128 mm P.Spr.Gr. 
Maximum AP Shell Damage
3,000 
Initial AP Shell Velocity
830 

m./s.
AP Shell Weight
28 

kg.
533 mm Vierling
2 х 4 

pcs.
Rate of Fire
0.67 

shots/min.
Reload Time
90 

sec.
Rotation Speed
25 

deg./sec.
180 Degree Turn Time
7.2 

sec.
Torpedo
G7 Steinbarsch 
Maximum Damage
14,400 
Torpedo Speed
65 

knot
Torpedo Range
8.49 

km.
128 mm/45 SK C/41 on a Drh LC/41 mount
1 х 2 

pcs.
. . . Average Damage per Second
14.9 
. . . Firing Range
5.01 

km.
20 mm/65 C/38 on an L/30 single mount
6 х 1 

pcs.
. . . Average Damage per Second
18 
. . . Firing Range
2.01 

km.
37 mm/83 SK C/30 on a Dopp LC/30 mount
2 х 2 

pcs.
. . . Average Damage per Second
5.2 
. . . Firing Range
3.51 

km.
Maximum Speed
37 

knot
Turning Circle Radius
680 

m.
Rudder Shift Time
6.3 

sec.
Surface Detectability Range
7.92 

km.
Air Detectability Range
3.5 

km.
Battle Levels
Z-23 — German Tier VIII destroyer.
Developed from the Leberecht Maass-class destroyers (Zerstörer 1936A type), this ship had larger dimensions and greater firepower compared to her prototype. She never received 128mm main gun mounts, but because of the new destroyer line, she only gets these guns and retains the torpedo armament of her predecessor.
Modules
Compatible Upgrades
 Slot 1 
 Slot 2 
 Slot 3 
 Slot 4 
 Slot 5 
Player Opinion
Performance
A solid upgrade to Leberecht Maass, Tier VIII's Z-23 is similar in broad strokes but sees incremental improvements in several key areas. Most welcome is the ability to take the concealment upgrade in the new upgrade slot, allowing her to reach a detection range of 6.2 km when combined with camouflage and the captain skill; still worse than most other destroyers, but at least closer to competitive. A slight downgrade in acceleration, rudder shift, and turning circle is compensated for by a meaty helping of 2,000 additional hit points.
In her stock configuration, Z-23 has exactly the same guns as Maass, but loses a gun. However, upon upgrading to the N-Hull Z-23 exchanges her forward single gun mount for a twin turret, bringing her gun count up to five guns.
Finally, the upgraded torpedoes pick up an extra kilometer of range, improving their flexibility. The 1-knot increase in speed is small but can only help as well.
All in all, like her predecessors
Z-23
may not quite have the finesse of American or Japanese destroyers, but her durability,
Hydroacoustic Search
(

), and balanced gun and torpedo armaments allow her to adapt to almost any circumstance.
Pros:
128mm main battery guns have a very fast rate of fire.
Main battery has increased HE penetration, making them more consistent
Can deliver torpedo strikes from beyond her detection range.
Has decent speed for a Tier VIII destroyer.
Has access to Hydroacoustic Search ().
High amount of hit points for a Tier VIII destroyer, second only to Akizuki.
Cons:
Relatively large detection range compared to other Tier VIII destroyers.
Main battery turrets have a somewhat slow turret traverse speed.
Mediocre AA.
Very short smokescreen duration limits offensive smoking ability.
Research
Upgrade the hull first for a massive increase in survivability. Next, the upgraded torpedoes are more comfortable to use. Take the gun range last.
Optimal Configuration
Upgrades
The recommended upgrades for Z-23 are as follows:
If available, captains are encouraged to install Hydroacoustic Search Modification 1 (

) in Upgrade Slot 2 in order to extend Z-23's Hydroacoustic Search (

) duration to 115 seconds.
Commander Skills
  Recommended Commander Skills  
Cost
(points)

Attack

Defense



1

★★

★★

 

★

 

 



2

 

★★★

 

★

★★

★★★



3

★★

★★★

★★

 

★★

★★★



4

 

★

★

 

★★★

★

Key: ★★★ - Extremely Useful      ★★ - Frequently Useful      ★ - Occasionally Useful     No stars - Not Useful
Consumables
Z-23 equips the following consumables:
Camouflage
Type 1, 2, or 5 camouflage can be equipped for credits; Types 1 or 5 are recommended at a minimum to reduce detectibility range.
Players who wish to spend doubloons can equip Z-23 with Type 18 camouflage that lowers her detection radius, reduces the accuracy of incoming shells, reduces her repair costs, and increases the amount of experience she earns.
Signals
The choice of which Signal Flags to mount will confer to the individual preference of each captain, and are subject to great variation, although there are certain flags which suit Destroyer game play better. Captains should mount India Yankee to decrease time to extinguish fires, mount November Foxtrot to decrease reload time of consumables, and mount Sierra Mike to increase the ship's maximum speed. To make their torpedoes more potent, captains should mount Juliet Whisky Unaone to increase chance of causing flooding and Juliet Charlie to mitigate risk to magazine detonation from mounting the former flag. If captains wish to buff their primary artillery, they are encouraged to mount Victor Lima + India X-ray to increase fire chance to HE shells.
Recommended Signal Flags
Combat

 

 

 

 

 

 

 

 

 

 

 

 

 

 

Economic

 

 

 

 

 

Special

 

 

 

 

 

 

 

 

Key: ★★★ - Extremely Useful       ★★ - Frequently Useful       ★ - Occasionally Useful      No stars - Not Useful
Note: Use of the Juliet Charlie signal makes detonation impossible.
Gallery
Z-23 destroys an enemy Benson class destroyer in a gun duel.
References