Zao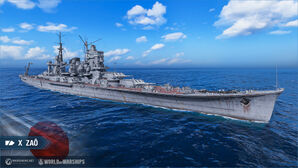 Tech Tree Position
100 mm/65 Type 98 on a Model A mount
6 х 2 

pcs.
Firing Range
7.3 

km.
Rate of Fire
20 

shots/min.
Reload Time
3 

sec.
HE Shell
100 mm HE Type98 
Maximum HE Shell Damage
1,700 
Initial HE Shell Velocity
1000 

m./s.
Chance of Fire on Target Caused by HE Shel
6 

%
100 mm/65 Type 98 on a Model A mount
6 х 2 

pcs.
. . . Average Damage per Second
124.8 
. . . Firing Range
5.01 

km.
25 mm/60 Type 96 on a single mount
20 х 1 

pcs.
. . . Average Damage per Second
36 
. . . Firing Range
2.49 

km.
40 mm/60 Type 5 on a twin mount
9 х 2 

pcs.
. . . Average Damage per Second
99 
. . . Firing Range
3.51 

km.
25 mm/60 Type 96 on a triple mount
11 х 3 

pcs.
. . . Average Damage per Second
36.3 
. . . Firing Range
2.49 

km.
Maximum Speed
34.5 

knot
Turning Circle Radius
840 

m.
Rudder Shift Time
7.7 

sec.
Surface Detectability Range
12.6 

km.
Air Detectability Range
7.46 

km.
Battle Levels
Zaō — Japanese Tier X cruiser.
A very powerful cruiser in all respects. Compared with the preceding classes of heavy cruisers, Zao had a greater number of main battery and AA guns, thick armor, and a reinforced torpedo armament.
Modules
Compatible Upgrades
 Slot 1 
 Slot 2 
 Slot 3 
 Slot 4 
 Slot 5 
 Slot 6 
Player Opinion
Performance
The ninja among Tier X cruisers, the Zao specializes in striking with a single massive salvo, then slipping away before the enemy can retaliate.
Japanese cruiser captains will be delighted to know that the Zao finally gets an entire new model of gun, replacing the venerable 3rd Year Type that has been the trademark of the line since the Furutaka all the way back in Tier V. And what an upgrade it is! The HE and especially AP shells gain considerable potency, and Zao delivers them with an accuracy and velocity unprecedented in the line. To further sweeten the deal, Zao also gains two barrels for a total of twelve, and they are mounted in a friendlier setup of four triple turrets. The one downside is that the turret traverse---already a drawback of the line---suffers a further setback. This makes it especially important that the Zao is doing the ambushing rather than the reverse.
Fortunately this is not difficult to ensure: Zao can reach a detectability radius of 9.90 km with a (highly recommended) stealth build, which is the best among all Tier X heavy cruisers and nearly as good as the light cruisers. This stealth combines well with her high-alpha, low-rate-of-fire main battery: she can fire a punishing salvo, then go dark before the enemy can effectively return fire.
Her upgraded torpedoes offer another opportunity to use her stealth: with a 12 km range, she can launch these from beyond her detection radius, and even from beyond the range of radar. With two quintuple launchers on each side they can easily devastate unwary victims, and can serve as a good area denial tool. However, their poor firing angles and extremely long reload means they must be used judiciously, with their poor usefulness in brawls being worth a special mention because of their poor firing angles. (The stock torpedoes offer ludicrous speed and a faster reload, but their much shorter range renders them useless in most situations.)
Zao's survivability is on the lower side of T10 cruisers, and can sometimes be a mixed bag. She has the smallest health pool of all Tier X cruisers, even counting the light cruisers (with the exception of Smolensk and Colbert), and her armor is not particularly thick. Her anti-aircraft suite and consumable toolkit are unremarkable. However, she does have a few factors working in her favor. She is relatively fast and has a good rudder shift (albeit with a slightly lackluster turning circle), giving her decent ability to reposition and dodge incoming fire. Her citadel is quite hard to hit, is protected by a small but steeply angled turtleback, and her hull is rather narrow - the so-called "troll armor" - often allowing her to seem to cheat death by the virtue of avoiding taking citadel hits and yielding over penetrations against large caliber AP when broadside. Still, taking
Zao
into a stand-up fight is not advisable, as her low HP pool can prove to be her undoing in fights against enemy BBs with large caliber (429mm+) guns due to overmatch, as well as against some cruisers.
Pros:
Very good HE firepower with high alpha damage, good fire starting ability and superb accuracy (which can be further enhanced by equipping the Improved Bridge () unique upgrade and the Aiming Systems Modification 1 () upgrade)
Good AP performance with high damage per volley, great accuracy and decent penetration
Very good ballistics performance with fast flight time at all ranges
High base speed of 34.5 knots
Good maneuverability (7.7 seconds rudder shift time)
Fast, powerful torpedoes, with two quintuple launchers on each side of the ship
Excellent concealment with all relevant upgrades
Cons:
One of the lowest health pools among Tier 10 cruisers
Poor main battery firing angles - bringing all guns to bear while staying reasonably well protected can be quite tricky and must be done with care
Subpar turret traverse speed
Very poor torpedo firing arcs, with the launchers being located in the aft section
Because of their exposed position, her torpedo launchers are prone to incapacitations and destruction
Research
The only research to be done is the torpedoes, which are highly recommended, as unlike the stock torpedoes they can be launched from beyond detection range.
Optimal Configuration
Upgrades
The recommended upgrades for Zaō are as follows:
Commander Skills
Sitting at the top of the tech tree, the suggested skill selections for Zao continue to focus on her stealth aspects. Key skills include Gun Feeder at Level 1, Priority Target at Level 2, Superintendent at Level 3, and Concealment Expert at Level 4. Captains who chose to take Main Battery Modification 3 (

) in Upgrade Slot 6 and Aiming Systems Modification 1 (

) in Upgrade Slot 3 may wish to take Grease the Gears as their Level 1 skill to improve her turret traverse. Her long maximum gun range when boosted by Gun Fire Control System Modification 2 (

) can often result in Zao finding herself well outside the AA bubbles of other ships. As such, the AA skills become of greater importance for encouraging CVs to focus on other targets, particularly when paired with the Defensive AA Fire (

) consumable.
  Recommended Commander Skills  
Cost
(points)

Attack

Defense



1

★★

★

 

★★★

★★

★★



2

★

★

 

 

★★

★★



3

★

★

★★★

★

★★★

★★



4

 

 

★

★★

★★★

★★

Key: ★★★ - Extremely Useful      ★★ - Frequently Useful      ★ - Occasionally Useful     No stars - Not Useful
Consumables
Zaō can equip the following consumables:
Camouflage
Type 1, 2, or 5 camouflage can be equipped for credits; Types 1 or 5 are recommended at a minimum to reduce detectability range.
Players who wish to spend doubloons can equip Zaō with Type 20 camouflage that lowers her detection radius, reduces the accuracy of incoming shells, reduces her repair costs, and increases the amount of experience she earns.
Signals
Recommended Signal Flags
Combat

★

 

★★★

 

★★★

 

★

 

★★★

 

 

★

 

 

Economic

★★

★★★

 

★★

 

Special

 

 

★★

 

 

 

 

 

Key: ★★★ - Extremely Useful       ★★ - Frequently Useful       ★ - Occasionally Useful      No stars - Not Useful
Note: Use of the Juliet Charlie signal makes detonation impossible.
Gallery

Cite error: <ref> tags exist, but no <references/> tag was found