Italy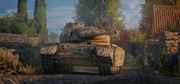 Italy is the currently newest nation presented in World of Tanks, after Poland.
Currently there is an end-tier medium line of 11 regular vehicles, and a premium one.
---
Tiers I–VII retrace the history of the nation's tankbuilding, from Italy's early tank designs at lower tiers through to post-WWII machines at mid-to-higher tiers. These vehicles generally have acceptable protection and decent firepower, yet their mobility leaves much to be desired. It would be best to play them as supporters, much resembling the German mediums at their tier.

But the cherry on the cake are Tiers VIII–X with a new gun system, a hybrid between an autoloader and a regular gun. This Italian revolver of sorts, called an "autoreloader," can automatically reload a shell in the drum even when the drum is not empty yet. Combined with the great gun handling and good mobility, they could perform no less effective than Czech or French autoloaders, but are easier to handle. Also as a common trait of post-WWII western tank designs, they possess good - if not great - gun depression, which can be advantageous on hills or slopes.
Light Tanks
Medium Tanks
Heavy Tanks
1