A-43
A43 (Stock)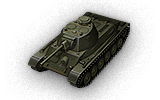 Totals
925000
Price
660
Hit Points
26.92 / 27 kg
Weight
Crew
Armor
60/45/40
Hull Armor

(front/sides/rear, mm)
60/45/45
Turret Armor

(front/sides/rear, mm)
Maneuver
500 h.p.
Engine Power
55 km/h
Speed Limit
42 deg/sec
Traverse Speed
Firepower
110
Standard Shell Damage
86 mm
Standard Shell Penetration
3.6
Time for Complete Loading
48 deg/sec
Turret Traverse Speed
Communication
350 m
View Range
325 m
Signal Range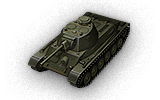 Developed in 1941 at Plant No.183 under the designation A-43. A new vehicle was intended to replace the T-34 tank. The vehicle was to be equipped with torsion-bar suspension, diesel engine B-5, a new transmission and a reinforced to 60 mm front armor.
Compatible Equipment
























Compatible Consumables


















History for this tank not found