AMX 38
AMX38 (Stock)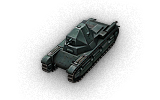 Totals
41000
Price
220
Hit Points
15.86 / 16 kg
Weight
Crew
Armor
60/40/40
Hull Armor

(front/sides/rear, mm)
60/40/40
Turret Armor

(front/sides/rear, mm)
Maneuver
150 h.p.
Engine Power
25 km/h
Speed Limit
30 deg/sec
Traverse Speed
Firepower
40
Standard Shell Damage
34 mm
Standard Shell Penetration
2.4
Time for Complete Loading
28 deg/sec
Turret Traverse Speed
Communication
310 m
View Range
300 m
Signal Range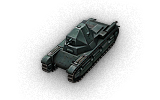 Developed in 1937 by the AMX company on the basis of the Renault R-40. The vehicle had a larger turret than comparable vehicles and was equipped with a diesel engine. By 1940 two vehicles were ready for trials.
| | Level | Turret | Weight (t) | Turret Armor (front/sides/rear, mm) | Gun Traverse Speed (deg/s) | View Range (m) |
| --- | --- | --- | --- | --- | --- | --- |
| | II | AMX 38 | 2500 | 60/40/40 | 28 | 310 |
| | Level | Gun | Weight (t) | Average Penetration (mm) | | Rate of Fire | Dispersion at 100 m | Aiming Time |
| --- | --- | --- | --- | --- | --- | --- | --- | --- |
| | II | 37 mm SA38 | 70 | 34/67/24 | 40/40/45 | 25 | 0.48 | 2 |
| | Level | Engine | Weight (t) | Engine Power (h.p.) | Chance of Fire on Impact |
| --- | --- | --- | --- | --- | --- |
| | II | Aster | 540 | 150 | 15 |
| | Level | Suspension | Weight (t) | Load Limit | Traverse Speed (deg/s) |
| --- | --- | --- | --- | --- | --- |
| | II | AMX 38 1er prototype | 3000 | 16 | 30 |
| | Level | Radio | Weight (t) | Signal Range (m) |
| --- | --- | --- | --- | --- |
| | III | ER 52 | 0 | 300 |
| | Level | Turret | Weight (t) | Turret Armor (front/sides/rear, mm) | Gun Traverse Speed (deg/s) | View Range (m) |
| --- | --- | --- | --- | --- | --- | --- |
| | II | AMX 38 | 2500 | 60/40/40 | 28 | 310 |
| | Level | Gun | Weight (t) | Average Penetration (mm) | | Rate of Fire | Dispersion at 100 m | Aiming Time |
| --- | --- | --- | --- | --- | --- | --- | --- | --- |
| | II | 47 mm SA34 | 90 | 25/46/24 | 50/50/62 | 18.75 | 0.53 | 2.3 |
| | Level | Engine | Weight (t) | Engine Power (h.p.) | Chance of Fire on Impact |
| --- | --- | --- | --- | --- | --- |
| | II | Aster | 540 | 150 | 15 |
| | Level | Suspension | Weight (t) | Load Limit | Traverse Speed (deg/s) |
| --- | --- | --- | --- | --- | --- |
| | III | AMX 38 série | 3000 | 18 | 32 |
| | Level | Radio | Weight (t) | Signal Range (m) |
| --- | --- | --- | --- | --- |
| | III | ER 52 | 0 | 300 |
| | Level | Turret | Weight (t) | Turret Armor (front/sides/rear, mm) | Gun Traverse Speed (deg/s) | View Range (m) |
| --- | --- | --- | --- | --- | --- | --- |
| | II | AMX 38 | 2500 | 60/40/40 | 28 | 310 |
| | Level | Gun | Weight (t) | Average Penetration (mm) | | Rate of Fire | Dispersion at 100 m | Aiming Time |
| --- | --- | --- | --- | --- | --- | --- | --- | --- |
| | II | 25 mm Raccourci mle. 1934 | 71 | 46/68/24 | 27/27/45 | 33.33 | 0.45 | 1.7 |
| | Level | Engine | Weight (t) | Engine Power (h.p.) | Chance of Fire on Impact |
| --- | --- | --- | --- | --- | --- |
| | III | Aster M | 600 | 160 | 15 |
| | Level | Suspension | Weight (t) | Load Limit | Traverse Speed (deg/s) |
| --- | --- | --- | --- | --- | --- |
| | III | AMX 38 série | 3000 | 18 | 32 |
| | Level | Radio | Weight (t) | Signal Range (m) |
| --- | --- | --- | --- | --- |
| | III | ER 52 | 0 | 300 |
| | Level | Turret | Weight (t) | Turret Armor (front/sides/rear, mm) | Gun Traverse Speed (deg/s) | View Range (m) |
| --- | --- | --- | --- | --- | --- | --- |
| | II | AMX 38 | 2500 | 60/40/40 | 28 | 310 |
| | Level | Gun | Weight (t) | Average Penetration (mm) | | Rate of Fire | Dispersion at 100 m | Aiming Time |
| --- | --- | --- | --- | --- | --- | --- | --- | --- |
| | III | 47 mm SA35 | 100 | 45/79/24 | 55/55/70 | 18.75 | 0.47 | 2.5 |
| | Level | Engine | Weight (t) | Engine Power (h.p.) | Chance of Fire on Impact |
| --- | --- | --- | --- | --- | --- |
| | III | Aster M | 600 | 160 | 15 |
| | Level | Suspension | Weight (t) | Load Limit | Traverse Speed (deg/s) |
| --- | --- | --- | --- | --- | --- |
| | III | AMX 38 série | 3000 | 18 | 32 |
| | Level | Radio | Weight (t) | Signal Range (m) |
| --- | --- | --- | --- | --- |
| | V | ER 53 | 0 | 360 |
Compatible Equipment


















Compatible Consumables














History for this tank not found