AMX 50 Foch
AMX50_Foch (Stock)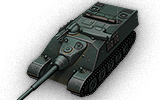 Totals
3670000
Price
1550
Hit Points
50.1 / 59.56 kg
Weight
Crew
Armor
180/40/40
Hull Armor

(front/sides/rear, mm)
0/0/0
Turret Armor

(front/sides/rear, mm)
Maneuver
850 h.p.
Engine Power
50 km/h
Speed Limit
26 deg/sec
Traverse Speed
Firepower
400
Standard Shell Damage
257 mm
Standard Shell Penetration
9.3
Time for Complete Loading
26 deg/sec
Turret Traverse Speed
Communication
390 m
View Range
400 m
Signal Range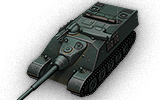 Tank destroyer on the basis of the AMX 50. A prototype was manufactured in 1950. By 1951 a few more vehicles were ready for trials. The vehicle was in service until 1952.
| | Level | Gun | Weight (t) | Average Penetration (mm) | | Rate of Fire | Dispersion at 100 m | Aiming Time |
| --- | --- | --- | --- | --- | --- | --- | --- | --- |
| | X | 120 mm AC SA46 | 3580 | 257/325/65 | 400/400/515 | 6.45 | 0.33 | 2.3 |
| | Level | Engine | Weight (t) | Engine Power (h.p.) | Chance of Fire on Impact |
| --- | --- | --- | --- | --- | --- |
| | IX | Maybach HL 295 | 750 | 850 | 20 |
| | Level | Suspension | Weight (t) | Load Limit | Traverse Speed (deg/s) |
| --- | --- | --- | --- | --- | --- |
| | VIII | AMX 50 Foch | 11000 | 59.56 | 26 |
| | Level | Radio | Weight (t) | Signal Range (m) |
| --- | --- | --- | --- | --- |
| | VI | SCR 508 | 0 | 400 |
| | Level | Gun | Weight (t) | Average Penetration (mm) | | Rate of Fire | Dispersion at 100 m | Aiming Time |
| --- | --- | --- | --- | --- | --- | --- | --- | --- |
| | X | 120 mm AC SA46 | 3580 | 257/325/65 | 400/400/515 | 6.45 | 0.33 | 2.3 |
| | Level | Engine | Weight (t) | Engine Power (h.p.) | Chance of Fire on Impact |
| --- | --- | --- | --- | --- | --- |
| | IX | Saurer | 750 | 1000 | 15 |
| | Level | Suspension | Weight (t) | Load Limit | Traverse Speed (deg/s) |
| --- | --- | --- | --- | --- | --- |
| | IX | AMX 50 Foch bis | 11000 | 62.56 | 28 |
| | Level | Radio | Weight (t) | Signal Range (m) |
| --- | --- | --- | --- | --- |
| | X | SCR 528F | 0 | 750 |
Compatible Equipment






















Compatible Consumables


















History for this tank not found