AMX 13 F3 AM
AMX_13F3AM (Stock)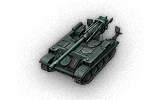 Totals
935000
Price
270
Hit Points
14.95 / 16.5 kg
Weight
Crew
Armor
40/20/15
Hull Armor

(front/sides/rear, mm)
15/0/15
Turret Armor

(front/sides/rear, mm)
Maneuver
250 h.p.
Engine Power
60 km/h
Speed Limit
27 deg/sec
Traverse Speed
Firepower
720
Standard Shell Damage
77 mm
Standard Shell Penetration
19
Time for Complete Loading
14 deg/sec
Turret Traverse Speed
Communication
360 m
View Range
400 m
Signal Range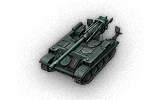 Developed at the end of the 1950s on the chassis of the AMX 13. The vehicle was mass-produced until the end of the 1960s and is still in service in France, Argentina, Chile, Ecuador, Morocco, and other countries.
| | Level | Gun | Weight (t) | Average Penetration (mm) | | Rate of Fire | Dispersion at 100 m | Aiming Time |
| --- | --- | --- | --- | --- | --- | --- | --- | --- |
| | V | Obusier de 155 mm C mle.1917 | 1220 | 77/185 | 720/720 | 3.16 | 0.82 | 7 |
| | Level | Engine | Weight (t) | Engine Power (h.p.) | Chance of Fire on Impact |
| --- | --- | --- | --- | --- | --- |
| | V | SOFAM 8 Gxb | 400 | 250 | 20 |
| | Level | Suspension | Weight (t) | Load Limit | Traverse Speed (deg/s) |
| --- | --- | --- | --- | --- | --- |
| | V | AMX 13 F3AM | 3800 | 16.5 | 27 |
| | Level | Radio | Weight (t) | Signal Range (m) |
| --- | --- | --- | --- | --- |
| | VI | SCR 508 | 0 | 400 |
| | Level | Gun | Weight (t) | Average Penetration (mm) | | Rate of Fire | Dispersion at 100 m | Aiming Time |
| --- | --- | --- | --- | --- | --- | --- | --- | --- |
| | VI | Canon de 155 mm de 33 calibres | 2675 | 90/185 | 950/720 | 2.63 | 0.78 | 7 |
| | Level | Engine | Weight (t) | Engine Power (h.p.) | Chance of Fire on Impact |
| --- | --- | --- | --- | --- | --- |
| | V | SOFAM 8 Gxb | 400 | 250 | 20 |
| | Level | Suspension | Weight (t) | Load Limit | Traverse Speed (deg/s) |
| --- | --- | --- | --- | --- | --- |
| | V | AMX 13 F3AM | 3800 | 16.5 | 27 |
| | Level | Radio | Weight (t) | Signal Range (m) |
| --- | --- | --- | --- | --- |
| | X | SCR 528F | 0 | 750 |
| | Level | Gun | Weight (t) | Average Penetration (mm) | | Rate of Fire | Dispersion at 100 m | Aiming Time |
| --- | --- | --- | --- | --- | --- | --- | --- | --- |
| | VI | Canon de 155 mm de 33 calibres | 2675 | 90/185 | 950/720 | 2.63 | 0.78 | 7 |
| | Level | Engine | Weight (t) | Engine Power (h.p.) | Chance of Fire on Impact |
| --- | --- | --- | --- | --- | --- |
| | VI | Baudouin 6F 11 SRY | 400 | 280 | 15 |
| | Level | Suspension | Weight (t) | Load Limit | Traverse Speed (deg/s) |
| --- | --- | --- | --- | --- | --- |
| | VI | AMX 13 F3AM B | 3800 | 18.5 | 30 |
| | Level | Radio | Weight (t) | Signal Range (m) |
| --- | --- | --- | --- | --- |
| | X | SCR 528F | 0 | 750 |
Compatible Equipment




















Compatible Consumables


















History for this tank not found