AMX AC mle. 48
AMX_AC_Mle1948 (Stock)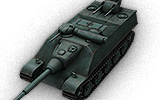 Totals
2570000
Price
1000
Hit Points
49.62 / 56.9 kg
Weight
Crew
Armor
150/40/40
Hull Armor

(front/sides/rear, mm)
0/0/0
Turret Armor

(front/sides/rear, mm)
Maneuver
575 h.p.
Engine Power
50 km/h
Speed Limit
26 deg/sec
Traverse Speed
Firepower
240
Standard Shell Damage
212 mm
Standard Shell Penetration
6.3
Time for Complete Loading
26 deg/sec
Turret Traverse Speed
Communication
370 m
View Range
400 m
Signal Range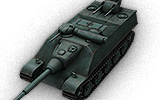 A draft project of a tank destroyer on the basis of the AMX 50. Developed in 1948. The vehicle featured rotating fire unit on the rear. Existed only in blueprints.
Compatible Equipment






















Compatible Consumables


















History for this tank not found