AMX 105 AM mle. 47
AMX_Ob_Am105 (Stock)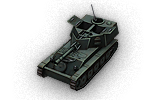 Totals
124000
Price
170
Hit Points
15.34 / 15.5 kg
Weight
Crew
Armor
30/20/15
Hull Armor

(front/sides/rear, mm)
10/0/0
Turret Armor

(front/sides/rear, mm)
Maneuver
200 h.p.
Engine Power
60 km/h
Speed Limit
23 deg/sec
Traverse Speed
Firepower
410
Standard Shell Damage
53 mm
Standard Shell Penetration
11
Time for Complete Loading
10 deg/sec
Turret Traverse Speed
Communication
340 m
View Range
400 m
Signal Range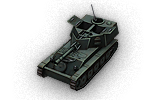 A 105-mm artillery design project developed by the Construction Bureau in Issy-les-Moulineaux (Paris, France). The draft was ready in September 1947. However, development was discontinued and the project was canceled.
| | Level | Gun | Weight (t) | Average Penetration (mm) | | Rate of Fire | Dispersion at 100 m | Aiming Time |
| --- | --- | --- | --- | --- | --- | --- | --- | --- |
| | IV | 105 mm D.E.F.A. 4767 modifié | 490 | 53/104 | 410/350 | 5.45 | 0.77 | 5.5 |
| | Level | Engine | Weight (t) | Engine Power (h.p.) | Chance of Fire on Impact |
| --- | --- | --- | --- | --- | --- |
| | III | AMX B 270 | 340 | 200 | 20 |
| | Level | Suspension | Weight (t) | Load Limit | Traverse Speed (deg/s) |
| --- | --- | --- | --- | --- | --- |
| | III | AMX 105 AM mle. 47 | 4000 | 15.5 | 23 |
| | Level | Radio | Weight (t) | Signal Range (m) |
| --- | --- | --- | --- | --- |
| | VI | SCR 508 | 0 | 400 |
AMX 105 AM mle. 50
Attack
| | Level | Gun | Weight (t) | Average Penetration (mm) | | Rate of Fire | Dispersion at 100 m | Aiming Time |
| --- | --- | --- | --- | --- | --- | --- | --- | --- |
| | V | 105 mm obusier mle. 1950 | 550 | 60/223 | 445/330 | 5 | 0.74 | 5.5 |
| | Level | Engine | Weight (t) | Engine Power (h.p.) | Chance of Fire on Impact |
| --- | --- | --- | --- | --- | --- |
| | III | AMX B 270 | 340 | 200 | 20 |
| | Level | Suspension | Weight (t) | Load Limit | Traverse Speed (deg/s) |
| --- | --- | --- | --- | --- | --- |
| | III | AMX 105 AM mle. 47 | 4000 | 15.5 | 23 |
| | Level | Radio | Weight (t) | Signal Range (m) |
| --- | --- | --- | --- | --- |
| | X | SCR 528F | 0 | 750 |
| | Level | Gun | Weight (t) | Average Penetration (mm) | | Rate of Fire | Dispersion at 100 m | Aiming Time |
| --- | --- | --- | --- | --- | --- | --- | --- | --- |
| | V | 105 mm obusier mle. 1950 | 550 | 60/223 | 445/330 | 5 | 0.74 | 5.5 |
| | Level | Engine | Weight (t) | Engine Power (h.p.) | Chance of Fire on Impact |
| --- | --- | --- | --- | --- | --- |
| | V | MATHIS | 400 | 250 | 20 |
| | Level | Suspension | Weight (t) | Load Limit | Traverse Speed (deg/s) |
| --- | --- | --- | --- | --- | --- |
| | IV | AMX 105 AM mle. 47 modifié | 4000 | 18.6 | 26 |
| | Level | Radio | Weight (t) | Signal Range (m) |
| --- | --- | --- | --- | --- |
| | X | SCR 528F | 0 | 750 |
Compatible Equipment
















Compatible Consumables


















History for this tank not found