B1
B1 (Stock)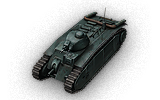 Totals
185000
Price
380
Hit Points
29.13 / 33.3 kg
Weight
Crew
Armor
60/60/55
Hull Armor

(front/sides/rear, mm)
40/40/40
Turret Armor

(front/sides/rear, mm)
Maneuver
180 h.p.
Engine Power
30 km/h
Speed Limit
26 deg/sec
Traverse Speed
Firepower
50
Standard Shell Damage
25 mm
Standard Shell Penetration
2.3
Time for Complete Loading
46 deg/sec
Turret Traverse Speed
Communication
300 m
View Range
290 m
Signal Range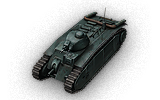 Development was started in 1921. Due to extended trials the vehicle did not enter service until 1934. A total of 403 tanks in two basic modifications were manufactured from 1935 through 1940.
| | Level | Turret | Weight (t) | Turret Armor (front/sides/rear, mm) | Gun Traverse Speed (deg/s) | View Range (m) |
| --- | --- | --- | --- | --- | --- | --- |
| | III | B1 APX 1 | 1700 | 40/40/40 | 46 | 300 |
| | Level | Gun | Weight (t) | Average Penetration (mm) | | Rate of Fire | Dispersion at 100 m | Aiming Time |
| --- | --- | --- | --- | --- | --- | --- | --- | --- |
| | II | 47 mm SA34 | 90 | 25/46/24 | 50/50/62 | 26.09 | 0.53 | 1.7 |
| | Level | Engine | Weight (t) | Engine Power (h.p.) | Chance of Fire on Impact |
| --- | --- | --- | --- | --- | --- |
| | III | Renault S6Bis | 540 | 180 | 20 |
| | Level | Suspension | Weight (t) | Load Limit | Traverse Speed (deg/s) |
| --- | --- | --- | --- | --- | --- |
| | III | B1 | 8050 | 33.3 | 26 |
| | Level | Radio | Weight (t) | Signal Range (m) |
| --- | --- | --- | --- | --- |
| | III | ER 51 | 0 | 290 |
| | Level | Turret | Weight (t) | Turret Armor (front/sides/rear, mm) | Gun Traverse Speed (deg/s) | View Range (m) |
| --- | --- | --- | --- | --- | --- | --- |
| | III | B1 APX 1 | 1700 | 40/40/40 | 46 | 300 |
| | Level | Gun | Weight (t) | Average Penetration (mm) | | Rate of Fire | Dispersion at 100 m | Aiming Time |
| --- | --- | --- | --- | --- | --- | --- | --- | --- |
| | III | 47 mm SA35 | 100 | 45/79/24 | 55/55/70 | 26.09 | 0.47 | 1.7 |
| | Level | Engine | Weight (t) | Engine Power (h.p.) | Chance of Fire on Impact |
| --- | --- | --- | --- | --- | --- |
| | III | Renault S6Bis | 540 | 180 | 20 |
| | Level | Suspension | Weight (t) | Load Limit | Traverse Speed (deg/s) |
| --- | --- | --- | --- | --- | --- |
| | III | B1 | 8050 | 33.3 | 26 |
| | Level | Radio | Weight (t) | Signal Range (m) |
| --- | --- | --- | --- | --- |
| | V | ER 53 | 0 | 360 |
| | Level | Turret | Weight (t) | Turret Armor (front/sides/rear, mm) | Gun Traverse Speed (deg/s) | View Range (m) |
| --- | --- | --- | --- | --- | --- | --- |
| | III | B1 APX 1 | 1700 | 40/40/40 | 46 | 300 |
| | Level | Gun | Weight (t) | Average Penetration (mm) | | Rate of Fire | Dispersion at 100 m | Aiming Time |
| --- | --- | --- | --- | --- | --- | --- | --- | --- |
| | III | 47 mm SA35 | 100 | 45/79/24 | 55/55/70 | 26.09 | 0.47 | 1.7 |
| | Level | Engine | Weight (t) | Engine Power (h.p.) | Chance of Fire on Impact |
| --- | --- | --- | --- | --- | --- |
| | IV | Renault Naeder-FIEUX | 540 | 307 | 20 |
| | Level | Suspension | Weight (t) | Load Limit | Traverse Speed (deg/s) |
| --- | --- | --- | --- | --- | --- |
| | IV | B1 bis | 8050 | 39.3 | 28 |
| | Level | Radio | Weight (t) | Signal Range (m) |
| --- | --- | --- | --- | --- |
| | IX | ER 55 | 0 | 710 |
| | Level | Turret | Weight (t) | Turret Armor (front/sides/rear, mm) | Gun Traverse Speed (deg/s) | View Range (m) |
| --- | --- | --- | --- | --- | --- | --- |
| | IV | B1 APX 4 | 2000 | 46/46/46 | 44 | 330 |
| | Level | Gun | Weight (t) | Average Penetration (mm) | | Rate of Fire | Dispersion at 100 m | Aiming Time |
| --- | --- | --- | --- | --- | --- | --- | --- | --- |
| | III | 47 mm SA37 | 100 | 66/98/24 | 55/55/70 | 28.57 | 0.39 | 1.5 |
| | Level | Engine | Weight (t) | Engine Power (h.p.) | Chance of Fire on Impact |
| --- | --- | --- | --- | --- | --- |
| | IV | Renault BDR | 540 | 350 | 20 |
| | Level | Suspension | Weight (t) | Load Limit | Traverse Speed (deg/s) |
| --- | --- | --- | --- | --- | --- |
| | IV | B1 bis | 8050 | 39.3 | 28 |
| | Level | Radio | Weight (t) | Signal Range (m) |
| --- | --- | --- | --- | --- |
| | IX | ER 55 | 0 | 710 |
Compatible Equipment


















Compatible Consumables


















Pros and Cons
Pros:
angled armour is effective mobile for a heavy tank
Cons:
standard ammo is almost useless effective with APCR huge weakspot on the front
History for this tank not found