BDR G1 B
BDR_G1B (Stock)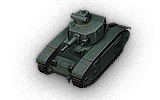 Totals
400000
Price
600
Hit Points
33.81 / 34 kg
Weight
Crew
Armor
60/40/60
Hull Armor

(front/sides/rear, mm)
60/60/60
Turret Armor

(front/sides/rear, mm)
Maneuver
350 h.p.
Engine Power
30 km/h
Speed Limit
22 deg/sec
Traverse Speed
Firepower
110
Standard Shell Damage
74 mm
Standard Shell Penetration
4.2
Time for Complete Loading
28 deg/sec
Turret Traverse Speed
Communication
300 m
View Range
290 m
Signal Range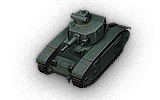 The project of a new vehicle was suggested by engineers of the Baudet-Donon-Rousell company in June 1938. However, the design was never developed.
Compatible Equipment




















Compatible Consumables


















Pros and Cons
Pros:
Top gun has great pen and alpha
Cons:
Performance
At top tier you are often the biggest gun in the match with the strength to 1-3 shot every tank you face. At bottom tier you are not useless but need to be extra careful to not let top tier guns hit you, play as a support/sniper.
History for this tank not found