BT-SV
BT-SV (Stock)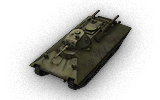 Totals
1000
Price
240
Hit Points
13.01 / 14.5 kg
Weight
Crew
Armor
25/20/16
Hull Armor

(front/sides/rear, mm)
25/25/25
Turret Armor

(front/sides/rear, mm)
Maneuver
500 h.p.
Engine Power
62 km/h
Speed Limit
33 deg/sec
Traverse Speed
Firepower
47
Standard Shell Damage
51 mm
Standard Shell Penetration
2.28571428571429
Time for Complete Loading
39 deg/sec
Turret Traverse Speed
Communication
280 m
View Range
300 m
Signal Range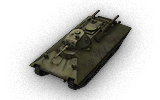 Experimental tank. Developed by the Tsyganov group from 1936 through 1938. The vehicle underwent field trials, but never saw service.
| | Level | Turret | Weight (t) | Turret Armor (front/sides/rear, mm) | Gun Traverse Speed (deg/s) | View Range (m) |
| --- | --- | --- | --- | --- | --- | --- |
| | IV | BT-SV | 400 | 25/25/25 | 39 | 280 |
| | Level | Gun | Weight (t) | Average Penetration (mm) | | Rate of Fire | Dispersion at 100 m | Aiming Time |
| --- | --- | --- | --- | --- | --- | --- | --- | --- |
| | II | 45 mm 20KL | 250 | 51/84/23 | 47/47/62 | 26.25 | 0.41 | 1.71 |
| | Level | Engine | Weight (t) | Engine Power (h.p.) | Chance of Fire on Impact |
| --- | --- | --- | --- | --- | --- |
| | IV | M-17FO | 610 | 500 | 20 |
| | Level | Suspension | Weight (t) | Load Limit | Traverse Speed (deg/s) |
| --- | --- | --- | --- | --- | --- |
| | III | BT-SV | 2000 | 14.5 | 33 |
| | Level | Radio | Weight (t) | Signal Range (m) |
| --- | --- | --- | --- | --- |
| | III | 71-TK-3 | 0 | 300 |
Compatible Equipment


















Compatible Consumables


















History for this tank not found