Bat.-Châtillon 155 58
Bat_Chatillon155_58 (Stock)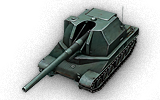 Totals
6100000
Price
490
Hit Points
34.92 / 38 kg
Weight
Crew
Armor
50/30/20
Hull Armor

(front/sides/rear, mm)
30/20/50
Turret Armor

(front/sides/rear, mm)
Maneuver
720 h.p.
Engine Power
62 km/h
Speed Limit
36 deg/sec
Traverse Speed
Firepower
1250
Standard Shell Damage
95 mm
Standard Shell Penetration
69.5
Time for Complete Loading
10 deg/sec
Turret Traverse Speed
Communication
380 m
View Range
750 m
Signal Range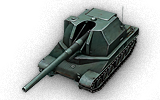 Artillery prototype on the basis of the Batignolles-Chatillon 25t manufactured in 1954. Never entered mass production.
Bat.-Châtillon 155 58
Stock
| | Level | Gun | Weight (t) | Average Penetration (mm) | | Rate of Fire | Dispersion at 100 m | Aiming Time |
| --- | --- | --- | --- | --- | --- | --- | --- | --- |
| | IX | Canon de 155 mm | 4352 | 95/95/185 | 1250/1250/720 | 2.76 | 0.68 | 5.5 |
| | Level | Engine | Weight (t) | Engine Power (h.p.) | Chance of Fire on Impact |
| --- | --- | --- | --- | --- | --- |
| | X | Hispano-Suiza HS 110 | 1426 | 720 | 10 |
| | Level | Suspension | Weight (t) | Load Limit | Traverse Speed (deg/s) |
| --- | --- | --- | --- | --- | --- |
| | X | Batignolles-Châtillon 155 mle. 58 | 12000 | 38 | 36 |
| | Level | Radio | Weight (t) | Signal Range (m) |
| --- | --- | --- | --- | --- |
| | X | SCR 528F | 0 | 750 |
Compatible Equipment


















Compatible Consumables














History for this tank not found