Chi-Ni
Chi_Ni (Stock)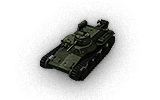 Totals
3900
Price
190
Hit Points
9.6 / 9.8 kg
Weight
Crew
Armor
25/12/10
Hull Armor

(front/sides/rear, mm)
30/20/20
Turret Armor

(front/sides/rear, mm)
Maneuver
120 h.p.
Engine Power
30 km/h
Speed Limit
44 deg/sec
Traverse Speed
Firepower
8
Standard Shell Damage
23 mm
Standard Shell Penetration
10
Time for Complete Loading
32 deg/sec
Turret Traverse Speed
Communication
300 m
View Range
300 m
Signal Range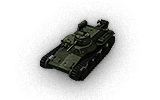 Developed by Osaka Artillery Arsenal as a replacement for the Type 2589. The Chi-Ni and the Chi-Ha underwent combined trials in 1937. The Chi-Ha was deemed more successful. One prototype was manufactured.
Compatible Equipment














Compatible Consumables
















Pros and Cons
Pros:
Excellent gun depression
Turret has small profile and decent protection when in hull down positions
Good damage with 5.7cm, good for taking out thin skinned armor like the Cruisers
Very sloped frontal armor can bounce some shots at range
Premium 5.7cm rounds are quite devastating with decent penetration
Cons:
Inaccurate guns
Mediocre mobility
Average to Below average overall armor
Poor Penetration on all guns
Performance
This is a solid support tank. While it is not the best at mobility, it can be sneaky with it's excellent gun depression over hills and ridges, where you should exploit this tank's strengths. The guns all have poor penetration and are quite inaccurate, but do fire fast. The 5.7cm gun is an excellent choice, as it's premium rounds have adequate penetration and even it's HE rounds can do a fair amount of damage to even the most armored of opponents. At 28mm of penetration, it is good at firing at flat, thin armor of the Cruiser tanks where it can devastate their vehicle.
This vehicle's armor is merely adequate. Frontal armor can bounce some low caliber shots at a long range and the upper plate is heavily sloped, however, it is only 10mm. Stay out of the line of fire, support your allies on the flanks.
History for this tank not found