Type 3 Chi-Nu
Chi_Nu (Stock)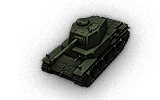 Totals
410000
Price
440
Hit Points
17.55 / 18.8 kg
Weight
Crew
Armor
50/25/20
Hull Armor

(front/sides/rear, mm)
50/35/25
Turret Armor

(front/sides/rear, mm)
Maneuver
240 h.p.
Engine Power
38.8 km/h
Speed Limit
30 deg/sec
Traverse Speed
Firepower
75
Standard Shell Damage
87 mm
Standard Shell Penetration
2.3
Time for Complete Loading
36 deg/sec
Turret Traverse Speed
Communication
340 m
View Range
350 m
Signal Range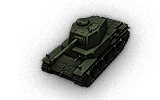 The Type 3 Chi-Nu medium tank is a modification of the Тype 1 Chi-He with a new turret and gun. The tank was the most powerful among wartime Japanese mass-produced vehicles. However, only a total of 60 vehicles were manufactured due to shortages of components and materials.
Compatible Equipment




















Compatible Consumables
















Pros and Cons
Pros:
Great accuracy
Great gun depression
Potent top gun, with very nice penetration and alpha damage
Good credit maker due to low repair cost
Cons:
Bad armor, sides are overmatched often
No gun manlet, a limit to hull-down tactic
Slower than its counterparts
Modules and crew members are damaged frequently
Performance
The Chi-Nu is in many ways, a below average medium tank. However, it makes up for it with a very accurate, good penetration and damage gun. One must keep in mind, however, the somewhat disappointing soft stats on the Japanese tanks; for example, be sure to aim completely, as you will often miss horribly if you do not. The armor and mobility are poor when compared to the Sherman and Panzer IV H and trying to get to some of the locations they can may land you in trouble. You will often be penetrated by High-Explosive shells from 105mm/10.5cm howitzers, and module damage is almost guaranteed when hits are taken. What the Chi-Nu excels at is sniping. Stick to the second line and place accurate fire into the enemies distracted by your heavies, pushing up with them as needed. Because turret turn speed is the slowest for tier V non-premium mediums it can be played as an american TD, albeit a very slow one.
History for this tank not found