Type 5 Chi-Ri
Chi_Ri (Stock)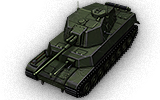 Totals
1440000
Price
1150
Hit Points
35.16 / 42.3 kg
Weight
Crew
Armor
75/35/35
Hull Armor

(front/sides/rear, mm)
75/50/50
Turret Armor

(front/sides/rear, mm)
Maneuver
500 h.p.
Engine Power
42 km/h
Speed Limit
30 deg/sec
Traverse Speed
Firepower
125
Standard Shell Damage
124 mm
Standard Shell Penetration
4.7
Time for Complete Loading
36 deg/sec
Turret Traverse Speed
Communication
360 m
View Range
400 m
Signal Range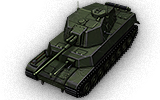 A single prototype was manufactured at the beginning of 1945. The vehicle underwent trials and was recommended for service. However, Japan was defeated before mass production could begin. After the surrender, the prototype was confiscated by American occupation authorities and was shipped to the United States.
| | Level | Turret | Weight (t) | Turret Armor (front/sides/rear, mm) | Gun Traverse Speed (deg/s) | View Range (m) |
| --- | --- | --- | --- | --- | --- | --- |
| | VI | Type 5 Chi-Ri Plan 1 | 7000 | 75/50/50 | 36 | 360 |
| | Level | Gun | Weight (t) | Average Penetration (mm) | | Rate of Fire | Dispersion at 100 m | Aiming Time |
| --- | --- | --- | --- | --- | --- | --- | --- | --- |
| | V | 7.5 cm Tank Gun Type 5 | 1489 | 124/155/38 | 125/125/175 | 12.77 | 0.36 | 2.1 |
| | Level | Engine | Weight (t) | Engine Power (h.p.) | Chance of Fire on Impact |
| --- | --- | --- | --- | --- | --- |
| | VII | Mitsubishi AL Type 4 Kakyuu V-12 | 1000 | 500 | 15 |
| | Level | Suspension | Weight (t) | Load Limit | Traverse Speed (deg/s) |
| --- | --- | --- | --- | --- | --- |
| | VI | Type 5 Chi-Ri Plan 1 | 11600 | 42.3 | 30 |
| | Level | Radio | Weight (t) | Signal Range (m) |
| --- | --- | --- | --- | --- |
| | V | Hei | 0 | 400 |
| | Level | Turret | Weight (t) | Turret Armor (front/sides/rear, mm) | Gun Traverse Speed (deg/s) | View Range (m) |
| --- | --- | --- | --- | --- | --- | --- |
| | VI | Type 5 Chi-Ri Plan 1 | 7000 | 75/50/50 | 36 | 360 |
| | Level | Gun | Weight (t) | Average Penetration (mm) | | Rate of Fire | Dispersion at 100 m | Aiming Time |
| --- | --- | --- | --- | --- | --- | --- | --- | --- |
| | VI | 7.5 cm Tank Gun Type 5 Model I | 1764 | 155/186/38 | 130/130/175 | 15.79 | 0.36 | 2.1 |
| | Level | Engine | Weight (t) | Engine Power (h.p.) | Chance of Fire on Impact |
| --- | --- | --- | --- | --- | --- |
| | VII | Mitsubishi AL Type 4 Kakyuu V-12 | 1000 | 500 | 15 |
| | Level | Suspension | Weight (t) | Load Limit | Traverse Speed (deg/s) |
| --- | --- | --- | --- | --- | --- |
| | VI | Type 5 Chi-Ri Plan 1 | 11600 | 42.3 | 30 |
| | Level | Radio | Weight (t) | Signal Range (m) |
| --- | --- | --- | --- | --- |
| | VI | Type 96 Mk. 4 Bo | 0 | 425 |
| | Level | Turret | Weight (t) | Turret Armor (front/sides/rear, mm) | Gun Traverse Speed (deg/s) | View Range (m) |
| --- | --- | --- | --- | --- | --- | --- |
| | VI | Type 5 Chi-Ri Plan 1 | 7000 | 75/50/50 | 36 | 360 |
| | Level | Gun | Weight (t) | Average Penetration (mm) | | Rate of Fire | Dispersion at 100 m | Aiming Time |
| --- | --- | --- | --- | --- | --- | --- | --- | --- |
| | VI | 7.5 cm Tank Gun Type 5 Model I | 1764 | 155/186/38 | 130/130/175 | 15.79 | 0.36 | 2.1 |
| | Level | Engine | Weight (t) | Engine Power (h.p.) | Chance of Fire on Impact |
| --- | --- | --- | --- | --- | --- |
| | VII | Kawasaki Type 98 V-12 | 510 | 550 | 20 |
| | Level | Suspension | Weight (t) | Load Limit | Traverse Speed (deg/s) |
| --- | --- | --- | --- | --- | --- |
| | VII | Type 5 Chi-Ri Plan 2 | 11600 | 44.8 | 34 |
| | Level | Radio | Weight (t) | Signal Range (m) |
| --- | --- | --- | --- | --- |
| | VIII | Type 3 Otsu | 0 | 550 |
| | Level | Turret | Weight (t) | Turret Armor (front/sides/rear, mm) | Gun Traverse Speed (deg/s) | View Range (m) |
| --- | --- | --- | --- | --- | --- | --- |
| | VII | Type 5 Chi-Ri Plan 2 | 13752 | 75/50/50 | 36 | 370 |
| | Level | Gun | Weight (t) | Average Penetration (mm) | | Rate of Fire | Dispersion at 100 m | Aiming Time |
| --- | --- | --- | --- | --- | --- | --- | --- | --- |
| | VI | 7.5 cm Autoloading Tank Gun Type 5 | 1764 | 155/186/38 | 130/130/175 | 15 | 0.35 | 1.7 |
| | Level | Engine | Weight (t) | Engine Power (h.p.) | Chance of Fire on Impact |
| --- | --- | --- | --- | --- | --- |
| | VII | Kawasaki Type 98 V-12 | 510 | 550 | 20 |
| | Level | Suspension | Weight (t) | Load Limit | Traverse Speed (deg/s) |
| --- | --- | --- | --- | --- | --- |
| | VII | Type 5 Chi-Ri Plan 2 | 11600 | 44.8 | 34 |
| | Level | Radio | Weight (t) | Signal Range (m) |
| --- | --- | --- | --- | --- |
| | X | Type 3 Ko | 0 | 750 |
| | Level | Turret | Weight (t) | Turret Armor (front/sides/rear, mm) | Gun Traverse Speed (deg/s) | View Range (m) |
| --- | --- | --- | --- | --- | --- | --- |
| | VII | Type 5 Chi-Ri Plan 2 | 13752 | 75/50/50 | 36 | 370 |
| | Level | Gun | Weight (t) | Average Penetration (mm) | | Rate of Fire | Dispersion at 100 m | Aiming Time |
| --- | --- | --- | --- | --- | --- | --- | --- | --- |
| | VI | 7.5 cm Tank Gun Type 5 Model I | 1764 | 155/186/38 | 130/130/175 | 16.67 | 0.35 | 1.7 |
| | Level | Engine | Weight (t) | Engine Power (h.p.) | Chance of Fire on Impact |
| --- | --- | --- | --- | --- | --- |
| | VII | Kawasaki Type 98 V-12 | 510 | 550 | 20 |
| | Level | Suspension | Weight (t) | Load Limit | Traverse Speed (deg/s) |
| --- | --- | --- | --- | --- | --- |
| | VII | Type 5 Chi-Ri Plan 2 | 11600 | 44.8 | 34 |
| | Level | Radio | Weight (t) | Signal Range (m) |
| --- | --- | --- | --- | --- |
| | X | Type 3 Ko | 0 | 750 |
Compatible Equipment






















Compatible Consumables
Pros and Cons
Pros:
Auto loader has amazing potential burst damage
Above average pen for tier 7 medium
Amazing average accuracy and aim time
Cons:
large silhouette
weak armor
Bellow average mobility
History for this tank not found