E-25
E-25 (Stock)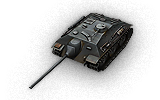 Totals
6700
Price
830
Hit Points
26.23 / 29 kg
Weight
Crew
Armor
50/30/30
Hull Armor

(front/sides/rear, mm)
0/16/16
Turret Armor

(front/sides/rear, mm)
Maneuver
700 h.p.
Engine Power
65 km/h
Speed Limit
44 deg/sec
Traverse Speed
Firepower
135
Standard Shell Damage
150 mm
Standard Shell Penetration
3
Time for Complete Loading
44 deg/sec
Turret Traverse Speed
Communication
360 m
View Range
710 m
Signal Range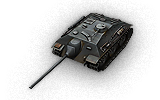 The development of the E-25 was a part of the "E" program supervised by the Waffenprüfamt 6. The E-25 was developed by the Argus company (Karlsruhe, Germany) under the supervision of Dr. Herman Klaue. Existed only in blueprints.
| | Level | Gun | Weight (t) | Average Penetration (mm) | | Rate of Fire | Dispersion at 100 m | Aiming Time |
| --- | --- | --- | --- | --- | --- | --- | --- | --- |
| | VI | 7,5 cm Pak 42 L70 | 955 | 150/194/38 | 135/135/175 | 20 | 0.3 | 1.5 |
| | Level | Engine | Weight (t) | Engine Power (h.p.) | Chance of Fire on Impact |
| --- | --- | --- | --- | --- | --- |
| | VIII | Maybach HL 230 TRM P30 | 1200 | 700 | 20 |
| | Level | Suspension | Weight (t) | Load Limit | Traverse Speed (deg/s) |
| --- | --- | --- | --- | --- | --- |
| | VII | E-25 Ketten | 9000 | 29 | 44 |
| | Level | Radio | Weight (t) | Signal Range (m) |
| --- | --- | --- | --- | --- |
| | VI | FuG 7 Ausf. F | 0 | 710 |
Compatible Equipment






















Compatible Consumables


















History for this tank not found