FCM 50 t Liberté
FCM_50t_Bastille (Stock)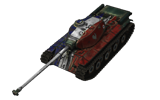 Totals
11900
Price
1500
Hit Points
54.16 / 57.5 kg
Weight
Crew
Armor
120/80/80
Hull Armor

(front/sides/rear, mm)
120/80/60
Turret Armor

(front/sides/rear, mm)
Maneuver
1000 h.p.
Engine Power
51 km/h
Speed Limit
40 deg/sec
Traverse Speed
Firepower
240
Standard Shell Damage
212 mm
Standard Shell Penetration
7.5
Time for Complete Loading
36 deg/sec
Turret Traverse Speed
Communication
400 m
View Range
750 m
Signal Range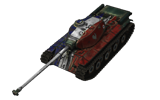 A special variant of the FCM 50 t. Development was started in December 1945. The vehicle was conceived as a replacement for the AMX 50t and combined features typical of the pre-war French tank-construction industry as well as German innovations. The vehicle was to be equipped with an additional container trailer, equipment for underwater driving, and a demountable mine clearer.
| | Level | Turret | Weight (t) | Turret Armor (front/sides/rear, mm) | Gun Traverse Speed (deg/s) | View Range (m) |
| --- | --- | --- | --- | --- | --- | --- |
| | VIII | FCM 50 t | 9000 | 120/80/60 | 36 | 400 |
| | Level | Gun | Weight (t) | Average Penetration (mm) | | Rate of Fire | Dispersion at 100 m | Aiming Time |
| --- | --- | --- | --- | --- | --- | --- | --- | --- |
| | VIII | 90 mm DCA 45 | 2750 | 212/259/45 | 240/240/320 | 8 | 0.36 | 2.3 |
| | Level | Engine | Weight (t) | Engine Power (h.p.) | Chance of Fire on Impact |
| --- | --- | --- | --- | --- | --- |
| | IX | Maybach V-12 ACC | 750 | 1000 | 20 |
| | Level | Suspension | Weight (t) | Load Limit | Traverse Speed (deg/s) |
| --- | --- | --- | --- | --- | --- |
| | VIII | FCM 50 t | 10000 | 57.5 | 40 |
| | Level | Radio | Weight (t) | Signal Range (m) |
| --- | --- | --- | --- | --- |
| | X | SCR 528F | 0 | 750 |
Compatible Equipment
























Compatible Consumables


















History for this tank not found