Panther mit 8,8 cm L/71
G106_PzKpfwPanther_AusfF (Stock)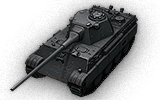 Totals
7300
Price
1500
Hit Points
46.45 / 49 kg
Weight
Crew
Armor
80/50/40
Hull Armor

(front/sides/rear, mm)
120/60/60
Turret Armor

(front/sides/rear, mm)
Maneuver
600 h.p.
Engine Power
46 km/h
Speed Limit
38 deg/sec
Traverse Speed
Firepower
240
Standard Shell Damage
203 mm
Standard Shell Penetration
6.9
Gun Loading
32 deg/sec
Turret Traverse Speed
Communication
390 m
View Range
550 m
Signal Range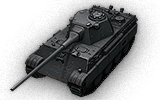 Development of a modification of the Panther started in the spring of 1944. The new modification was planned to incorporate a newly designed Schmalturm turret. The new vehicle was designated the Panther Ausf. F. On January 23,1945, corporal Holzhauer reported that the 88-mm gun of the King Tiger was being mounted on the upgraded version of the new turret. A large number of hulls for the vehicle were manufactured, but the turret never saw production and existed only as a wooden model.
Panther mit 8,8 cm L/71
Stock
| | Level | Turret | Weight (t) | Turret Armor (front/sides/rear, mm) | Gun Traverse Speed (deg/s) | View Range (m) |
| --- | --- | --- | --- | --- | --- | --- |
| | VIII | Panther mit 8,8 cm Kw.K. 43 L/71 | 8000 | 120/60/60 | 32 | 390 |
| | Level | Gun | Weight (t) | Average Penetration (mm) | | Rate of Fire | Dispersion at 100 m | Aiming Time |
| --- | --- | --- | --- | --- | --- | --- | --- | --- |
| | VIII | 8,8 cm Kw.K. 43 L/71 | 2562 | 203/237/44 | 240/240/295 | 8.7 | 0.32 | 2.5 |
| | Level | Engine | Weight (t) | Engine Power (h.p.) | Chance of Fire on Impact |
| --- | --- | --- | --- | --- | --- |
| | VIII | Maybach HL 230 P30 2500 rpm | 1400 | 600 | 20 |
| | Level | Suspension | Weight (t) | Load Limit | Traverse Speed (deg/s) |
| --- | --- | --- | --- | --- | --- |
| | VIII | Panther mit 8,8 cm Kw.K. 43 L/71 | 15000 | 49 | 38 |
| | Level | Radio | Weight (t) | Signal Range (m) |
| --- | --- | --- | --- | --- |
| | VIII | Fu 8 | 0 | 550 |
Compatible Equipment
























Compatible Consumables


















History for this tank not found