Cromwell Knight
GB21_Cromwell_Berlin (Stock)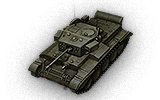 Totals
3450
Price
750
Hit Points
27.99 / 29.5 kg
Weight
Crew
Armor
63.5/31.9/31.8
Hull Armor

(front/sides/rear, mm)
76.2/63.5/57.2
Turret Armor

(front/sides/rear, mm)
Maneuver
650 h.p.
Engine Power
64 km/h
Speed Limit
50 deg/sec
Traverse Speed
Firepower
135
Standard Shell Damage
145 mm
Standard Shell Penetration
3.9
Time for Complete Loading
48 deg/sec
Turret Traverse Speed
Communication
360 m
View Range
570 m
Signal Range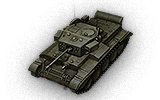 The Cromwell Knight is a variant of the Cromwell that was developed in 1941–1942 by BRC&W. A total of 1070 Cromwell vehicles were mass-produced from late 1943 through 1945. They were extensively used by the British army in the Northwest Europe Campaign of 1944–1945.
| | Level | Turret | Weight (t) | Turret Armor (front/sides/rear, mm) | Gun Traverse Speed (deg/s) | View Range (m) |
| --- | --- | --- | --- | --- | --- | --- |
| | VI | Cromwell Mk. IV | 5000 | 76.2/63.5/57.2 | 48 | 360 |
| | Level | Gun | Weight (t) | Average Penetration (mm) | | Rate of Fire | Dispersion at 100 m | Aiming Time |
| --- | --- | --- | --- | --- | --- | --- | --- | --- |
| | VI | 75mm Gun Mk VA | 591 | 145/202/38 | 135/135/175 | 15.38 | 0.41 | 1.9 |
| | Level | Engine | Weight (t) | Engine Power (h.p.) | Chance of Fire on Impact |
| --- | --- | --- | --- | --- | --- |
| | V | Rolls-Royce Meteor Mk. IVB | 744 | 650 | 20 |
| | Level | Suspension | Weight (t) | Load Limit | Traverse Speed (deg/s) |
| --- | --- | --- | --- | --- | --- |
| | VI | A27M | 6500 | 29.5 | 50 |
| | Level | Radio | Weight (t) | Signal Range (m) |
| --- | --- | --- | --- | --- |
| | IX | WS No. 19 Mk. III | 0 | 570 |
Compatible Equipment






















Compatible Consumables


















History for this tank not found