Sexton II
GB27_Sexton (Stock)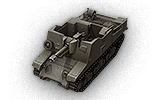 Totals
49000
Price
140
Hit Points
25.73 / 25.9 kg
Weight
Crew
Armor
50.8/38.1/38.1
Hull Armor

(front/sides/rear, mm)
19.1/12.7/0
Turret Armor

(front/sides/rear, mm)
Maneuver
400 h.p.
Engine Power
40.2 km/h
Speed Limit
18 deg/sec
Traverse Speed
Firepower
260
Standard Shell Damage
42 mm
Standard Shell Penetration
7.9
Time for Complete Loading
16 deg/sec
Turret Traverse Speed
Communication
330 m
View Range
400 m
Signal Range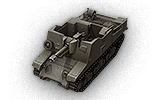 Modification of the Grizzly tank, mounting the British 25-pounder field howitzer. Mass production was launched at the Montreal Locomotive Works in Canada, with 2,150 vehicles manufactured from 1943 through 1945.
| | Level | Gun | Weight (t) | Average Penetration (mm) | | Rate of Fire | Dispersion at 100 m | Aiming Time |
| --- | --- | --- | --- | --- | --- | --- | --- | --- |
| | III | Q.F. 18-Pr. | 457 | 42/65 | 260/170 | 7.59 | 0.78 | 5.5 |
| | Level | Engine | Weight (t) | Engine Power (h.p.) | Chance of Fire on Impact |
| --- | --- | --- | --- | --- | --- |
| | IV | Wright Continental R-975C1 | 516 | 400 | 20 |
| | Level | Suspension | Weight (t) | Load Limit | Traverse Speed (deg/s) |
| --- | --- | --- | --- | --- | --- |
| | II | Sexton | 11000 | 25.9 | 18 |
| | Level | Radio | Weight (t) | Signal Range (m) |
| --- | --- | --- | --- | --- |
| | VI | WS No. 19 Mk. I | 0 | 400 |
| | Level | Gun | Weight (t) | Average Penetration (mm) | | Rate of Fire | Dispersion at 100 m | Aiming Time |
| --- | --- | --- | --- | --- | --- | --- | --- | --- |
| | III | Q.F. 18-Pr. | 457 | 42/65 | 260/170 | 7.59 | 0.78 | 5.5 |
| | Level | Engine | Weight (t) | Engine Power (h.p.) | Chance of Fire on Impact |
| --- | --- | --- | --- | --- | --- |
| | V | Wright Continental R-975C4 | 550 | 460 | 20 |
| | Level | Suspension | Weight (t) | Load Limit | Traverse Speed (deg/s) |
| --- | --- | --- | --- | --- | --- |
| | III | Sexton II | 11000 | 28 | 20 |
| | Level | Radio | Weight (t) | Signal Range (m) |
| --- | --- | --- | --- | --- |
| | VII | WS No. 19 Mk. II | 0 | 450 |
| | Level | Gun | Weight (t) | Average Penetration (mm) | | Rate of Fire | Dispersion at 100 m | Aiming Time |
| --- | --- | --- | --- | --- | --- | --- | --- | --- |
| | IV | Q.F. 25-Pr. Gun/How. | 510 | 44/92/71 | 280/180/180 | 6.98 | 0.76 | 5.5 |
| | Level | Engine | Weight (t) | Engine Power (h.p.) | Chance of Fire on Impact |
| --- | --- | --- | --- | --- | --- |
| | V | Wright Continental R-975C4 | 550 | 460 | 20 |
| | Level | Suspension | Weight (t) | Load Limit | Traverse Speed (deg/s) |
| --- | --- | --- | --- | --- | --- |
| | III | Sexton II | 11000 | 28 | 20 |
| | Level | Radio | Weight (t) | Signal Range (m) |
| --- | --- | --- | --- | --- |
| | VIII | WS No. 19 Mk. III | 0 | 550 |
Compatible Equipment


















Compatible Consumables


















History for this tank not found