Excelsior
GB51_Excelsior (Stock)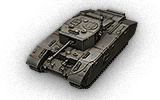 Totals
1500
Price
670
Hit Points
41.01 / 44.1 kg
Weight
Crew
Armor
114.3/31.75/108
Hull Armor

(front/sides/rear, mm)
114.3/92.1/92.1
Turret Armor

(front/sides/rear, mm)
Maneuver
600 h.p.
Engine Power
38.6 km/h
Speed Limit
32 deg/sec
Traverse Speed
Firepower
110
Standard Shell Damage
91 mm
Standard Shell Penetration
3.8
Gun Loading
36 deg/sec
Turret Traverse Speed
Communication
350 m
View Range
570 m
Signal Range
At the end of 1942, the Churchill tank's armament was deemed insufficient. New tanks, the A31, A32, and A33 were developed as new infantry tanks. The A33 was developed by the English Electric Company. The LMS Company participated in the development of suspension for a new tank. Two vehicles, which differed greatly from each other, were manufactured. The A33 was set to go into production, but in 1943 the decision to cancel mass production of the Churchill was reversed, and the order for the A33 was not placed.
Compatible Equipment
Compatible Consumables
History for this tank not found