KV-13
KV-13 (Stock)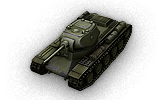 Totals
1375500
Price
1020
Hit Points
30.55 / 32.7 kg
Weight
Crew
Armor
120/85/85
Hull Armor

(front/sides/rear, mm)
85/85/85
Turret Armor

(front/sides/rear, mm)
Maneuver
500 h.p.
Engine Power
50 km/h
Speed Limit
38 deg/sec
Traverse Speed
Firepower
110
Standard Shell Damage
86 mm
Standard Shell Penetration
3.6
Time for Complete Loading
48 deg/sec
Turret Traverse Speed
Communication
340 m
View Range
440 m
Signal Range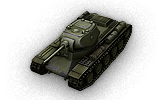 Development was started in the fall of 1941, under the initiative of Semyon Ginsburg. After successful trials in the fall of 1942, the development of a second prototype was begun.
| | Level | Turret | Weight (t) | Turret Armor (front/sides/rear, mm) | Gun Traverse Speed (deg/s) | View Range (m) |
| --- | --- | --- | --- | --- | --- | --- |
| | VI | KV-13 mod. 1942 | 5370 | 85/85/85 | 48 | 340 |
| | Level | Gun | Weight (t) | Average Penetration (mm) | | Rate of Fire | Dispersion at 100 m | Aiming Time |
| --- | --- | --- | --- | --- | --- | --- | --- | --- |
| | V | 76 mm ZiS-5 | 1155 | 86/102/38 | 110/110/156 | 16.67 | 0.46 | 2.3 |
| | Level | Engine | Weight (t) | Engine Power (h.p.) | Chance of Fire on Impact |
| --- | --- | --- | --- | --- | --- |
| | VI | V-2K | 750 | 500 | 15 |
| | Level | Suspension | Weight (t) | Load Limit | Traverse Speed (deg/s) |
| --- | --- | --- | --- | --- | --- |
| | VI | KV-13 mod. 1942 | 8000 | 32.7 | 38 |
| | Level | Radio | Weight (t) | Signal Range (m) |
| --- | --- | --- | --- | --- |
| | VII | 10RK | 0 | 440 |
| | Level | Turret | Weight (t) | Turret Armor (front/sides/rear, mm) | Gun Traverse Speed (deg/s) | View Range (m) |
| --- | --- | --- | --- | --- | --- | --- |
| | VI | KV-13 mod. 1942 | 5370 | 85/85/85 | 48 | 340 |
| | Level | Gun | Weight (t) | Average Penetration (mm) | | Rate of Fire | Dispersion at 100 m | Aiming Time |
| --- | --- | --- | --- | --- | --- | --- | --- | --- |
| | V | 76 mm S-54 | 1390 | 125/156/39 | 115/110/165 | 16.67 | 0.41 | 2.9 |
| | Level | Engine | Weight (t) | Engine Power (h.p.) | Chance of Fire on Impact |
| --- | --- | --- | --- | --- | --- |
| | VI | V-2K | 750 | 500 | 15 |
| | Level | Suspension | Weight (t) | Load Limit | Traverse Speed (deg/s) |
| --- | --- | --- | --- | --- | --- |
| | VI | KV-13 mod. 1942 | 8000 | 32.7 | 38 |
| | Level | Radio | Weight (t) | Signal Range (m) |
| --- | --- | --- | --- | --- |
| | IX | 12RT | 0 | 625 |
| | Level | Turret | Weight (t) | Turret Armor (front/sides/rear, mm) | Gun Traverse Speed (deg/s) | View Range (m) |
| --- | --- | --- | --- | --- | --- | --- |
| | VII | KV-13 mod. 1943 | 9700 | 100/90/90 | 48 | 360 |
| | Level | Gun | Weight (t) | Average Penetration (mm) | | Rate of Fire | Dispersion at 100 m | Aiming Time |
| --- | --- | --- | --- | --- | --- | --- | --- | --- |
| | VI | 85 mm D-5T | 1500 | 120/161/43 | 160/160/280 | 12 | 0.46 | 2.9 |
| | Level | Engine | Weight (t) | Engine Power (h.p.) | Chance of Fire on Impact |
| --- | --- | --- | --- | --- | --- |
| | VII | V-2IS | 750 | 600 | 15 |
| | Level | Suspension | Weight (t) | Load Limit | Traverse Speed (deg/s) |
| --- | --- | --- | --- | --- | --- |
| | VII | KV-13 mod. 1943 | 8000 | 36.9 | 40 |
| | Level | Radio | Weight (t) | Signal Range (m) |
| --- | --- | --- | --- | --- |
| | IX | 12RT | 0 | 625 |
| | Level | Turret | Weight (t) | Turret Armor (front/sides/rear, mm) | Gun Traverse Speed (deg/s) | View Range (m) |
| --- | --- | --- | --- | --- | --- | --- |
| | VII | KV-13 mod. 1943 | 9700 | 100/90/90 | 48 | 360 |
| | Level | Gun | Weight (t) | Average Penetration (mm) | | Rate of Fire | Dispersion at 100 m | Aiming Time |
| --- | --- | --- | --- | --- | --- | --- | --- | --- |
| | VII | 85 mm D5T-85BM | 1850 | 144/194/44 | 180/180/300 | 10.17 | 0.37 | 2.3 |
| | Level | Engine | Weight (t) | Engine Power (h.p.) | Chance of Fire on Impact |
| --- | --- | --- | --- | --- | --- |
| | VII | V-2IS | 750 | 600 | 15 |
| | Level | Suspension | Weight (t) | Load Limit | Traverse Speed (deg/s) |
| --- | --- | --- | --- | --- | --- |
| | VII | KV-13 mod. 1943 | 8000 | 36.9 | 40 |
| | Level | Radio | Weight (t) | Signal Range (m) |
| --- | --- | --- | --- | --- |
| | IX | 12RT | 0 | 625 |
| | Level | Turret | Weight (t) | Turret Armor (front/sides/rear, mm) | Gun Traverse Speed (deg/s) | View Range (m) |
| --- | --- | --- | --- | --- | --- | --- |
| | VII | KV-13 mod. 1943 | 9700 | 100/90/90 | 48 | 360 |
| | Level | Gun | Weight (t) | Average Penetration (mm) | | Rate of Fire | Dispersion at 100 m | Aiming Time |
| --- | --- | --- | --- | --- | --- | --- | --- | --- |
| | V | 122 mm U-11 | 1600 | 61/140/38 | 450/370/156 | 5.26 | 0.57 | 2.9 |
| | Level | Engine | Weight (t) | Engine Power (h.p.) | Chance of Fire on Impact |
| --- | --- | --- | --- | --- | --- |
| | VII | V-2IS | 750 | 600 | 15 |
| | Level | Suspension | Weight (t) | Load Limit | Traverse Speed (deg/s) |
| --- | --- | --- | --- | --- | --- |
| | VII | KV-13 mod. 1943 | 8000 | 36.9 | 40 |
| | Level | Radio | Weight (t) | Signal Range (m) |
| --- | --- | --- | --- | --- |
| | IX | 12RT | 0 | 625 |
Compatible Equipment
























Compatible Consumables


















History for this tank not found