KV-4
KV4 (Stock)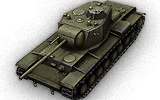 Totals
2430000
Price
1600
Hit Points
97.33 / 102.56 kg
Weight
Crew
Armor
180/150/90
Hull Armor

(front/sides/rear, mm)
180/130/130
Turret Armor

(front/sides/rear, mm)
Maneuver
1000 h.p.
Engine Power
30 km/h
Speed Limit
16 deg/sec
Traverse Speed
Firepower
300
Standard Shell Damage
167 mm
Standard Shell Penetration
9.3
Time for Complete Loading
20 deg/sec
Turret Traverse Speed
Communication
330 m
View Range
440 m
Signal Range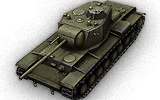 The project of N. L. Dukhov developed in April 1941. A prototype was to be produced by November 1941. However, the work was discontinued due to the outbreak of the Soviet–German war.
| | Level | Turret | Weight (t) | Turret Armor (front/sides/rear, mm) | Gun Traverse Speed (deg/s) | View Range (m) |
| --- | --- | --- | --- | --- | --- | --- |
| | VII | KV-4 | 15400 | 180/130/130 | 20 | 330 |
| | Level | Gun | Weight (t) | Average Penetration (mm) | | Rate of Fire | Dispersion at 100 m | Aiming Time |
| --- | --- | --- | --- | --- | --- | --- | --- | --- |
| | VII | 107 mm ZiS-6 | 2400 | 167/219/54 | 300/300/360 | 6.45 | 0.45 | 3.4 |
| | Level | Engine | Weight (t) | Engine Power (h.p.) | Chance of Fire on Impact |
| --- | --- | --- | --- | --- | --- |
| | IX | M-40 | 1250 | 1000 | 15 |
| | Level | Suspension | Weight (t) | Load Limit | Traverse Speed (deg/s) |
| --- | --- | --- | --- | --- | --- |
| | VII | KV-4 | 20000 | 102.56 | 16 |
| | Level | Radio | Weight (t) | Signal Range (m) |
| --- | --- | --- | --- | --- |
| | VII | 10RK | 0 | 440 |
| | Level | Turret | Weight (t) | Turret Armor (front/sides/rear, mm) | Gun Traverse Speed (deg/s) | View Range (m) |
| --- | --- | --- | --- | --- | --- | --- |
| | VII | KV-4 | 15400 | 180/130/130 | 20 | 330 |
| | Level | Gun | Weight (t) | Average Penetration (mm) | | Rate of Fire | Dispersion at 100 m | Aiming Time |
| --- | --- | --- | --- | --- | --- | --- | --- | --- |
| | VII | 122 mm D-2-5T | 2600 | 175/217/61 | 390/390/530 | 4.08 | 0.46 | 3.4 |
| | Level | Engine | Weight (t) | Engine Power (h.p.) | Chance of Fire on Impact |
| --- | --- | --- | --- | --- | --- |
| | IX | M-40 | 1250 | 1000 | 15 |
| | Level | Suspension | Weight (t) | Load Limit | Traverse Speed (deg/s) |
| --- | --- | --- | --- | --- | --- |
| | VII | KV-4 | 20000 | 102.56 | 16 |
| | Level | Radio | Weight (t) | Signal Range (m) |
| --- | --- | --- | --- | --- |
| | IX | 12RT | 0 | 625 |
| | Level | Turret | Weight (t) | Turret Armor (front/sides/rear, mm) | Gun Traverse Speed (deg/s) | View Range (m) |
| --- | --- | --- | --- | --- | --- | --- |
| | VII | KV-4 | 15400 | 180/130/130 | 20 | 330 |
| | Level | Gun | Weight (t) | Average Penetration (mm) | | Rate of Fire | Dispersion at 100 m | Aiming Time |
| --- | --- | --- | --- | --- | --- | --- | --- | --- |
| | VIII | 122 mm D-25T | 2590 | 175/217/61 | 390/390/530 | 4.88 | 0.46 | 3.4 |
| | Level | Engine | Weight (t) | Engine Power (h.p.) | Chance of Fire on Impact |
| --- | --- | --- | --- | --- | --- |
| | IX | M-40 | 1250 | 1000 | 15 |
| | Level | Suspension | Weight (t) | Load Limit | Traverse Speed (deg/s) |
| --- | --- | --- | --- | --- | --- |
| | VIII | KV-4 Bis | 20000 | 112.56 | 18 |
| | Level | Radio | Weight (t) | Signal Range (m) |
| --- | --- | --- | --- | --- |
| | X | R-113 | 0 | 730 |
| | Level | Turret | Weight (t) | Turret Armor (front/sides/rear, mm) | Gun Traverse Speed (deg/s) | View Range (m) |
| --- | --- | --- | --- | --- | --- | --- |
| | VIII | KV-4-5 | 24000 | 180/150/140 | 20 | 350 |
| | Level | Gun | Weight (t) | Average Penetration (mm) | | Rate of Fire | Dispersion at 100 m | Aiming Time |
| --- | --- | --- | --- | --- | --- | --- | --- | --- |
| | VIII | 122 mm D-25T | 2590 | 175/217/61 | 390/390/530 | 4.96 | 0.46 | 3.4 |
| | Level | Engine | Weight (t) | Engine Power (h.p.) | Chance of Fire on Impact |
| --- | --- | --- | --- | --- | --- |
| | IX | 2x V-2K-F | 1500 | 1200 | 15 |
| | Level | Suspension | Weight (t) | Load Limit | Traverse Speed (deg/s) |
| --- | --- | --- | --- | --- | --- |
| | VIII | KV-4 Bis | 20000 | 112.56 | 18 |
| | Level | Radio | Weight (t) | Signal Range (m) |
| --- | --- | --- | --- | --- |
| | X | R-113 | 0 | 730 |
| | Level | Turret | Weight (t) | Turret Armor (front/sides/rear, mm) | Gun Traverse Speed (deg/s) | View Range (m) |
| --- | --- | --- | --- | --- | --- | --- |
| | VIII | KV-4-5 | 24000 | 180/150/140 | 20 | 350 |
| | Level | Gun | Weight (t) | Average Penetration (mm) | | Rate of Fire | Dispersion at 100 m | Aiming Time |
| --- | --- | --- | --- | --- | --- | --- | --- | --- |
| | IX | 107 mm ZiS-24 | 2840 | 227/289/62 | 320/320/420 | 5.41 | 0.38 | 3.4 |
| | Level | Engine | Weight (t) | Engine Power (h.p.) | Chance of Fire on Impact |
| --- | --- | --- | --- | --- | --- |
| | IX | 2x V-2K-F | 1500 | 1200 | 15 |
| | Level | Suspension | Weight (t) | Load Limit | Traverse Speed (deg/s) |
| --- | --- | --- | --- | --- | --- |
| | VIII | KV-4 Bis | 20000 | 112.56 | 18 |
| | Level | Radio | Weight (t) | Signal Range (m) |
| --- | --- | --- | --- | --- |
| | X | R-113 | 0 | 730 |
Compatible Equipment


























Compatible Consumables


















History for this tank not found