Lorraine 155 mle. 51
Lorraine155_51 (Stock)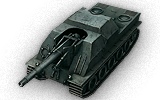 Totals
2550000
Price
390
Hit Points
32.9 / 33 kg
Weight
Crew
Armor
40/30/25
Hull Armor

(front/sides/rear, mm)
10/0/10
Turret Armor

(front/sides/rear, mm)
Maneuver
700 h.p.
Engine Power
60 km/h
Speed Limit
25 deg/sec
Traverse Speed
Firepower
950
Standard Shell Damage
90 mm
Standard Shell Penetration
19
Time for Complete Loading
14 deg/sec
Turret Traverse Speed
Communication
360 m
View Range
400 m
Signal Range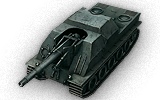 Experimental artillery on the basis of the prototype of the medium tank Char de Bataille Lorraine 40t. The prototype was manufactured in 1952. Never entered mass production nor saw service.
Lorraine 155 mle. 51
Stock
| | Level | Gun | Weight (t) | Average Penetration (mm) | | Rate of Fire | Dispersion at 100 m | Aiming Time |
| --- | --- | --- | --- | --- | --- | --- | --- | --- |
| | VII | Obusier de 155 mm mle.1950 | 2675 | 90/90/185 | 950/950/720 | 3.16 | 0.76 | 6.5 |
| | Level | Engine | Weight (t) | Engine Power (h.p.) | Chance of Fire on Impact |
| --- | --- | --- | --- | --- | --- |
| | VIII | Maybach HL 230 TRM P30 | 1200 | 700 | 20 |
| | Level | Suspension | Weight (t) | Load Limit | Traverse Speed (deg/s) |
| --- | --- | --- | --- | --- | --- |
| | VII | Lorraine 155 mle. 51 | 15000 | 33 | 25 |
| | Level | Radio | Weight (t) | Signal Range (m) |
| --- | --- | --- | --- | --- |
| | VI | SCR 508 | 0 | 400 |
| | Level | Gun | Weight (t) | Average Penetration (mm) | | Rate of Fire | Dispersion at 100 m | Aiming Time |
| --- | --- | --- | --- | --- | --- | --- | --- | --- |
| | VIII | Canon de 155 mm mle. 1917 G.P.F. | 3989 | 95/95/185 | 1250/1250/720 | 2.5 | 0.74 | 6 |
| | Level | Engine | Weight (t) | Engine Power (h.p.) | Chance of Fire on Impact |
| --- | --- | --- | --- | --- | --- |
| | VIII | Maybach HL 230 TRM P30 | 1200 | 700 | 20 |
| | Level | Suspension | Weight (t) | Load Limit | Traverse Speed (deg/s) |
| --- | --- | --- | --- | --- | --- |
| | VIII | Lorraine 155 mle. 51 bis | 15000 | 36.5 | 28 |
| | Level | Radio | Weight (t) | Signal Range (m) |
| --- | --- | --- | --- | --- |
| | X | SCR 528F | 0 | 750 |
| | Level | Gun | Weight (t) | Average Penetration (mm) | | Rate of Fire | Dispersion at 100 m | Aiming Time |
| --- | --- | --- | --- | --- | --- | --- | --- | --- |
| | VIII | Canon de 155 mm mle. 1917 G.P.F. | 3989 | 95/95/185 | 1250/1250/720 | 2.5 | 0.74 | 6 |
| | Level | Engine | Weight (t) | Engine Power (h.p.) | Chance of Fire on Impact |
| --- | --- | --- | --- | --- | --- |
| | IX | Maybach 850 CV | 1200 | 850 | 20 |
| | Level | Suspension | Weight (t) | Load Limit | Traverse Speed (deg/s) |
| --- | --- | --- | --- | --- | --- |
| | VIII | Lorraine 155 mle. 51 bis | 15000 | 36.5 | 28 |
| | Level | Radio | Weight (t) | Signal Range (m) |
| --- | --- | --- | --- | --- |
| | X | SCR 528F | 0 | 750 |
Compatible Equipment




















Compatible Consumables


















History for this tank not found