M41B Brazilian Bulldog
M41_Bulldog_Brazil (Stock)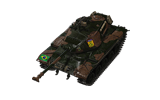 Totals
7000
Price
975
Hit Points
23.25 / 26 kg
Weight
Crew
Armor
35.4/25.4/19.1
Hull Armor

(front/sides/rear, mm)
35.4/25.4/25.4
Turret Armor

(front/sides/rear, mm)
Maneuver
510 h.p.
Engine Power
72.4 km/h
Speed Limit
56 deg/sec
Traverse Speed
Firepower
320
Standard Shell Damage
102 mm
Standard Shell Penetration
6.3
Time for Complete Loading
50 deg/sec
Turret Traverse Speed
Communication
400 m
View Range
745 m
Signal Range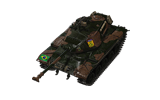 A Brazilian upgrade of the Walker Bulldog performed by the Bernardini company of Sao Paulo that increased firepower by replacing the original 76mm gun with a 90mm Ca 76/90 M32 BR gun. The original gasoline engine was replaced with a Brazilian built Diesel eight cylinder engine, and it also received an upgraded transmission package to improve top speed.
M41B Brazilian Bulldog
Stock
| | Level | Turret | Weight (t) | Turret Armor (front/sides/rear, mm) | Gun Traverse Speed (deg/s) | View Range (m) |
| --- | --- | --- | --- | --- | --- | --- |
| | VIII | M41A3 | 5022 | 35.4/25.4/25.4 | 50 | 400 |
| | Level | Gun | Weight (t) | Average Penetration (mm) | | Rate of Fire | Dispersion at 100 m | Aiming Time |
| --- | --- | --- | --- | --- | --- | --- | --- | --- |
| | VIII | 90mm Gun Ca 76/90 M32 BR3 | 653 | 102/250/45 | 320/240/320 | 9.52 | 0.38 | 2.3 |
| | Level | Engine | Weight (t) | Engine Power (h.p.) | Chance of Fire on Impact |
| --- | --- | --- | --- | --- | --- |
| | VII | Saab-Scania DS-14A 04 | 771 | 510 | 12 |
| | Level | Suspension | Weight (t) | Load Limit | Traverse Speed (deg/s) |
| --- | --- | --- | --- | --- | --- |
| | VIII | M41A3 | 6000 | 26 | 56 |
| | Level | Radio | Weight (t) | Signal Range (m) |
| --- | --- | --- | --- | --- |
| | X | AN/GRC-7 | 0 | 745 |
Compatible Equipment
























Compatible Consumables














History for this tank not found