M4A2E4 Ripper
M4A2E4_Ripper (Stock)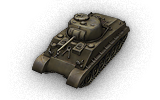 Totals
1500
Price
480
Hit Points
31.7 / 33.3 kg
Weight
Crew
Armor
64/38/38
Hull Armor

(front/sides/rear, mm)
76.2/50.8/50.8
Turret Armor

(front/sides/rear, mm)
Maneuver
420 h.p.
Engine Power
52 km/h
Speed Limit
37 deg/sec
Traverse Speed
Firepower
110
Standard Shell Damage
92 mm
Standard Shell Penetration
3.81
Time for Complete Loading
39 deg/sec
Turret Traverse Speed
Communication
370 m
View Range
570 m
Signal Range
This painted M4A2E4 is an homage to the Operation Ripper tanks used in the Korean War in March 1951. 1950 was the year of the metal tiger and it was thought that painting up UN forces' tanks with tiger faces would have a psychological effect on superstitious enemy forces.
Compatible Equipment
Compatible Consumables
History for this tank not found