Sherman Fury
M4A3E8_Sherman_Fury (Stock)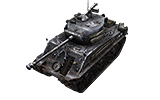 Totals
3750
Price
774
Hit Points
30.11 / 38 kg
Weight
Crew
Armor
63.5/38.1/38.1
Hull Armor

(front/sides/rear, mm)
63.5/63.5/63.5
Turret Armor

(front/sides/rear, mm)
Maneuver
520 h.p.
Engine Power
48 km/h
Speed Limit
44 deg/sec
Traverse Speed
Firepower
115
Standard Shell Damage
128 mm
Standard Shell Penetration
3.3
Time for Complete Loading
39 deg/sec
Turret Traverse Speed
Communication
370 m
View Range
615 m
Signal Range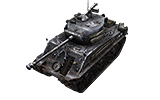 Official tank from the film Fury. The Fury is a Sherman M4A3E8 variant, generally known as the Easy Eight. At the end of August 1944 a new suspension was designed for the M4 series, allowing greater mobility as well as heavier armor. The result was a highly effective medium tank.
| | Level | Turret | Weight (t) | Turret Armor (front/sides/rear, mm) | Gun Traverse Speed (deg/s) | View Range (m) |
| --- | --- | --- | --- | --- | --- | --- |
| | VI | D51080 | 4800 | 63.5/63.5/63.5 | 39 | 370 |
| | Level | Gun | Weight (t) | Average Penetration (mm) | | Rate of Fire | Dispersion at 100 m | Aiming Time |
| --- | --- | --- | --- | --- | --- | --- | --- | --- |
| | VI | 76 mm Gun M1A2 | 1590 | 128/177/38 | 115/115/185 | 18.18 | 0.4 | 2.3 |
| | Level | Engine | Weight (t) | Engine Power (h.p.) | Chance of Fire on Impact |
| --- | --- | --- | --- | --- | --- |
| | VII | Ford GAA | 569 | 520 | 20 |
| | Level | Suspension | Weight (t) | Load Limit | Traverse Speed (deg/s) |
| --- | --- | --- | --- | --- | --- |
| | VI | NVSS T80 | 8300 | 38 | 44 |
| | Level | Radio | Weight (t) | Signal Range (m) |
| --- | --- | --- | --- | --- |
| | IX | SCR 506 | 0 | 615 |
Compatible Equipment
























Compatible Consumables


















History for this tank not found