M6A2E1
M6A2E1 (Stock)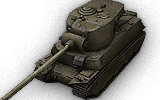 Totals
7500
Price
1500
Hit Points
66.86 / 70.5 kg
Weight
Crew
Armor
191/44/41
Hull Armor

(front/sides/rear, mm)
191/89/208
Turret Armor

(front/sides/rear, mm)
Maneuver
960 h.p.
Engine Power
29 km/h
Speed Limit
24 deg/sec
Traverse Speed
Firepower
320
Standard Shell Damage
198 mm
Standard Shell Penetration
11.89
Time for Complete Loading
23 deg/sec
Turret Traverse Speed
Communication
380 m
View Range
570 m
Signal Range
The M6A2E1 was a further development of the T1 and M6 heavy tanks. Developed in August 1944, the vehicle mounted a larger turret and the 105 mm gun. It never saw mass production.
Compatible Equipment
Compatible Consumables
History for this tank not found