Renault Otsu
NC27 (Stock)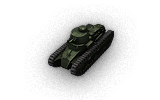 Totals
0
Price
100
Hit Points
8.01 / 8.5 kg
Weight
Crew
Armor
30/30/22
Hull Armor

(front/sides/rear, mm)
18/18/16
Turret Armor

(front/sides/rear, mm)
Maneuver
70 h.p.
Engine Power
23 km/h
Speed Limit
46 deg/sec
Traverse Speed
Firepower
30
Standard Shell Damage
29 mm
Standard Shell Penetration
2.5
Time for Complete Loading
35 deg/sec
Turret Traverse Speed
Communication
250 m
View Range
90 m
Signal Range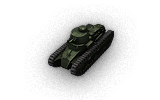 Developed from 1925 through 1928 in France as an upgraded modification of the Renault FT. The modernization project was finished and the vehicle saw mass production. In 1929, a total of 10 vehicles were purchased by Japan and were designated the Otsu-Gata Sensha (Tank B Model). The Japanese vehicles were slightly modernized and were widely used both in action and for training purposes.
Compatible Equipment














Compatible Consumables
Pros and Cons
Pros:
Best Frontal and side armour (30 mm, sloped) in tier.
Adequate agility.
Choice between an autocannon (low pen) or gun (higher pen) with decent damage per shot, reload but bad accuracy and aim time.
Amazing gun depression - best in game!
In team battle format rarely used as a counter to T1 cunningham's hispano autocannon.
Cons:
Slow top speed.
Depending on choice of gun, poor pen (autocannon) or bad gun handling (37mm).
Poor turret traverse speed.
The large driver's hatch at the front of the tank can be easily penetrated, due to the armor in that area being neither thick
Turret is far less armored than the hull.
History for this tank not found