Object 416
Object416 (Stock)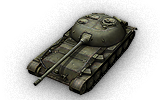 Totals
2500000
Price
1100
Hit Points
24.23 / 24.35 kg
Weight
Crew
Armor
75/45/45
Hull Armor

(front/sides/rear, mm)
110/60/45
Turret Armor

(front/sides/rear, mm)
Maneuver
400 h.p.
Engine Power
50 km/h
Speed Limit
50 deg/sec
Traverse Speed
Firepower
250
Standard Shell Damage
175 mm
Standard Shell Penetration
8.7
Time for Complete Loading
40 deg/sec
Turret Traverse Speed
Communication
370 m
View Range
525 m
Signal Range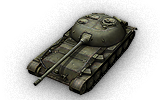 The Object 416 was a medium tank developed by the Construction Bureau of Plant No. 75 starting in 1949. An early prototype was completed by March 1950. Due to problems with the turret, the prototype was not operational until the end of April 1952. By the summer of 1953, the prototype was tested and upgraded. The vehicle passed trials, but never entered mass production.
| | Level | Turret | Weight (t) | Turret Armor (front/sides/rear, mm) | Gun Traverse Speed (deg/s) | View Range (m) |
| --- | --- | --- | --- | --- | --- | --- |
| | VII | Object 416 mod. 1952 | 7000 | 110/60/45 | 40 | 370 |
| | Level | Gun | Weight (t) | Average Penetration (mm) | | Rate of Fire | Dispersion at 100 m | Aiming Time |
| --- | --- | --- | --- | --- | --- | --- | --- | --- |
| | VII | 100 mm D10T | 2257 | 175/235/50 | 250/250/330 | 6.9 | 0.39 | 2.3 |
| | Level | Engine | Weight (t) | Engine Power (h.p.) | Chance of Fire on Impact |
| --- | --- | --- | --- | --- | --- |
| | VIII | DG | 1100 | 400 | 12 |
| | Level | Suspension | Weight (t) | Load Limit | Traverse Speed (deg/s) |
| --- | --- | --- | --- | --- | --- |
| | VII | Object 416 mod. 1952 | 7000 | 24.35 | 50 |
| | Level | Radio | Weight (t) | Signal Range (m) |
| --- | --- | --- | --- | --- |
| | VIII | 9RM | 0 | 525 |
| | Level | Turret | Weight (t) | Turret Armor (front/sides/rear, mm) | Gun Traverse Speed (deg/s) | View Range (m) |
| --- | --- | --- | --- | --- | --- | --- |
| | VIII | Object 416 mod. 1953 | 7000 | 110/75/45 | 40 | 380 |
| | Level | Gun | Weight (t) | Average Penetration (mm) | | Rate of Fire | Dispersion at 100 m | Aiming Time |
| --- | --- | --- | --- | --- | --- | --- | --- | --- |
| | VII | 100 mm D10T | 2257 | 175/235/50 | 250/250/330 | 7.5 | 0.39 | 2.3 |
| | Level | Engine | Weight (t) | Engine Power (h.p.) | Chance of Fire on Impact |
| --- | --- | --- | --- | --- | --- |
| | VIII | DG | 1100 | 400 | 12 |
| | Level | Suspension | Weight (t) | Load Limit | Traverse Speed (deg/s) |
| --- | --- | --- | --- | --- | --- |
| | VIII | Object 416 mod. 1953 | 7000 | 27 | 52 |
| | Level | Radio | Weight (t) | Signal Range (m) |
| --- | --- | --- | --- | --- |
| | X | R-113 | 0 | 730 |
| | Level | Turret | Weight (t) | Turret Armor (front/sides/rear, mm) | Gun Traverse Speed (deg/s) | View Range (m) |
| --- | --- | --- | --- | --- | --- | --- |
| | VIII | Object 416 mod. 1953 | 7000 | 110/75/45 | 40 | 380 |
| | Level | Gun | Weight (t) | Average Penetration (mm) | | Rate of Fire | Dispersion at 100 m | Aiming Time |
| --- | --- | --- | --- | --- | --- | --- | --- | --- |
| | IX | 100 mm M-63 | 2000 | 201/330/50 | 320/320/420 | 7.5 | 0.37 | 2.3 |
| | Level | Engine | Weight (t) | Engine Power (h.p.) | Chance of Fire on Impact |
| --- | --- | --- | --- | --- | --- |
| | VIII | DG | 1100 | 400 | 12 |
| | Level | Suspension | Weight (t) | Load Limit | Traverse Speed (deg/s) |
| --- | --- | --- | --- | --- | --- |
| | VIII | Object 416 mod. 1953 | 7000 | 27 | 52 |
| | Level | Radio | Weight (t) | Signal Range (m) |
| --- | --- | --- | --- | --- |
| | X | 10RT-26E | 0 | 760 |
Compatible Equipment


























Compatible Consumables


















History for this tank not found