Object 140
Object_140 (Stock)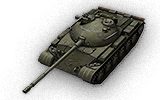 Totals
6100000
Price
1900
Hit Points
35.92 / 39 kg
Weight
Crew
Armor
100/80/55
Hull Armor

(front/sides/rear, mm)
240/187/65
Turret Armor

(front/sides/rear, mm)
Maneuver
580 h.p.
Engine Power
55 km/h
Speed Limit
54 deg/sec
Traverse Speed
Firepower
320
Standard Shell Damage
264 mm
Standard Shell Penetration
6.6
Time for Complete Loading
40 deg/sec
Turret Traverse Speed
Communication
400 m
View Range
730 m
Signal Range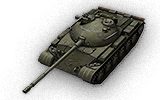 An experimental medium tank. Developed between 1953 and 1958 in Nizhny Tagil to replace the T-54. Two prototypes were built, but in 1958 the project was terminated in favor of the Object 430.
| | Level | Turret | Weight (t) | Turret Armor (front/sides/rear, mm) | Gun Traverse Speed (deg/s) | View Range (m) |
| --- | --- | --- | --- | --- | --- | --- |
| | X | Object 140 | 8200 | 240/187/65 | 40 | 400 |
| | Level | Gun | Weight (t) | Average Penetration (mm) | | Rate of Fire | Dispersion at 100 m | Aiming Time |
| --- | --- | --- | --- | --- | --- | --- | --- | --- |
| | X | 100 mm U-8TS | 2800 | 264/330/50 | 320/320/420 | 9.09 | 0.35 | 2.1 |
| | Level | Engine | Weight (t) | Engine Power (h.p.) | Chance of Fire on Impact |
| --- | --- | --- | --- | --- | --- |
| | X | TD-12 | 1000 | 580 | 12 |
| | Level | Suspension | Weight (t) | Load Limit | Traverse Speed (deg/s) |
| --- | --- | --- | --- | --- | --- |
| | X | Object 140 | 12000 | 39 | 54 |
| | Level | Radio | Weight (t) | Signal Range (m) |
| --- | --- | --- | --- | --- |
| | X | R-113M | 0 | 730 |
Compatible Equipment


























Compatible Consumables


















History for this tank not found