Pz.Kpfw. VI Tiger (P)
PzVI_Tiger_P (Stock)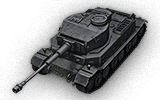 Totals
1395000
Price
1350
Hit Points
59.71 / 60.5 kg
Weight
Crew
Armor
200/80/80
Hull Armor

(front/sides/rear, mm)
100/80/80
Turret Armor

(front/sides/rear, mm)
Maneuver
550 h.p.
Engine Power
35 km/h
Speed Limit
20 deg/sec
Traverse Speed
Firepower
135
Standard Shell Damage
150 mm
Standard Shell Penetration
4.6
Time for Complete Loading
23 deg/sec
Turret Traverse Speed
Communication
370 m
View Range
415 m
Signal Range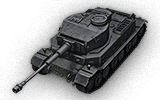 Work on the VK4501(P) was initiated in April 1942. The prototype was developed immediately and entered production without any trials. In August production was discontinued, with a total of five vehicles manufactured.
Pz.Kpfw. VI Tiger (P)
Stock
| | Level | Turret | Weight (t) | Turret Armor (front/sides/rear, mm) | Gun Traverse Speed (deg/s) | View Range (m) |
| --- | --- | --- | --- | --- | --- | --- |
| | VI | Tiger (P) Turm Nr. 1 | 8900 | 100/80/80 | 23 | 370 |
| | Level | Gun | Weight (t) | Average Penetration (mm) | | Rate of Fire | Dispersion at 100 m | Aiming Time |
| --- | --- | --- | --- | --- | --- | --- | --- | --- |
| | VI | 7,5 cm KwK 42 L/70 | 1740 | 150/194/38 | 135/135/175 | 13.04 | 0.35 | 2.3 |
| | Level | Engine | Weight (t) | Engine Power (h.p.) | Chance of Fire on Impact |
| --- | --- | --- | --- | --- | --- |
| | VI | 2x Porsche Typ100/1(A) | 670 | 550 | 20 |
| | Level | Suspension | Weight (t) | Load Limit | Traverse Speed (deg/s) |
| --- | --- | --- | --- | --- | --- |
| | VI | Tiger (P) | 18000 | 60.5 | 20 |
| | Level | Radio | Weight (t) | Signal Range (m) |
| --- | --- | --- | --- | --- |
| | VI | FuG 7 | 0 | 415 |
PzKpfw VI (P) F II
Attack
| | Level | Turret | Weight (t) | Turret Armor (front/sides/rear, mm) | Gun Traverse Speed (deg/s) | View Range (m) |
| --- | --- | --- | --- | --- | --- | --- |
| | VI | Tiger (P) Turm Nr. 1 | 8900 | 100/80/80 | 23 | 370 |
| | Level | Gun | Weight (t) | Average Penetration (mm) | | Rate of Fire | Dispersion at 100 m | Aiming Time |
| --- | --- | --- | --- | --- | --- | --- | --- | --- |
| | V | 10,5 cm KwK 42 L/28 | 2100 | 64/104/53 | 350/350/410 | 7.5 | 0.55 | 2.3 |
| | Level | Engine | Weight (t) | Engine Power (h.p.) | Chance of Fire on Impact |
| --- | --- | --- | --- | --- | --- |
| | VI | 2x Porsche Typ100/1(A) | 670 | 550 | 20 |
| | Level | Suspension | Weight (t) | Load Limit | Traverse Speed (deg/s) |
| --- | --- | --- | --- | --- | --- |
| | VI | Tiger (P) | 18000 | 60.5 | 20 |
| | Level | Radio | Weight (t) | Signal Range (m) |
| --- | --- | --- | --- | --- |
| | VI | FuG 7 | 0 | 415 |
| | Level | Turret | Weight (t) | Turret Armor (front/sides/rear, mm) | Gun Traverse Speed (deg/s) | View Range (m) |
| --- | --- | --- | --- | --- | --- | --- |
| | VI | Tiger (P) Turm Nr. 1 | 8900 | 100/80/80 | 23 | 370 |
| | Level | Gun | Weight (t) | Average Penetration (mm) | | Rate of Fire | Dispersion at 100 m | Aiming Time |
| --- | --- | --- | --- | --- | --- | --- | --- | --- |
| | VII | 8,8 cm KwK 36 L/56 | 2050 | 132/171/44 | 220/220/270 | 8.57 | 0.38 | 2.3 |
| | Level | Engine | Weight (t) | Engine Power (h.p.) | Chance of Fire on Impact |
| --- | --- | --- | --- | --- | --- |
| | VI | 2x Porsche Typ 100/1 | 670 | 600 | 20 |
| | Level | Suspension | Weight (t) | Load Limit | Traverse Speed (deg/s) |
| --- | --- | --- | --- | --- | --- |
| | VII | Tiger (P) verstärkteketten | 18000 | 65.2 | 22 |
| | Level | Radio | Weight (t) | Signal Range (m) |
| --- | --- | --- | --- | --- |
| | VI | FuG 7 | 0 | 415 |
PzKpfw VI P (8.8/71)
Defense
| | Level | Turret | Weight (t) | Turret Armor (front/sides/rear, mm) | Gun Traverse Speed (deg/s) | View Range (m) |
| --- | --- | --- | --- | --- | --- | --- |
| | VII | Tiger (P) Neuer Turm | 9500 | 100/80/80 | 23 | 380 |
| | Level | Gun | Weight (t) | Average Penetration (mm) | | Rate of Fire | Dispersion at 100 m | Aiming Time |
| --- | --- | --- | --- | --- | --- | --- | --- | --- |
| | VIII | 8,8 cm KwK 43 L/71 | 2562 | 203/237/44 | 240/240/295 | 6.98 | 0.34 | 2.9 |
| | Level | Engine | Weight (t) | Engine Power (h.p.) | Chance of Fire on Impact |
| --- | --- | --- | --- | --- | --- |
| | VII | 2x Porsche Typ 100/3 | 720 | 670 | 20 |
| | Level | Suspension | Weight (t) | Load Limit | Traverse Speed (deg/s) |
| --- | --- | --- | --- | --- | --- |
| | VII | Tiger (P) verstärkteketten | 18000 | 65.2 | 22 |
| | Level | Radio | Weight (t) | Signal Range (m) |
| --- | --- | --- | --- | --- |
| | IX | FuG 12 | 0 | 710 |
Compatible Equipment






















Compatible Consumables


















History for this tank not found