Pz.Kpfw. IV Ausf. H
Pz_IV_AusfH (Stock)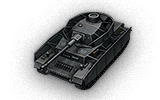 Totals
373000
Price
440
Hit Points
24.47 / 26 kg
Weight
Crew
Armor
80/30/20
Hull Armor

(front/sides/rear, mm)
50/30/30
Turret Armor

(front/sides/rear, mm)
Maneuver
350 h.p.
Engine Power
40 km/h
Speed Limit
30 deg/sec
Traverse Speed
Firepower
110
Standard Shell Damage
103 mm
Standard Shell Penetration
4.3
Time for Complete Loading
44 deg/sec
Turret Traverse Speed
Communication
340 m
View Range
310 m
Signal Range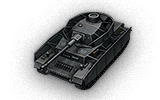 The most widely produced Pz IV variant, the H version was developed in 1942. For some time it was mass-produced along with the Ausf. G. A total of 3,774 tanks of the H version were manufactured.
Pz.Kpfw. IV Ausf. H
Stock
| | Level | Turret | Weight (t) | Turret Armor (front/sides/rear, mm) | Gun Traverse Speed (deg/s) | View Range (m) |
| --- | --- | --- | --- | --- | --- | --- |
| | V | Pz.Kpfw. IV Ausf. G | 3200 | 50/30/30 | 44 | 340 |
| | Level | Gun | Weight (t) | Average Penetration (mm) | | Rate of Fire | Dispersion at 100 m | Aiming Time |
| --- | --- | --- | --- | --- | --- | --- | --- | --- |
| | IV | 7,5 cm KwK 40 L/43 | 1437 | 103/139/38 | 110/110/175 | 13.95 | 0.41 | 2.3 |
| | Level | Engine | Weight (t) | Engine Power (h.p.) | Chance of Fire on Impact |
| --- | --- | --- | --- | --- | --- |
| | IV | Maybach HL 120 TR | 510 | 350 | 20 |
| | Level | Suspension | Weight (t) | Load Limit | Traverse Speed (deg/s) |
| --- | --- | --- | --- | --- | --- |
| | IV | Pz.Kpfw. IV Ausf. G | 7800 | 26 | 30 |
| | Level | Radio | Weight (t) | Signal Range (m) |
| --- | --- | --- | --- | --- |
| | III | FuG 5 | 0 | 310 |
| | Level | Turret | Weight (t) | Turret Armor (front/sides/rear, mm) | Gun Traverse Speed (deg/s) | View Range (m) |
| --- | --- | --- | --- | --- | --- | --- |
| | V | Pz.Kpfw. IV Ausf. G | 3200 | 50/30/30 | 44 | 340 |
| | Level | Gun | Weight (t) | Average Penetration (mm) | | Rate of Fire | Dispersion at 100 m | Aiming Time |
| --- | --- | --- | --- | --- | --- | --- | --- | --- |
| | IV | 7,5 cm KwK 40 L/43 | 1437 | 103/139/38 | 110/110/175 | 13.95 | 0.41 | 2.3 |
| | Level | Engine | Weight (t) | Engine Power (h.p.) | Chance of Fire on Impact |
| --- | --- | --- | --- | --- | --- |
| | IV | Maybach HL 120 TR | 510 | 350 | 20 |
| | Level | Suspension | Weight (t) | Load Limit | Traverse Speed (deg/s) |
| --- | --- | --- | --- | --- | --- |
| | IV | Pz.Kpfw. IV Ausf. G | 7800 | 26 | 30 |
| | Level | Radio | Weight (t) | Signal Range (m) |
| --- | --- | --- | --- | --- |
| | VI | FuG 7 | 0 | 415 |
| | Level | Turret | Weight (t) | Turret Armor (front/sides/rear, mm) | Gun Traverse Speed (deg/s) | View Range (m) |
| --- | --- | --- | --- | --- | --- | --- |
| | V | Pz.Kpfw. IV Ausf. G | 3200 | 50/30/30 | 44 | 340 |
| | Level | Gun | Weight (t) | Average Penetration (mm) | | Rate of Fire | Dispersion at 100 m | Aiming Time |
| --- | --- | --- | --- | --- | --- | --- | --- | --- |
| | V | 7,5 cm KwK 40 L/48 | 1520 | 110/158/38 | 110/110/175 | 13.95 | 0.39 | 2.3 |
| | Level | Engine | Weight (t) | Engine Power (h.p.) | Chance of Fire on Impact |
| --- | --- | --- | --- | --- | --- |
| | IV | Maybach HL 120 TRM | 510 | 440 | 20 |
| | Level | Suspension | Weight (t) | Load Limit | Traverse Speed (deg/s) |
| --- | --- | --- | --- | --- | --- |
| | IV | Pz.Kpfw. IV Ausf. G | 7800 | 26 | 30 |
| | Level | Radio | Weight (t) | Signal Range (m) |
| --- | --- | --- | --- | --- |
| | IX | FuG 12 | 0 | 710 |
PzKpfw IVH (10.5cm)
Attack
| | Level | Turret | Weight (t) | Turret Armor (front/sides/rear, mm) | Gun Traverse Speed (deg/s) | View Range (m) |
| --- | --- | --- | --- | --- | --- | --- |
| | VI | Pz.Kpfw. IV Ausf. H | 3600 | 50/30/30 | 44 | 350 |
| | Level | Gun | Weight (t) | Average Penetration (mm) | | Rate of Fire | Dispersion at 100 m | Aiming Time |
| --- | --- | --- | --- | --- | --- | --- | --- | --- |
| | V | 10,5 cm KwK 42 L/28 | 2100 | 64/104/53 | 350/350/410 | 7.5 | 0.55 | 2.3 |
| | Level | Engine | Weight (t) | Engine Power (h.p.) | Chance of Fire on Impact |
| --- | --- | --- | --- | --- | --- |
| | IV | Maybach HL 120 TRM | 510 | 440 | 20 |
| | Level | Suspension | Weight (t) | Load Limit | Traverse Speed (deg/s) |
| --- | --- | --- | --- | --- | --- |
| | V | Pz.Kpfw. IV Ausf. H | 7800 | 28 | 32 |
| | Level | Radio | Weight (t) | Signal Range (m) |
| --- | --- | --- | --- | --- |
| | IX | FuG 12 | 0 | 710 |
| | Level | Turret | Weight (t) | Turret Armor (front/sides/rear, mm) | Gun Traverse Speed (deg/s) | View Range (m) |
| --- | --- | --- | --- | --- | --- | --- |
| | VI | Pz.Kpfw. IV Ausf. H | 3600 | 50/30/30 | 44 | 350 |
| | Level | Gun | Weight (t) | Average Penetration (mm) | | Rate of Fire | Dispersion at 100 m | Aiming Time |
| --- | --- | --- | --- | --- | --- | --- | --- | --- |
| | V | 7,5 cm KwK 40 L/48 | 1520 | 110/158/38 | 110/110/175 | 15 | 0.39 | 2.3 |
| | Level | Engine | Weight (t) | Engine Power (h.p.) | Chance of Fire on Impact |
| --- | --- | --- | --- | --- | --- |
| | IV | Maybach HL 120 TRM | 510 | 440 | 20 |
| | Level | Suspension | Weight (t) | Load Limit | Traverse Speed (deg/s) |
| --- | --- | --- | --- | --- | --- |
| | V | Pz.Kpfw. IV Ausf. H | 7800 | 28 | 32 |
| | Level | Radio | Weight (t) | Signal Range (m) |
| --- | --- | --- | --- | --- |
| | IX | FuG 12 | 0 | 710 |
Compatible Equipment






















Compatible Consumables


















History for this tank not found