LTTB
R107_LTB (Stock)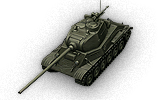 Totals
1380000
Price
950
Hit Points
21.9 / 22.5 kg
Weight
Crew
Armor
90/45/40
Hull Armor

(front/sides/rear, mm)
90/75/52
Turret Armor

(front/sides/rear, mm)
Maneuver
550 h.p.
Engine Power
68 km/h
Speed Limit
46 deg/sec
Traverse Speed
Firepower
160
Standard Shell Damage
126 mm
Standard Shell Penetration
4.8
Gun Loading
48 deg/sec
Turret Traverse Speed
Communication
390 m
View Range
360 m
Signal Range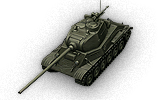 Development of the light tank project was started in early 1944 at Factory No. 174. The project was canceled during the design phase and the phase of setting tactical and technical requirements.
| | Level | Turret | Weight (t) | Turret Armor (front/sides/rear, mm) | Gun Traverse Speed (deg/s) | View Range (m) |
| --- | --- | --- | --- | --- | --- | --- |
| | VII | LTTB | 5450 | 90/75/52 | 48 | 390 |
| | Level | Gun | Weight (t) | Average Penetration (mm) | | Rate of Fire | Dispersion at 100 m | Aiming Time |
| --- | --- | --- | --- | --- | --- | --- | --- | --- |
| | VI | 85 mm ZiS S-53 | 1550 | 126/167/43 | 160/160/280 | 12.5 | 0.42 | 2.5 |
| | Level | Engine | Weight (t) | Engine Power (h.p.) | Chance of Fire on Impact |
| --- | --- | --- | --- | --- | --- |
| | VI | KZ V8 | 600 | 550 | 15 |
| | Level | Suspension | Weight (t) | Load Limit | Traverse Speed (deg/s) |
| --- | --- | --- | --- | --- | --- |
| | VI | LTTB | 5500 | 22.5 | 46 |
| | Level | Radio | Weight (t) | Signal Range (m) |
| --- | --- | --- | --- | --- |
| | V | 10R | 0 | 360 |
| | Level | Turret | Weight (t) | Turret Armor (front/sides/rear, mm) | Gun Traverse Speed (deg/s) | View Range (m) |
| --- | --- | --- | --- | --- | --- | --- |
| | VII | LTTB | 5450 | 90/75/52 | 48 | 390 |
| | Level | Gun | Weight (t) | Average Penetration (mm) | | Rate of Fire | Dispersion at 100 m | Aiming Time |
| --- | --- | --- | --- | --- | --- | --- | --- | --- |
| | VI | 85 mm ZiS S-53 | 1550 | 126/167/43 | 160/160/280 | 12.5 | 0.42 | 2.5 |
| | Level | Engine | Weight (t) | Engine Power (h.p.) | Chance of Fire on Impact |
| --- | --- | --- | --- | --- | --- |
| | VII | V-16M | 750 | 700 | 15 |
| | Level | Suspension | Weight (t) | Load Limit | Traverse Speed (deg/s) |
| --- | --- | --- | --- | --- | --- |
| | VI | LTTB | 5500 | 22.5 | 46 |
| | Level | Radio | Weight (t) | Signal Range (m) |
| --- | --- | --- | --- | --- |
| | X | R-113 | 0 | 730 |
| | Level | Turret | Weight (t) | Turret Armor (front/sides/rear, mm) | Gun Traverse Speed (deg/s) | View Range (m) |
| --- | --- | --- | --- | --- | --- | --- |
| | VII | LTTB | 5450 | 90/75/52 | 48 | 390 |
| | Level | Gun | Weight (t) | Average Penetration (mm) | | Rate of Fire | Dispersion at 100 m | Aiming Time |
| --- | --- | --- | --- | --- | --- | --- | --- | --- |
| | VII | 85 mm D5T-85BM | 1850 | 144/194/44 | 180/180/300 | 11.54 | 0.37 | 2.1 |
| | Level | Engine | Weight (t) | Engine Power (h.p.) | Chance of Fire on Impact |
| --- | --- | --- | --- | --- | --- |
| | VII | V-16M | 750 | 700 | 15 |
| | Level | Suspension | Weight (t) | Load Limit | Traverse Speed (deg/s) |
| --- | --- | --- | --- | --- | --- |
| | VII | LTTB enhanced | 5500 | 24 | 48 |
| | Level | Radio | Weight (t) | Signal Range (m) |
| --- | --- | --- | --- | --- |
| | X | R-113 | 0 | 730 |
| | Level | Turret | Weight (t) | Turret Armor (front/sides/rear, mm) | Gun Traverse Speed (deg/s) | View Range (m) |
| --- | --- | --- | --- | --- | --- | --- |
| | VII | LTTB | 5450 | 90/75/52 | 48 | 390 |
| | Level | Gun | Weight (t) | Average Penetration (mm) | | Rate of Fire | Dispersion at 100 m | Aiming Time |
| --- | --- | --- | --- | --- | --- | --- | --- | --- |
| | VII | 85 mm D-10-85 | 2100 | 170/216/44 | 180/180/300 | 11.76 | 0.36 | 2.1 |
| | Level | Engine | Weight (t) | Engine Power (h.p.) | Chance of Fire on Impact |
| --- | --- | --- | --- | --- | --- |
| | VII | V-16M | 750 | 700 | 15 |
| | Level | Suspension | Weight (t) | Load Limit | Traverse Speed (deg/s) |
| --- | --- | --- | --- | --- | --- |
| | VII | LTTB enhanced | 5500 | 24 | 48 |
| | Level | Radio | Weight (t) | Signal Range (m) |
| --- | --- | --- | --- | --- |
| | X | R-113 | 0 | 730 |
Compatible Equipment
























Compatible Consumables


















History for this tank not found