SU-76I
SU76I (Stock)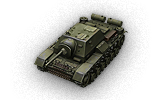 Totals
1000
Price
168
Hit Points
22.75 / 24.8 kg
Weight
Crew
Armor
60/30/50
Hull Armor

(front/sides/rear, mm)
0/0/0
Turret Armor

(front/sides/rear, mm)
Maneuver
300 h.p.
Engine Power
50 km/h
Speed Limit
40 deg/sec
Traverse Speed
Firepower
110
Standard Shell Damage
86 mm
Standard Shell Penetration
4.3
Time for Complete Loading
42 deg/sec
Turret Traverse Speed
Communication
300 m
View Range
325 m
Signal Range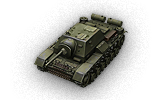 Developed on the basis of captured German StuG III and PzKpfw III vehicles in 1943. The modifications were made at Factory No. 37 in Sverdlovsk, with a total of 200 vehicles manufactured.
| | Level | Gun | Weight (t) | Average Penetration (mm) | | Rate of Fire | Dispersion at 100 m | Aiming Time |
| --- | --- | --- | --- | --- | --- | --- | --- | --- |
| | IV | 76 mm F-34S A | 1155 | 86/102/38 | 110/110/156 | 13.95 | 0.44 | 2.1 |
| | Level | Engine | Weight (t) | Engine Power (h.p.) | Chance of Fire on Impact |
| --- | --- | --- | --- | --- | --- |
| | IV | Maybach HL 120 TRM | 920 | 300 | 20 |
| | Level | Suspension | Weight (t) | Load Limit | Traverse Speed (deg/s) |
| --- | --- | --- | --- | --- | --- |
| | III | SU-76I | 7000 | 24.8 | 40 |
| | Level | Radio | Weight (t) | Signal Range (m) |
| --- | --- | --- | --- | --- |
| | IV | 9R | 0 | 325 |
Compatible Equipment
























Compatible Consumables


















History for this tank not found