SU-85I
SU_85I (Stock)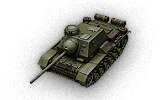 Totals
2300
Price
380
Hit Points
22.35 / 24.38 kg
Weight
Crew
Armor
60/30/50
Hull Armor

(front/sides/rear, mm)
0/0/0
Turret Armor

(front/sides/rear, mm)
Maneuver
300 h.p.
Engine Power
50 km/h
Speed Limit
48 deg/sec
Traverse Speed
Firepower
160
Standard Shell Damage
119 mm
Standard Shell Penetration
4.5
Time for Complete Loading
44 deg/sec
Turret Traverse Speed
Communication
330 m
View Range
525 m
Signal Range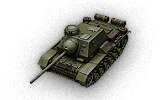 A proposed modification of captured German PzKpfw III tanks, which were to be mounted with the 85 mm gun. Never entered mass production nor saw service.
| | Level | Gun | Weight (t) | Average Penetration (mm) | | Rate of Fire | Dispersion at 100 m | Aiming Time |
| --- | --- | --- | --- | --- | --- | --- | --- | --- |
| | VI | 85 mm D-5S-85A | 1215 | 119/161/43 | 160/160/280 | 13.33 | 0.42 | 2.3 |
| | Level | Engine | Weight (t) | Engine Power (h.p.) | Chance of Fire on Impact |
| --- | --- | --- | --- | --- | --- |
| | IV | Maybach HL 120 TRM | 920 | 300 | 20 |
| | Level | Suspension | Weight (t) | Load Limit | Traverse Speed (deg/s) |
| --- | --- | --- | --- | --- | --- |
| | VI | SU-85I | 7000 | 24.38 | 48 |
| | Level | Radio | Weight (t) | Signal Range (m) |
| --- | --- | --- | --- | --- |
| | VIII | 9RM | 0 | 525 |
Compatible Equipment
























Compatible Consumables


















Pros and Cons
Pros:
Gun with good alpha and the best DPM of tier 5 TD's (2132.8 DPM)
Big and heavily armored gun mantlet
Second best HP for a tier 5 TD
Above average view range (20m more than StuG or AT 2 and 50m more than SU-85)
Good camouflage values, best camouflage of Tier V TD's when firing the gun
Cons:
Overall poor armor and very tall.
Sub-par gun arc and depression
Besides good plain mobility have bad power/wt ratio struggling to climb hills
Rather bad gun handling, long aiming time and bad accuracy
History for this tank not found